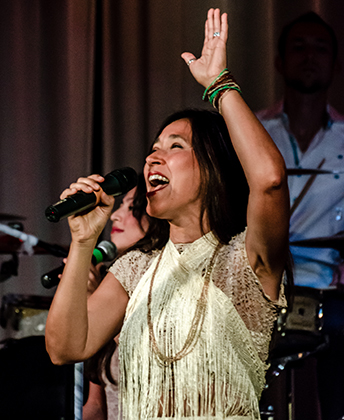 Kátia Moraes and Brazilian Hearts—Choro & Samba
Saturday, July 8, 12:00 and 2:00 p.m.
About the Program
Hailing from Rio de Janeiro, Kátia Moraes and Brazilian Hearts bring choro and samba to the amphitheater this summer. Moraes's singing, as praised by the Los Angeles Times, "is a virtual definition of the passion that is an implicit part of Brazilian music."
Moraes began performing in the 1980s, sharing the stage with the high-energy Brazilian band O Espirito da Coisa. Since then, she has worked with some of the foremost acts around the globe, including Sergio Mendes, Airto Moreira, Oscar Castro-Neves, Rita Lee, Elba Ramalho, Sandy and Junior, Banda Cheiro de Amor, George Duke, Alex Acuña and Justo Almario's Tolú, Latin Project, and Praful.
In 1990, she moved to LA, where she began working as a voiceover artist in film and television. She also continued singing with the likes of Pure Samba, Feijoada Completa, Samba Society, Bloco Nove, Falso Baiano, The Rio Thing, Midnight Drums, Sol & Mar, Folk Ballet of Brasil, Badauê, Man and Machine, and many more. She is currently singing with Brazilian Hearts, Samba Society, Brazilian Hearts—Choro & Samba, and Viver Brasil Dance Company.
She has released numerous albums, including Ten Feet and the Sun with Brasil Nuts band, Ginga, Navegar ao Sol, and Tribo with Sambaguru, and Live. Her work with the Pure Samba project was awarded the LA Treasure Award, granted in part by the California Traditional Music Society, a facility of the City of Los Angeles Cultural Affairs Department,