Tuesday, March 31, 2020
By Laura Mart and Cate Thurston
Hello from our home offices! We are Laura Mart and Cate Thurston, co-curators of the Skirball's upcoming exhibition "I'll Have What She's Having": The Jewish Deli. Together with our fellow co-curator, food and immigration historian Lara Rabinovitch, we have spent the last two years devouring all things Jewish deli food, culture, and history.
We'd like to take you behind the scenes of the research trips we've been on and the delicious meals we've had while creating this exhibition. Hop in for a virtual road trip to delis, libraries, and archives across the country—from Los Angeles to NYC, Philly, Indianapolis, Chicago, and back again—as we discover how Jews imported traditions, adapted culture, and built community to create the celebrated American delicatessen.

Left: Enjoying some Original #19s: hand-cut hot pastrami, cole slaw, russian dressing, and swiss cheese on double-baked rye bread. Yum! Right: The #19 in all its glory.

Our first official team meeting took place at Langer's Deli in Los Angeles. Lara took this photo of us stuffing our faces with pastrami, pickles, and whitefish. Talking business is a lot easier when you've got a nice, hot #19 sandwich and homemade cream soda to keep you going. That is until someone talks you into cheesecake ... then the food coma sets in.
---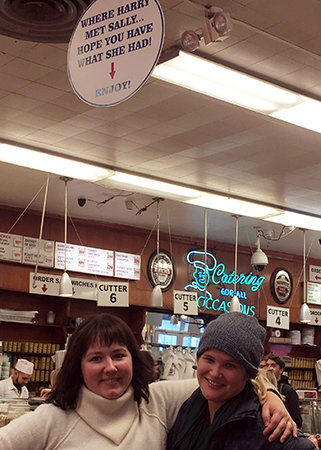 Here we are at Katz's Delicatessen. This is where the famous "I'll have what she's having" scene from When Harry Met Sally was filmed!




















In February 2019, we traveled to New York City to conduct research in what is arguably the epicenter of Jewish deli history. Primarily, we were there to conduct archival research at the Center for Jewish History, the New York Public Library's Dorot Jewish Division, and NYU's film archives. From these sources, we learned how delis operated as businesses in the mid-twentieth century, and how they eventually came to be fixtures in the urban landscape of New York City.

One particularly interesting archival source we consulted was the Mogen Dovid Delicatessen Magazine, a trade publication for deli owners that promoted fair business practices and community support, as well as information on manufacturing trends and new products.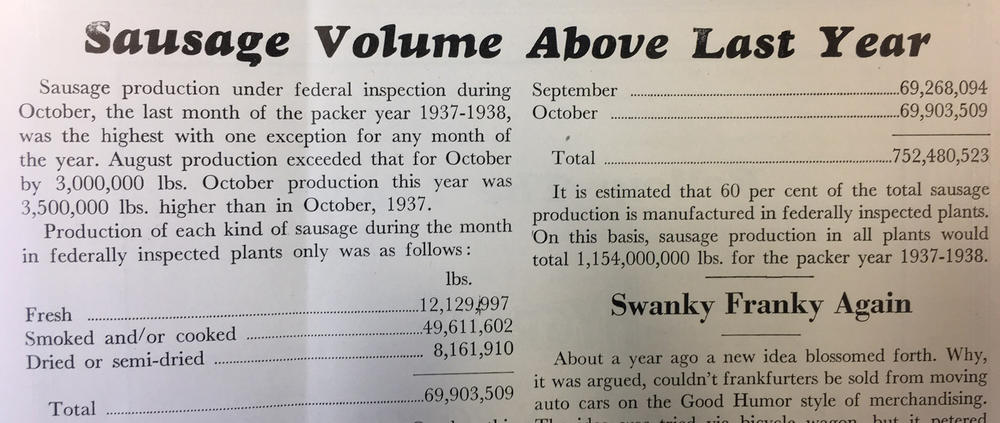 "Sausage Volume Above Last Year," Mogen Dovid​ Delicatessen Magazine, December 1938


---
But some things can only be learned through tasting ...
We made many stops on our quest for gastronomic knowledge. Foremost among them are some of the longest-running Jewish restaurants in the country: Russ & Daughters, Yonah Schimmel Knish Bakery, and Katz's Delicatessen. Each over one hundred years old, Russ & Daughters has operated since 1914, Yonah Schimmel since 1910, and Katz's since 1888.
The food connects you to a different era—one when hundreds of thousands of Jewish immigrants from across Europe left their homes and crossed the Atlantic to make new futures in the United States. We made sure to sample a gamut of deli classics: smoked fish on bagels, kasha varnishkes, blintzes, pastrami, pickles, babka, potato and cheese knishes, matzo ball soup, and of course New York–style cheesecake … sorry, are we making you hungry?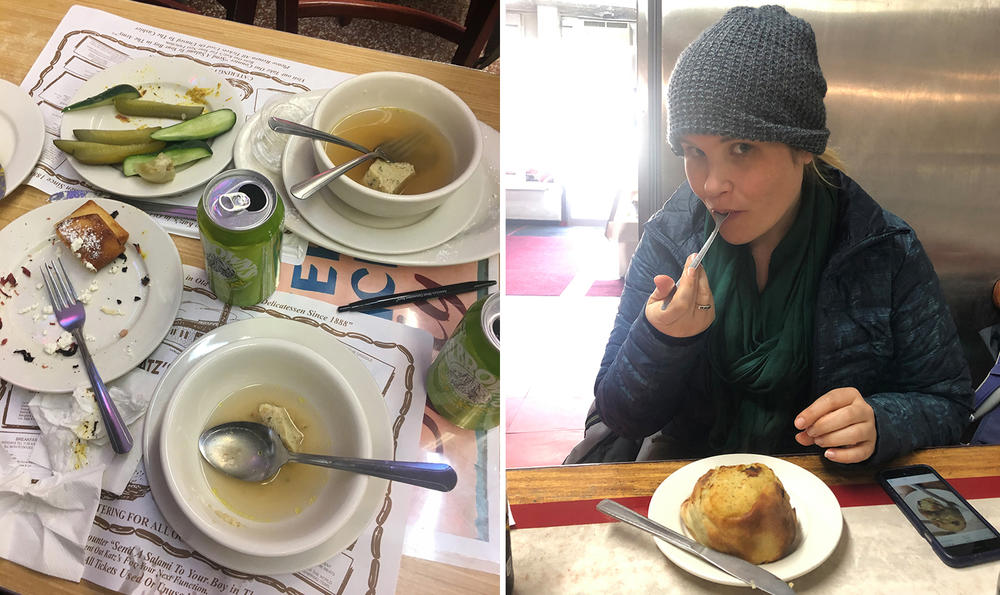 Left: This is the aftermath of our fressing (Yiddish for aggressive, uninhibited feasting) at Katz's Delicatessen. As you can see, we did some pretty extensive research! Right: Laura noshing on knish at Yonah Schimmel Knish Bakery.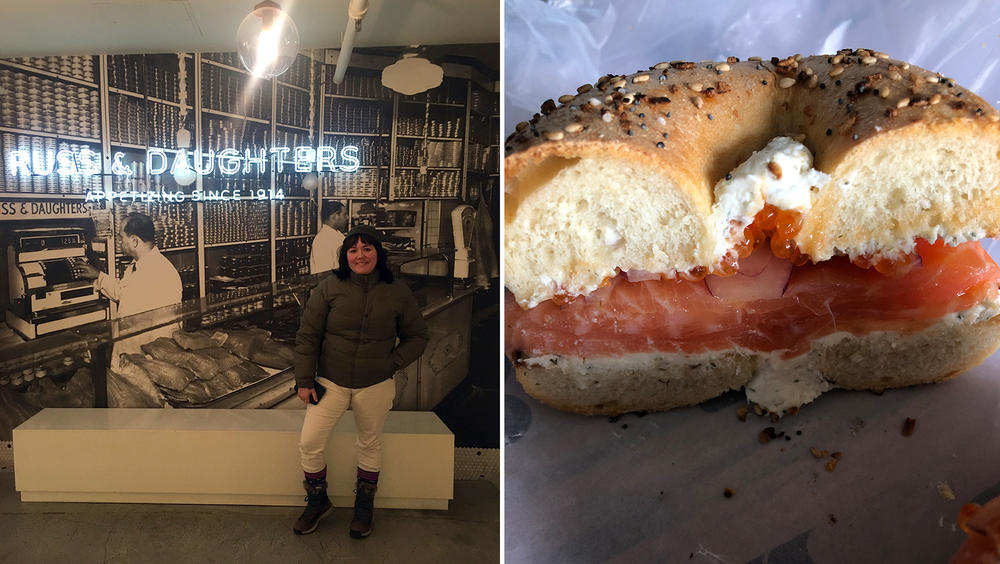 Left: Russ & Daughters & Cate. This is a special spot: At a time when most family businesses were passed on to sons, founder Joel Russ had his daughters Hattie, Ida, and Anne join the business in 1920. In 1935, the restaurant was renamed accordingly. Right: Cate's bagel with lox and salmon caviar from Russ & Daughters. Lookin' pretty good. Must be that New York water!
---

Left: Encased meats (and other treats) in a Vienna Beef refrigerator. Right: Vienna Beef factory, inspecting sausages, c. 1950s. Courtesy of Vienna Beef Ltd., Chicago, IL.

We scoured the country for more deli history on our other Skirball business trips, too. While in Indianapolis, Laura stopped at Shapiro's Delicatessen, Cate ate at Famous 4th Street Deli in Philadelphia, and our colleague Michele went with Laura to visit the Vienna Beef Factory in Chicago, which features its own museum.
From a hot dog stand at the World's Columbian Exposition in 1893, Vienna Beef founders Emil Reichel and Samuel Ladany built an empire of smoked, cured, and packaged meats that stands strong to this day. If you're ever in Chicago, visit their factory to see how the sausage is made. Literally.
---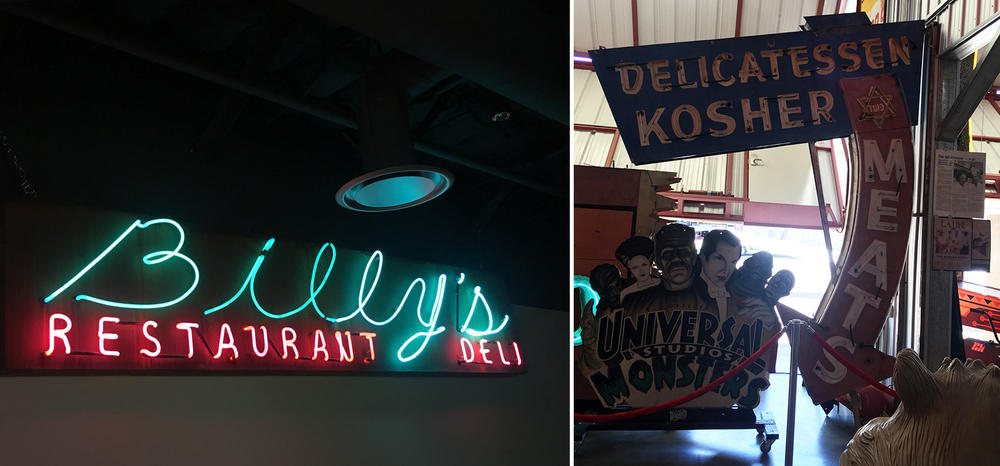 Left: Billy's neon sign at the Museum of Neon Art in Glendale, CA. Right: Drexler's Deli neon sign at the Valley Relics Museum in Van Nuys, CA.
Of course, Los Angeles has its own rich deli history—preserved by local arts and culture institutions, as well as the families that founded and, in some cases, still run our city's great delis.
At the Museum of Neon Art in Glendale, we found a great neon sign for the now-closed Billy's Deli, which served the Glendale community from 1948 to 2015. We also made a trip to the Valley Relics Museum in Van Nuys where we found a spectacular ten-foot-tall neon sign from another shuttered deli: Drexler's in North Hollywood. Owned and operated by Holocaust survivors Rena and Harry Drexler, Drexler's Deli was a local favorite for more than forty years.
As this journey comes to an end, we want to thank everyone across the country who has contributed to this project—from librarians and collections managers to the families that still own and run the delis that keep this delicious tradition alive. We also thank the donors who are bringing this exhibition to life for us at the Skirball. And last but not least, thanks to you, reader, for accompanying us today!
---
Laura Mart, Assistant Curator, is co-curator of "I'll Have What She's Having": The Jewish Deli. At the Skirball, Mart has curated El Sueño Americano | The American Dream: Photographs by Tom Kiefer; Another Promised Land: Anita Brenner's Mexico; and Surface Tension by Ken Gonzales-Day: Murals, Signs, and Mark-Making in L.A. She earned a BFA in studio and theater arts from Washington University in St. Louis and an MA in art history from the University of Chicago. Her go-to deli order is lox on a bagel with all the trimmings, though a good matzo ball soup is a close second.
Cate Thurston, Associate Curator, is co-curator of "I'll Have What She's Having": The Jewish Deli. At the Skirball, Thurston has curated Notorious RBG: The Life and Times of Ruth Bader Ginsburg, Paul Simon: Words & Music, Chasing Dreams: Baseball and Becoming American, and The Unauthorized History of Baseball in 100-Odd Paintings: The Art of Ben Sakoguchi. She holds a BA in American history from Franklin Pierce University in New Hampshire and an MA in public history from California State University, Northridge. Her go-to deli order is pastrami on rye followed by kasha varnishkes.