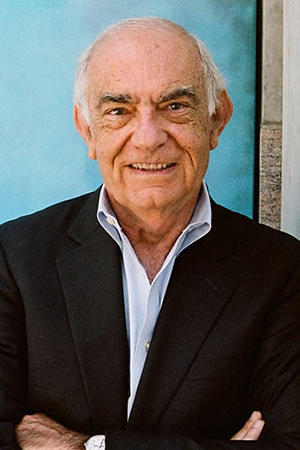 Uri D. Herscher is the visionary and founder of the Skirball Cultural Center. He led the Skirball from its inception in the early 1980s and was named Founding President and CEO when the institution opened to the public in April 1996. He served in that role until June 2020. Dr. Herscher is a scholar, administrator, and rabbi whose abiding commitment to Jewish values—which he embraces as universally ethical in essence and practice—has infused the Skirball throughout its history.
Dr. Herscher guided the Skirball through decades of growth and transformation, overseeing multiple expansions of its campus and programs, broadening its impact and establishing it as the largest Jewish cultural institution in the nation. Under his leadership, the Skirball grew its annual visitorship to more than 600,000, encompassing a public of diverse ethnic, cultural, and religious backgrounds. His pioneering vision—to create a multifaceted Jewish institution whose mission is to welcome and engage diverse communities—has defined the Skirball since its founding.

Encouraged by philanthropist Jack H. Skirball and other major donors, Dr. Herscher spearheaded the conceptualization and creation of the Skirball. He also identified the fifteen-acre building site, chosen for its centrality and accessibility within the vast urban fabric of greater Los Angeles. To transform the property into the cultural village he envisioned, Dr. Herscher engaged the world-renowned architect Moshe Safdie to design the campus.
During his tenure, Dr. Herscher built a strong fiscal infrastructure to support the Skirball's continued growth and to secure the institution's long-term financial health. Along with the sustained support of a broad donor base, Dr. Herscher established a business model that generates diversified sources of earned income to undergird the Skirball's ongoing operations, exhibitions, and programs. Throughout its history, the Skirball has operated debt-free.
Prior to founding the Skirball Cultural Center, Dr. Herscher was Executive Vice President and Dean of Faculty of the four-campus Hebrew Union College–Jewish Institute of Religion (HUC–JIR), a position he held for twenty years (1975–1995). During that time, he also held the position of Professor of American Jewish History. From 1970 to 1974, he was National Dean of Admissions. Over the course of his academic career, Dr. Herscher authored several influential books on the history and sociology of American Jewry, among them On Jews, America, and Immigration (American Jewish Archives), Jewish Agricultural Utopias in America (Wayne State University Press), A Century of Memories, 1882–1982: The Eastern European Experience in America (American Jewish Archives), and Queen City Refuge (Behrman House). Among his civic contributions to the city, Dr. Herscher served a five-year term (2001–2006) as one of five commissioners on the Los Angeles Ethics Commission.
Throughout his years of institutional and communal leadership, Dr. Herscher sought to build public support and appreciation for the constructive role of immigration in American life. The Skirball's exhibitions and programs frequently focus on the contributions of immigrants from many lands and cultures to the character and fabric of our nation. In April 2016, Dr. Herscher was recognized by US Citizenship and Immigration Services as an Outstanding American by Choice. This honor is bestowed upon a select few naturalized citizens who have made significant contributions to this nation through civic participation, professional achievement, and responsible citizenship.
Dr. Herscher was born in Tel Aviv in 1941 to German Jewish refugee parents who had fled Hitler's rise to power and made their way to British Mandate Palestine in the mid-1930s. His grandparents and many relatives were murdered in Nazi death camps. In the mid-1950s, Dr. Herscher immigrated with his family to the United States, settling in San Jose, California. As an undergraduate at the University of California at Berkeley, Dr. Herscher co-founded Cal Camp, a summer camp for underprivileged children in the Bay Area, which continues to operate today. He graduated with honors in 1964 with degrees in history and sociology. He was ordained a rabbi at HUC–JIR in 1970, and received a doctorate in American Jewish history in 1973. Dr. Herscher holds honorary degrees from the University of Southern California, the University of Judaism, and Hebrew Union College.
Dr. Herscher and his wife, Dr. Myna Herscher, have four sons and seven grandchildren.