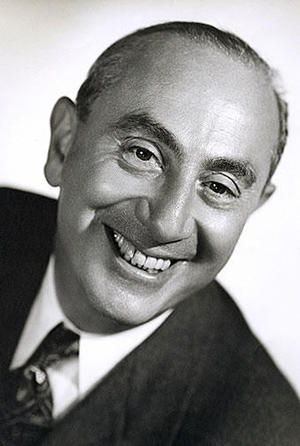 Born in 1896 in Homestead, Pennsylvania, Jack H. Skirball attended the University of Cincinnati and Western Reserve College in Cleveland and then went on to study for the rabbinate at Hebrew Union College. After his ordination in 1921, he did graduate work in philosophy and sociology at the University of Chicago, then served as an assistant rabbi in Cleveland for two years and rabbi of the Washington Avenue Temple in Evansville, Indiana, for seven years.
In 1933, he took a leave of absence from the Evansville congregation to become the manager of Educational Films Corporation, a pioneer in the field of audiovisual education. While with Educational Films, he produced Birth of a Baby, the first motion picture to show the actual birth of a child. This cinematic landmark became instantly famous, earning nine pages of coverage in LIFE magazine and prompting the opposition of religious groups that saw it as an intrusion on natural mysteries. Skirball then went on to feature film production as President of Skirball Productions, which was responsible for classics such as Alfred Hitchcock's Saboteur (1942) and Shadow of a Doubt (1943).
Beginning in the 1950s Skirball began a third successful career, this time as a real estate developer. He established a number of bowling alleys and created Vacation Village in San Diego, which became a model for resort hotels across America.
Although he never returned to the rabbinate, Skirball remained active in the Reform movement, assisting the establishment of new congregations, serving as regional president for the Union of American Hebrew Congregations and giving financial support to Hebrew Union College-Jewish Institute of Religion (HUC–JIR). He spearheaded the development of HUC–JIR's Los Angeles campus and established the Skirball Museum at HUC–JIR Los Angeles, the Skirball Gallery at the Cincinnati campus, and the Skirball Museum and Archaeological Building on the Jerusalem campus. He also founded the Skirball Institute on American Jewish Committee for Interreligious and Interethnic Research into Core American Values.
In 1983, Jack and Audrey Skirball (later Audrey Skirball-Kenis) provided the initial funding to Uri D. Herscher for the development of a new cultural center in Los Angeles. Jack Skirball was also instrumental in locating a site for the project. The Skirball Cultural Center has been named in his honor, not only for his invaluable contributions at its inception, but for his lifelong service to Jewish education and culture.
Jack Skirball (1896–1985) cared for and contributed generously to Jewish life and to American society as a whole. His memory is a blessing.