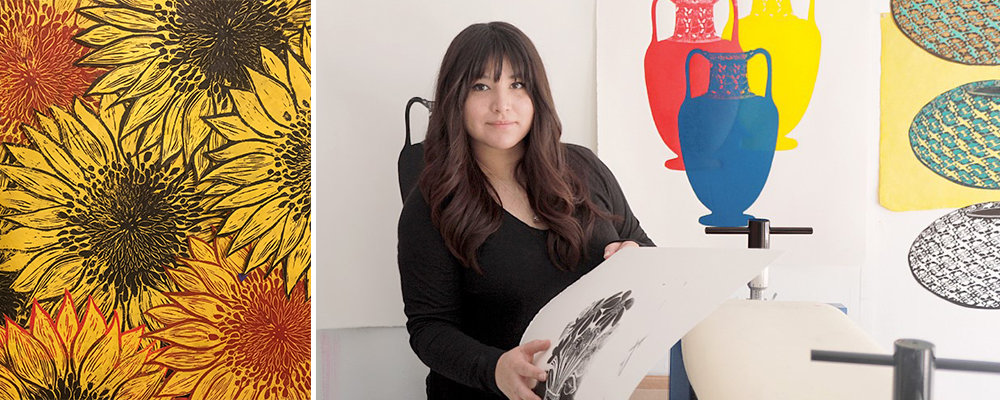 Wednesday, December 29, 2021
By Danielle Killam

Stephanie Mercado is a multidisciplinary artist and art administrator born and raised in Boyle Heights, Los Angeles. I caught up with Mercado to discuss the meaning, process, and inspiration behind her poster series of LA essential workers for Sustain: From Loss to Renewal, on display through March 20, 2022, at the Skirball.
Mercado's portraits mark Phase III of Sustain, a three-part installation exploring meaningful expressions of grief and resilience. For Phase I, a yahrzeit (memorial) candle burned in the Skirball lobby, honoring the lives lost to the pandemic. For Phase II, which remains on view, visitors are invited to dedicate a stone in someone's memory to a permanent outdoor display, evoking the Jewish tradition of leaving a stone at a gravesite.

---
Danielle Killam: Stephanie, what inspired you to become an artist?
Stephanie Mercado: I grew up in a fabric store and it was a childhood dream to become a fashion designer. I have always loved expressing myself through clothes and textiles. During my time at the fabric store, I also watched PBS, where I was introduced to Bob Ross. It was my first introduction to painting. Bob Ross inspired me to pick up a paint set and try painting for myself. He not only made it seem very easy, but he also had positive and encouraging messages for anyone willing to try painting. I am innately a creator and find making things empowering and fulfilling.
DK: What about Sustain: From Loss to Renewal speaks to you as an artist?
SM: Sustain is a thoughtful and important invitation to Angelenos to reflect on our individual and collective losses, and to begin the process of healing both individually and in community. The three-part installation honors our human experience and poetically weaves together grief, the celebration of life, and diverse expressions of love and acts of care.
I knew I wanted to create a series of essential worker portraits. This body of work is related to psychology and labor, themes that have been a thread within my work. When I received the invitation to submit a proposal for the third phase of Sustain, I found the portraits and the concept behind the essential worker series aligned with the Skirball's installation. It pushed me to create the portraits that I had only been thinking about for several months.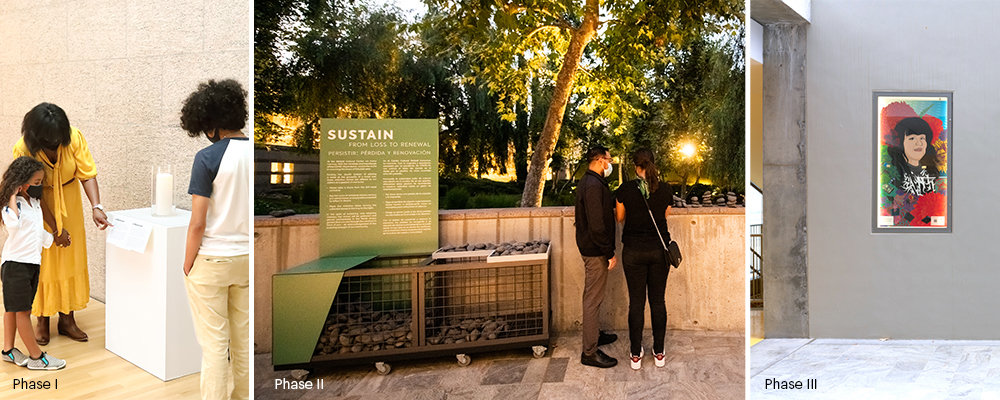 DK: What was your approach when creating each of the portraits? What mediums did you work with? What tools and techniques did you use?
SM: I sat with each person for one to two hours, listening to them share their experiences over the previous year and a half, working through the height of the pandemic. I photographed each person as we were talking about their experiences. Their photos are used as the basis for the illustration and each person is surrounded by hand-printed florals, plants, and items that relate to their profession.
The portraits combine illustration and printmaking to create vibrant works that are uplifting and evoke a sense of hope. The florals and plants are hand-carved relief prints printed in different color combinations. They are then incised and arranged digitally to surround the worker with elements that reference nature and life.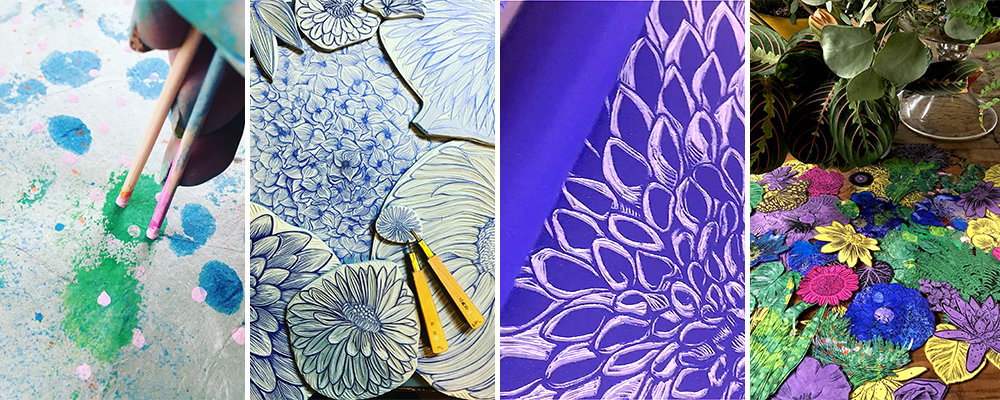 DK: How was the process of finding people to participate?
SM: The portraits were inspired by essential workers and the roles they play in our day-to-day lives. I am friends with the first two women selected for the portrait series. I interacted with them during the quarantine period, listening intently to their experiences throughout the year. Selecting them for the series was intuitive.
The series was developed with a desire to be inclusive and highlight diverse voices and job sectors. It was challenging to find workers to participate and share their stories. Some workers are so humble they do not believe they should be highlighted and passed on the opportunity to be included. I feel that I could create hundreds of portraits of workers, and I would still not have a comprehensive enough body of work that accurately showcases the number of essential workers needed for us to continue functioning as a society.

DK: What do you hope people take away from this body of work?
SM: The most interesting thing about my interactions with each person was their own perception of the work they are doing. Many of the people I approached downplayed the importance of their work. We get so accustomed to the day-to-day that we often forget our value. I hope the portraits remind the audience that the work of the working class is valuable, essential, and should be acknowledged and respected.
DK: You recently described yourself shifting toward becoming a public artist, versus fine arts. What influenced this shift?
SM: I was recently awarded my first public art commission, a mural for an affordable housing complex in East Los Angeles. I have always been interested in muralism and the way public art can beautify, inspire, and create a sense of cultural pride for locals. Murals and monuments are a documentation of culture and time. They humanize the urban environment and create points of connection.
Learn more about Mercado's first public mural, East Los Luv >
DK: A primary goal of Sustain is to help Angelenos heal through art. Can you remember a specific time or experience when the arts helped you heal or cope with the world around you?
SM: In the past, I have used art-making to work through personal experiences. Specifically, when my family was displaced from our family home in 2008 during the housing bubble burst, I used that experience to fuel a body of work that explored the American Dream, real-estate, class, structural racism, and colonialism. The painting was powered by emotions, it was supported by research, and was later sold, which helped me to buy a house. Creating art from that painful experience helped me to manifest a dream, and I am forever grateful for being able to turn a negative experience into something positive.
---
Stephanie Mercado is a multidisciplinary artist and art administrator, born and raised in Boyle Heights, Los Angeles. Her artwork and artistic practice are focused on empowerment and the advancement of art education. Her imagery is eclectic, inspired by lived experiences, cultural references, and the fusion of traditional printmaking with experimental practices. Her most recent body of work is a series of collages constructed from hand-printed elements on colored paper arranged to create vibrant and dynamic works with nonlinear narratives. The florals and icons are arranged to form narratives that represent cultural affirmation, growth, and flowering into being.
Mercado received a Bachelor of Fine Arts in Drawing and Painting from California State University, Long Beach, and has been awarded a public art mural in East Los Angeles, artist residencies, and awards from the Tamarind Institute in Albuquerque, NM, and the International Print Center New York. She has exhibited internationally and is in the permanent collections of museums and archives in Texas, New Mexico, and Georgia.

Danielle Killam joined the Museum Department at the Skirball in 2015, assisting with temporary exhibitions. As Exhibitions Coordinator, Killam supports the curators with checklist development, lender relationships, logistics, and research, and acts as a liaison for traveling exhibitions. She began her museum career at the Fashion Institute of Design & Merchandising Museum, where she was Collections Manager of its historic fashion archive. Killam co-curated the Skirball's original exhibition Fearless Fashion: Rudi Gernreich, and served as curatorial advisor for the Contemporary Jewish Museum's exhibition Levi Strauss: A History of American Style. Danielle received her Bachelor of Arts degree in American History from the University of California, Santa Cruz, and a secondary degree in Product Development at the Fashion Institute of Design & Merchandising.