< Return to main Building a Better World page...
The story of Noah's Ark teaches us how we can overcome "stormy," or challenging, times by working together and caring for one another. Here at the Skirball, visitors to the family destination Noah's Ark learn the value of community and collaboration by caring for the Ark's inhabitants—all of which are made from "second chances," or recycled and repurposed materials. We also offer multiple opportunities for visitors to apply these values beyond our Museum doors. For our Build a Better World school program, which I have the honor of overseeing, second grade students participate in service projects, from caring for the earth to helping people in need, that support local community partners. In addition to these school programs, Skirball educators also facilitate weekly creative projects in the Rainbow Gallery of Noah's Ark to inspire visitors of all ages to build a better world.
In recent months, we've turned our attention to one of the most pressing issues in Los Angeles: the homeless crisis. The Los Angeles Times recently reported that there are more than 34,000 homeless people in the city. And both students and visitors to Noah's Ark have found creative ways to empower those affected by homelessness. Even our youngest community members are helping make a difference.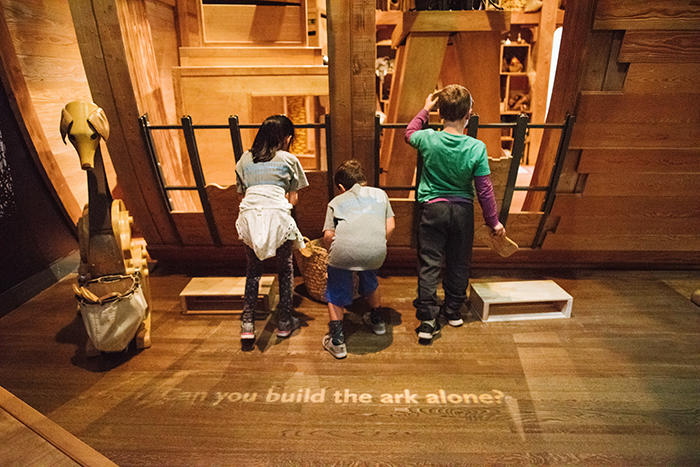 Students work together to build the ark on board Noah's Ark at the Skirball. Photo by Mercie Ghimire
Last fall, we began a partnership with LA Family Housing (LAFH), a nonprofit organization that works tirelessly to end homelessness in Greater Los Angeles. In 2016, LAFH helped over 7,000 people, including over 2,500 children, connect with and retain housing. To educate young people about the issue of homelessness, dedicated staff from LAFH came to the Skirball for several morning school tours. They spoke with students about the importance of helping those in need and giving others a second chance. Ella Boyajian from LAFH shared, "At LA Family Housing, we want everyone to be safe and healthy. We believe that no one should have to be on the street. Everyone deserves a home."
Inspired by this message, students from three LAUSD schools—Woodlake Elementary Community Charter, Baldwin Hills Elementary, and Maple Primary Center—created "comfort bags" for the families at LAFH. They decorated paper bags with messages of hope and encouragement before filling them with personal hygiene items, such as soap, shampoo, deodorant, toothbrushes, and toothpaste. When asked what it means to have hope, one student answered, "Believing in your heart that things will get better."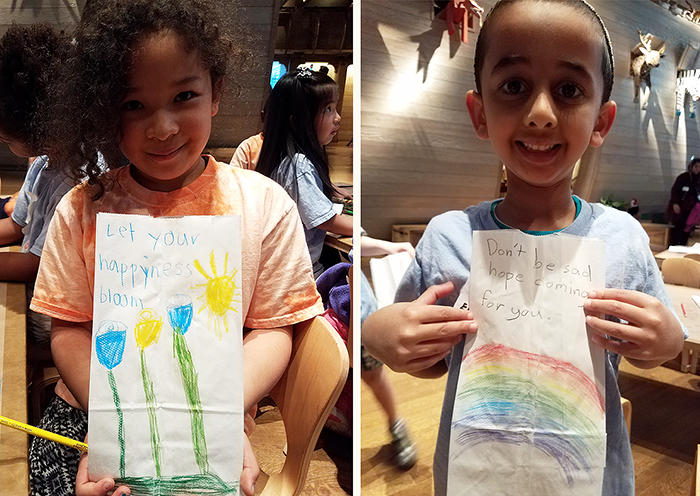 Students from Woodlake Elementary share their hopeful messages. Photos by Lori Nierzwick.
Noah's Ark visitors of all ages also had the opportunity to support our friends at LAFH last fall. They created welcome banners for newly housed families, sharing images and well wishes to celebrate these new beginnings. The banners were distributed to newly housed families and hung cheerfully in the LAFH office.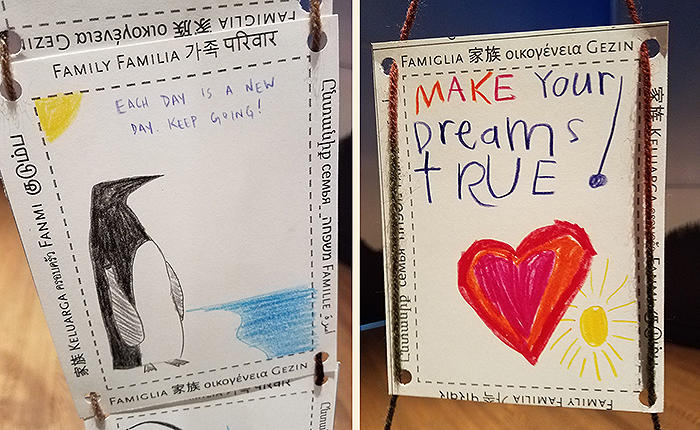 Inspiring messages of hope adorn welcome banners for formerly homeless families. Photos by Lori Nierzwick.
Then, in December of last year, Skirball educators and a few of our favorite Noah's Ark animals joined LAFH for their Winter Wonderland celebration. Families celebrated the season through music, dance, food, and togetherness. And Noah's Ark puppets pranced and prowled, making friends with all in attendance.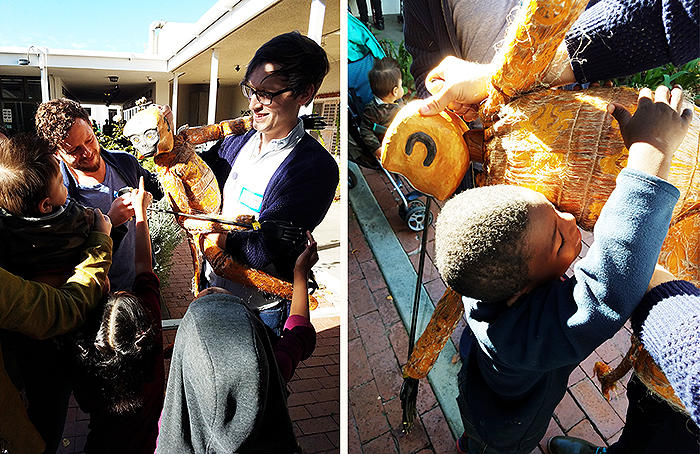 The langur puppet made a special appearance at the LAFH's annual Winter Wonderland event in December 2017. Photos by Lori Nierzwick.
These moments of community engagement and support are the heart of the Build a Better World school program and breathe life into Skirball's mission of celebrating hope, fostering human connection, and helping build a more just society. It is a privilege to support the incredible efforts of LAFH, and an honor to have them involved with the Build a Better World program. I think this second grader sums it up best: "Work together, it makes things better."
Join us in Noah's Ark each week to build a better world and support local initiatives! If you are a second grade teacher and want your students to get involved, don't forget to register for the special Build a Better World: Noah's Ark at the Skirball school tour. Registration opens on Wednesday, July 11, 2018, at 12:00 pm
—Lori Nierzwick, Educator, May 2018