< Return to main Building a Better World page...
"The Skirball Cultural Center's mission … is very much what the Community Based Instruction special education program hopes to accomplish—to inspire my students, despite their challenges, to feel included in and be a part of our society," says Judy Scheuer, the Community Based Instruction teacher at Diane S. Leichman Career and Transition Center (Leichman CTC).
Located in Reseda, just down the hill from the Skirball, Leichman CTC serves LAUSD students ages 12 to 18 with special needs by providing rigorous and relevant hands-on instructional experiences that lead students towards being work-ready and successfully independent members of their communities. Leichman CTC students participate in vocational work programs ranging from Community Based Instruction to the Leichman thrift store.
Judy and her students have been visiting the Skirball for more than fifteen years. Most recently, they attended the 11:00 am Noah's Ark at the Skirball school tour, which Judy feels is the perfect program for her group. As she serves students with a range of special needs, the later start time of the tour enables her to prepare the students for their visit. Offered on select Wednesdays during the school year, this tour welcomes special education classes to participate in programming customized for the students' unique learning needs. Like any visitor to Noah's Ark, the students on this tour go on a journey through the three chapters of the Noah's Ark story—Storms, Arks, and Rainbows. However, facilitated by Skirball educators, like my friends Julia and Dillon, this gallery experience allows the students to explore the story at a calmer pace.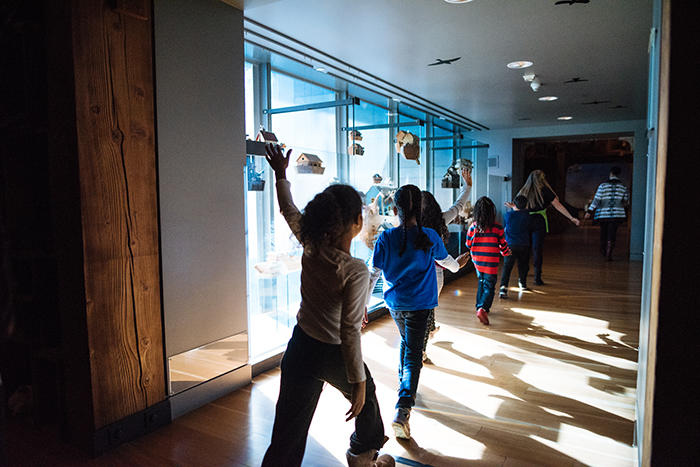 On the 11:00 am Noah's Ark at the Skirball school tour, those students who need additional time to transition from one chapter of the story to the next have the opportunity to do so. Photo by Mercie Ghimire. (Note: This image illustrates the Noah's Ark experience but does not feature Leichman CTC students.)

This Noah's Ark program is exciting to us at the Skirball because we have the chance to develop close relationships with a handful of teachers like Judy and her co-teacher Helen Piltzer. We love learning about all of the creative and thoughtful ways teachers create pre- and post-visit lesson plans tailored to their students' needs. Judy says, "My goal is for students to have the excitement of recognition which is why [prior to their visit] the kids do a matching game as well as a bingo game with photos of the animals aboard Noah's Ark." Before their visit, each student also identifies their favorite animal, and after their visit, the students reflect on their favorite activity. It is no surprise to Judy and Helen that their students' favorite activities are climbing and playing with puppets. For both teachers, their favorite part of the tour is watching their students have a fantastic time together. "Before and after our visit, we have discussions about working collaboratively to help others," Judy explains. "We connect it to how when we make music aboard the Ark, one instrument wouldn't be as wonderful as everyone playing an instrument to make music together."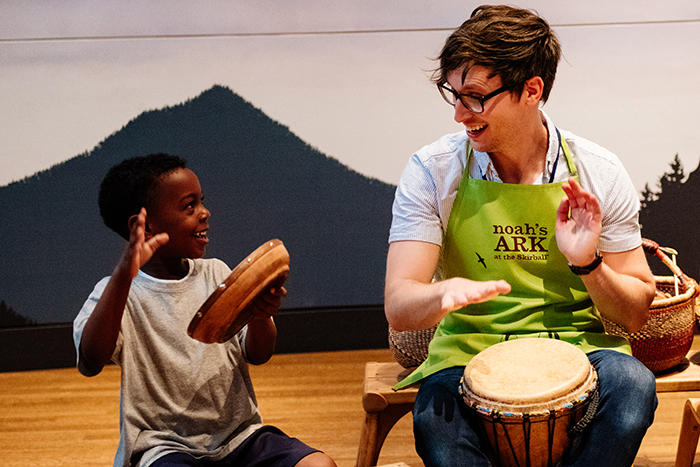 Skirball educator Dillon plays music with a student attending a Noah's Ark school tour. Photo by Mercie Ghimire. (Note: This image illustrates the Noah's Ark experience but does not feature a Leichman CTC student.)

Judy and Helen weave this collaborative spirit found in music into every learning opportunity they provide to their students. Whether sorting donations from Vons to create comfort bags for families at their school or for the food bank at a local church or leading the recycling program across their school site, the Community Based Instruction teachers and students are constantly finding ways to build a better world together in their community. Judy's goal for Leichman students to feel included in and a part of a wider society has led to their classroom philanthropy. For the last four years, Leichman students have participated in Red Nose Day, a campaign by Comic Relief Inc. to raise funds for organizations like Boys & Girls Clubs of America, charity: water, Children's Health Fund, Covenant House, Feeding America, Gavi, the Vaccine Alliance, UnidosUS, Save the Children, and The Global Fund. Students in the Community Based Instruction class take the lead in this campaign by making posters and giving presentations to all students at their school site. The students talk to their peers about issues like homelessness and limited access to food and water. Judy and her students then organize a schoolwide Red Nose Day assembly where the entire student body wears red and receives a certificate for their participation and fundraising efforts. "We hope to make our students aware that sometimes they are at the receiving end of help, but that they also have a role in our society to help other people, especially young people like them," says Judy.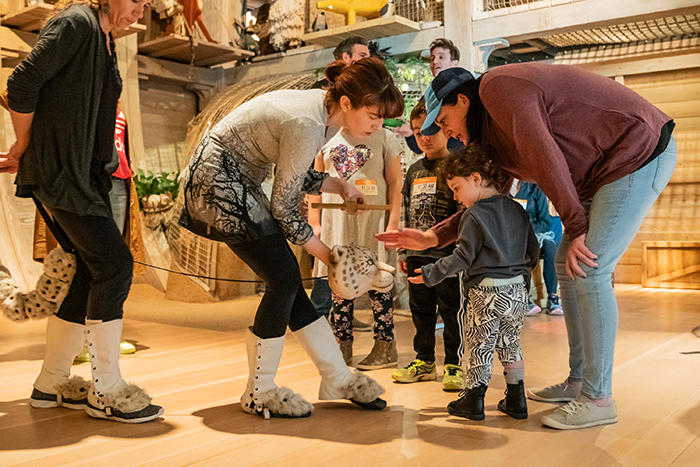 Here, Skirball educator Julia introduces the snow leopard to a visitor. Puppet encounters are always a favorite activity aboard the Ark! Photo by Farah Stop. (Note: This image illustrates the Noah's Ark experience but does not feature Leichman CTC students.)

At the Skirball, we remain inspired by teachers like Judy and Helen and their Community Based Instruction students. They not only take to heart the Noah's Ark messages of building resilient communities and working together to create a better world, they make them their own.
If you would like to learn more about the Leichman CTC community and support one of their many programs like the Leichman thrift store, the teachers invite you to call the school to schedule a tour.
If you are a special education teacher and would like to learn more about Skirball school tour offerings, including sensory backpacks available for all groups, please email education@skirball.org.
—Helen Alonzo, Associate Educator, School and Residency Programs, January 2019