< Return to main Building a Better World page...
Earlier this summer, in the midst of the crisis of children being separated from their parents along our nation's southern border, the Noah's Ark educators felt compelled to share the Skirball's compassion and empathy for refugee families in turmoil. In Noah's Ark, our ensemble of educators read immigration-themed storybooks to visitors and asked them to write postcards filled with messages of welcome and hope to recently arrived immigrants and refugees. Several weeks later, a small group of educators delivered these messages to the San Fernando Valley Refugee Children Center (SFV Refugee Children Center) and presented an uplifting puppet play. In these small but significant ways, Skirball visitors and staff are taking action to promote a more just society and build empathy for our friends and neighbors.
It started with a story. In the Rainbow Gallery of Noah's Ark—where we always celebrate new beginnings and second chances—we read the picture book The Journey by Francesca Sanna, which tells the story of one family's immigration experience. More than just story time, the reading served as a springboard for conversation with and among visitors, who were touched by its message.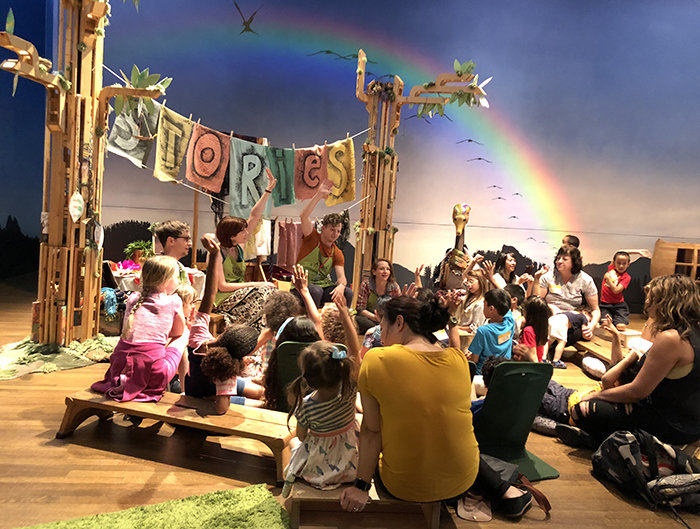 Prompted by the educators, the families discussed what it might be like to have to leave their home, take a long and difficult journey, and start a new life in a different country. Some children talked about knowing what it was like to feel homesick, worried, or like they don't belong. Two parents and one Skirball intern shared that they themselves were refugees and immigrants. The opportunity to put faces and voices to the experience we had just read about was a powerful way to personalize the immigration journey and empathize with people who have undergone similar journeys and transitions.
After the group discussion, visitors wrote postcards of hope and comfort to children from Central America who are being served by the SFV Refugee Children Center in North Hills, just nine miles north of the Skirball. The SFV Refugee Children Center offers hope and healing in the form of legal assistance, emotional support, tutoring, and other resources to help meet the basic needs of these children.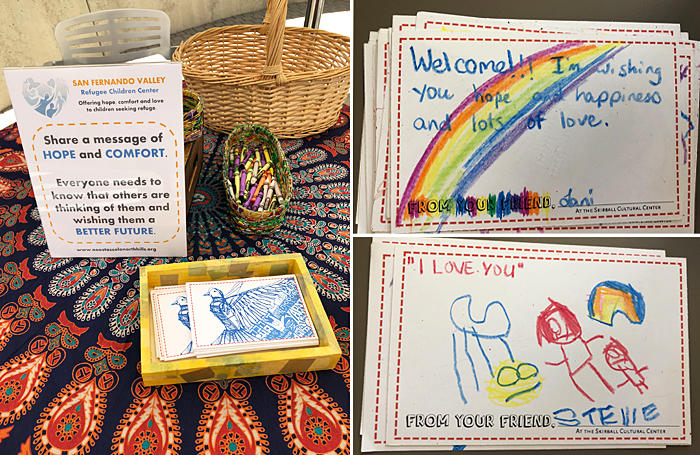 Later, Skirball educators Mario Ibarra, Julia Garcia Combs, and I delivered the postcards to the SFV Refugee Children Center, where we met, talked, and had pizza with the families and children. Then, complete with puppets and props, Mario and Julia performed a Spanish translation of Fabio the Fox and the Tree of Life: A South American Flood Story, a touching and hilarious play regularly performed at Noah's Ark. Based on a narrative from the Chorote people who lived near present-day Bolivia and Paraguay, the play tells a flood story similar to that of Noah's Ark and shows characters overcoming challenges and getting second chances.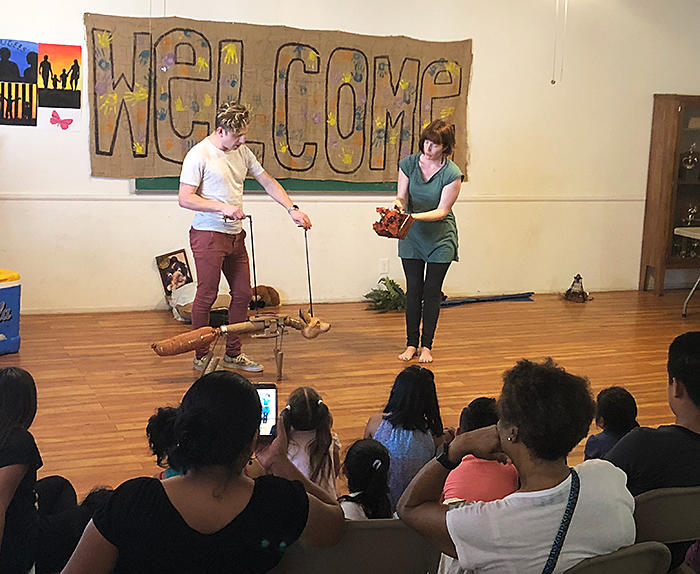 (See that gorgeous Welcome sign in the background? Skirball family visitors helped make that as part of National Welcoming Week last September, and SFV Refugee Children Center has had it up on their wall ever since! Read more about that project here.)
Afterwards, the kids came up onto the stage and learned how to puppeteer and asked lots of questions.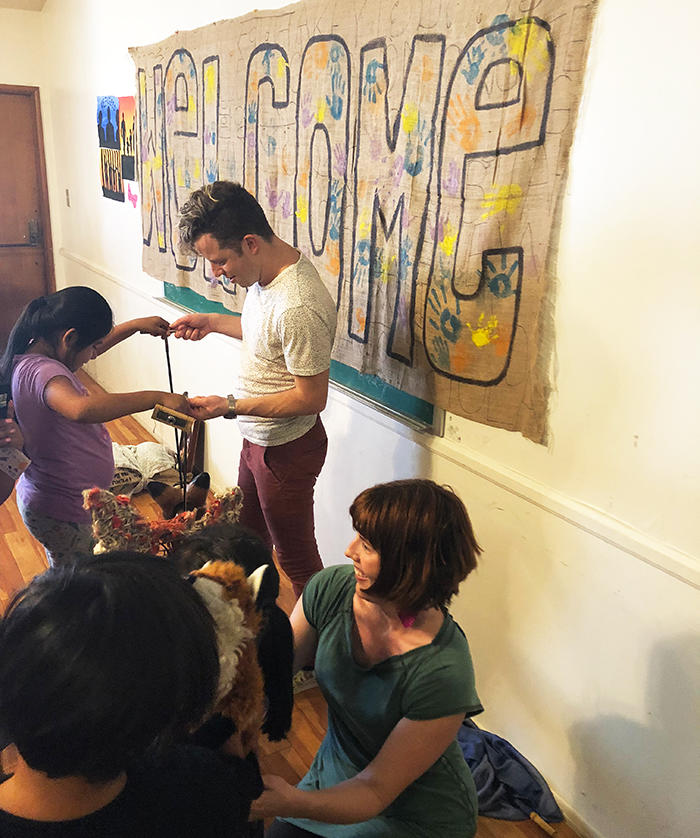 Before we left, we explained how much all of us at the Skirball are thinking of them and wishing them hope, love, and second chances. We gave each child and adult a handmade postcard. Amanda Escobar Romero, the director of the SFV Refugee Children Center, said to the children, "If you ever hear unkind words in the world about us, immigrants, remember the people from the Skirball who value, welcome, and love you."
We are looking forward to welcoming SFV Refugee Children Center for their second annual visit to Noah's Ark in the fall. And be sure to stop by Noah's Ark this September to participate in National Welcoming Week projects, and do your part to take action towards building a more just society.
—Nina Silver, Head of Noah's Ark and Family Programs, August 2018