< Return to main Building a Better World page...
At the Skirball, the Noah's Ark Build a Better World school program teaches our youngest visitors about empathy and civic responsibility. Each school tour includes a service-learning project focused on one of three themes: helping people in need, taking care of the earth, or comforting animals. Teachers and students then return to their classrooms and create a project of their own. Read on to find out how participating schools helped build a better world!
Buchanan Street Elementary
Second grade students at Buchanan Street Elementary sold candy grams for fifty cents apiece throughout the month of February. In total, they raised $300 to donate to the Pasadena Humane Society!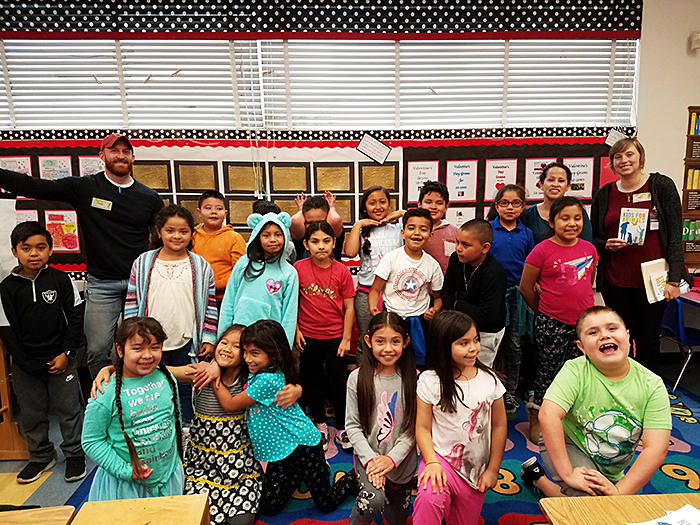 Buchanan Street Elementary second graders presenting their donation to the Pasadena Humane Society.
Beethoven Street Elementary
Beethoven Street Elementary first graders helped beautify their campus by creating a welcome banner for the auditorium and maintaining the community garden. They further shared their artistry by creating birthday cards for a local senior center.
Budlong Avenue Elementary
After seeing the repurposed materials used to create the animals aboard Noah's Ark, first graders at Budlong Avenue Elementary created their very own upcycled animals out of recycled items from home. Students then wrote a narrative story, informative article, and opinion piece about their animal.
Clover Avenue Elementary
Four second-grade classes at Clover Avenue Elementary led a school-wide sock drive, donating more than 180 pairs of socks to Chrysalis, a nonprofit dedicated to helping homeless individuals find and retain employment. Students also created "postcards of positivity," filled with messages of encouragement and support for Chrysalis participants.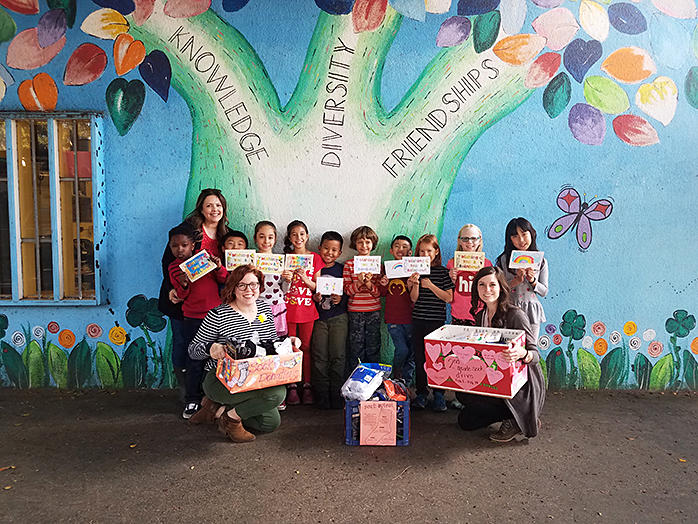 Students at Clover Avenue Elementary collected over 180 pairs of socks to donate to local nonprofit Chrysalis.
Shirley Avenue Elementary
Shirley Avenue Elementary second graders raised money to adopt AJ the dolphin from The Dolphin Research Center in Florida. This money will provide food, medical care, and maintenance of its beautiful seawater habitat.
Woodlake Avenue Elementary
First grade students at Woodlake Avenue Elementary created "comfort bags" for families at LA Family Housing. Students filled these bags with donated hygiene items, and decorated them with messages of hope and encouragement. Read more information about this project and LA Family Housing here.
Buford Elementary
Buford Elementary first graders studied the environmental impact of plastic straws and created posters to educate their peers, families, and school district. They even made a presentation to the district head of Child Nutrition Services, who pledged to reduce the amount of plastic bags and straws at their school!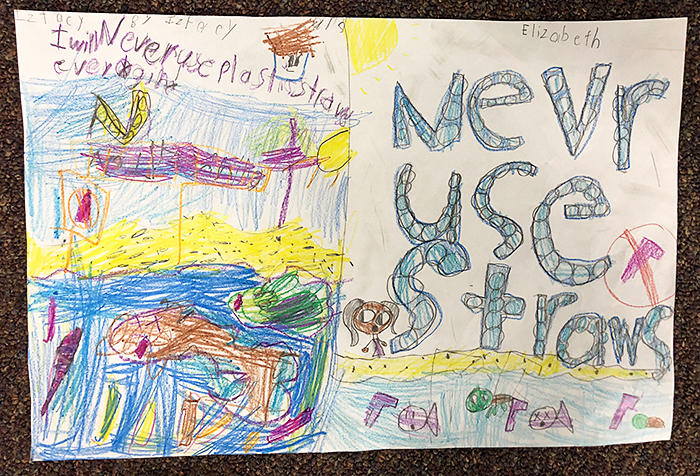 Poster created by Buford Elementary first grader urging Lennox school system to reduce plastic use.
Farragut Elementary
Farragut Elementary first graders continued their efforts to help others by sending letters of appreciation to members of the United States Military serving in Afghanistan.
Edison Elementary Language Academy
As part of their Kindness and Justice Challenge, second graders at Edison Elementary Language Academy made Valentine's Day notes for The People Concern in Santa Monica, an organization that provides services to people experiencing homelessness. Staff from The People Concern visited their classroom to share information about homelessness in their community, and students further explored ways they could support people in need.
Tarzana Elementary
Inspired by the animals aboard Noah's Ark, second grade students from Tarzana Elementary School collected plastic water bottles and aluminum cans. By recycling these items, they raised thirty dollars to donate to the Monterey Park LAMP Optimist Club's disaster relief fund.
Grant Elementary
Grant Elementary students learned the importance of native plant species after visiting the Theodore Payne Foundation. Using California poppy seeds, they made nendo dango (Japanese for "seed balls") to cover the hillsides of the Theodore Payne Foundation. Students also created handmade signs adorned with messages of why it is important to take care of our Earth.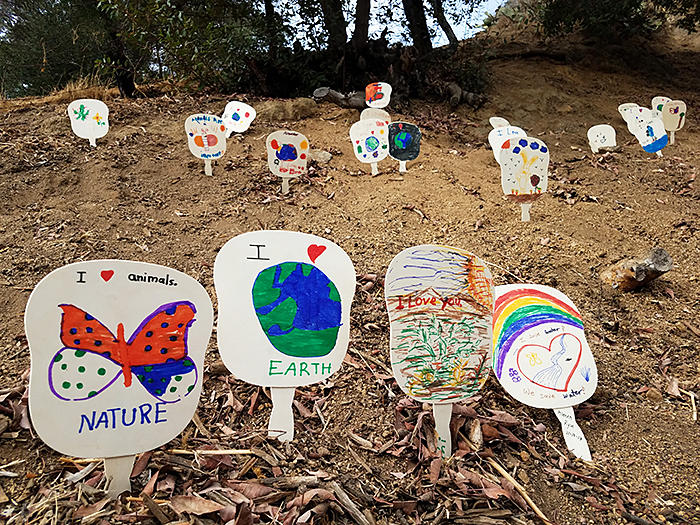 Handmade signs by Grant Elementary students sharing the importance of taking care of the environment.
Norwood Street Elementary
Norwood Street Elementary first graders made cat and dog toys from recycled materials, such as baby socks filled with catnip and plastic water bottles. Students delivered these creative toys, along with donated supplies, to the animals at the South LA City Animal Shelter.
Community Partners
By working closely with mission-aligned community partners, we hope to strengthen the fabric of our community and provide our students with awareness, understanding, and opportunity to take action on behalf of the greater good.
Below is a list of partners we had the privilege of working with during the 2018-2019 school year. Many are ongoing partners, some are new partners, and all are vital to the success of the Build a Better World program.
Join us in Noah's Ark each week to build a better world and support local initiatives!
—Lori Nierzwick, Educator, July 2018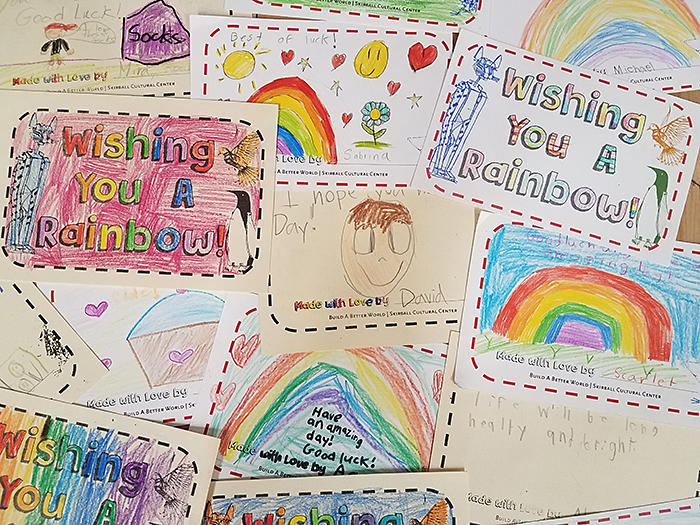 Postcards of positivity, student-created artwork filled with messages of encouragement and kindness