Learn more about the featured acts in our virtual concert series, Skirball Stages. Program notes for each show will be added prior to each premiere date.
---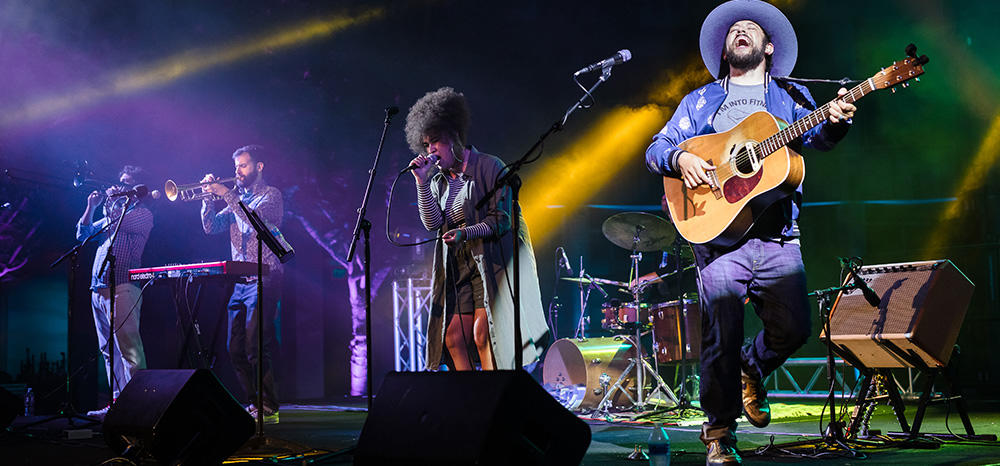 Dustbowl Revival with special guest Lashon Halley, photo by Larry Sandez

Meet Dustbowl Revival
"Music is the one religion everyone can believe in" are the words of Z. Lupetin, founder of Los Angeles–based Americana group Dustbowl Revival. The band is known for pushing boundaries, crossing get-up-and-move, high-energy folk music with incredibly soulful grooves interlacing rock and funk. This intersection is where the band casts their magic, earning rave reviews for their "upbeat, old-school, all-American sonic safaris [which] exemplify everything shows should be: hot, spontaneous, engaging, and, best of all, a pleasure to hear" (LA Weekly).
Growing up listening to a diverse playlist where rockabilly, gospel, and bebop all crashed together, Lupetin seeks to discover how genres interconnect when we listen a little deeper. On a trip to Israel, he could hear ancient music inside his bones, sensing a primordial connection. He feels a similar bond to the timeless sounds of gospel music, Django Reinhardt, and more, leading him to a "cross section [that] makes me who I am and makes America so important and unique."
For Skirball Stages, Lupetin and Dustbowl Revival are eager to join Mames Babegenush in showcasing the amazing diversity of genre-defying music.
—By Leeav Sofer, founder of Urban Voices Project, Mostly Kosher bandleader, and teaching artist for the Colburn School and the Los Angeles County Office of Education
---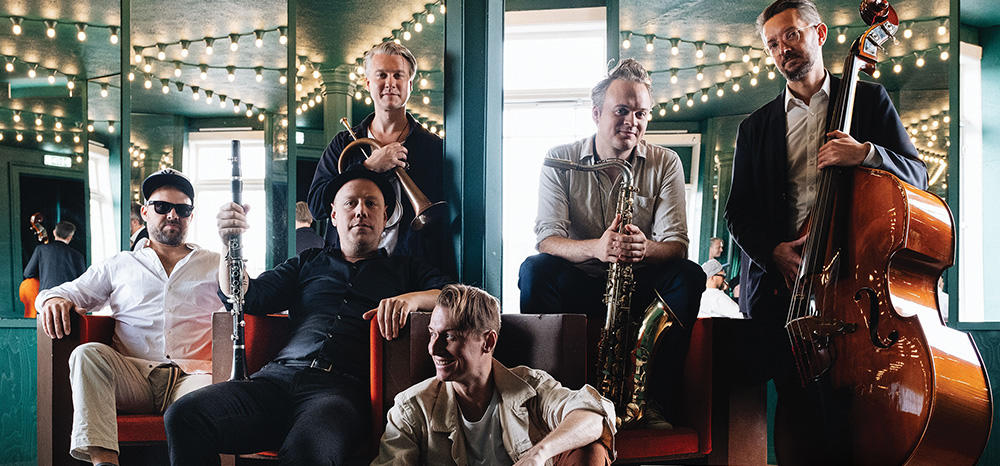 Mames Babegenush, photo by Dennis Lehmann

Meet Mames Babegenush
Hailing from Denmark, where the Jewish population is six thousand out of six million, popular klezmer band Mames Babegenush represents a unique sound in their home city of Copenhagen. Whether summoning the ambience of a Nordic pine tree forest or calling to mind the energy of lively weddings in Romania, they have found success at venues and festivals worldwide.
The group's founder, Emil Goldschmidt, is not only a member of Denmark's tiny Jewish community, but also the only member of Mames Babegenush of Jewish ancestry. Goldschmidt invites his friends and bandmates to make klezmer their own. Together they have thrived by crossing cultures and celebrating heritage.
From "klezmer attacks" on the streets of Copenhagen to appearances with Eastern European–influenced musical greats such as David Krakauer and Gogol Bordello, Mames Babegenush has enjoyed the passion of an underground following while earning international acclaim. Their performance for Skirball Stages is sure to be a swirl of originality, crossing bridges of sound and pushing boundaries of expectations.
—By Leeav Sofer, founder of Urban Voices Project, Mostly Kosher bandleader, and teaching artist for the Colburn School and the Los Angeles County Office of Education
---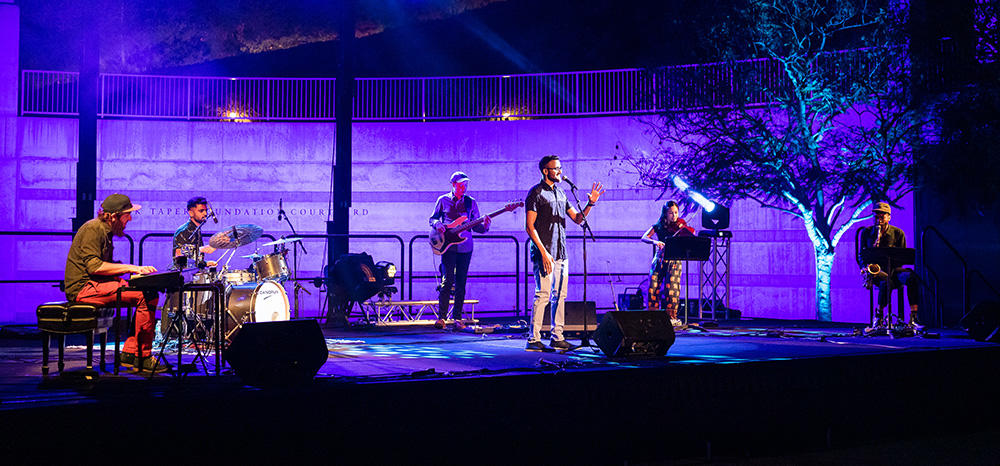 Aditya Prakash Ensemble, photo by Larry Sandez

Meet Aditya Prakash Ensemble
Vocalist Aditya Prakash is one of the foremost virtuosos of Carnatic music, the traditional classical style of South India. Encouraged by a family immersed in South Indian arts and culture, he began studying music in childhood. Following in the ancient tradition of utmost sanctity and reverence of the guru-shishya (mentor-student) relationship, Prakash has trained in Carnatic vocals, keyboard, and the mridangam drum with some of the tradition's most eminent artists in both India and the US. At sixteen, he was hand-picked by Ravi Shankar to become one of the youngest musicians to tour with the sitar legend.
Traveling the world with Shankar opened Prakash up to his heritage and talent. In Aditya's own words: "In anything I do, I find my roots, my Carnatic voice, at the heart of it. I found so many points of connection between my traditional Carnatic voice and my contemporary environment, the multitude of sounds I heard growing up in America. Melodies and rhythms I heard during childhood—a gospel choir, a flamenco guitar riff, a pop song, a rap—all flashed before me as I began to hear them as a dialogue with my Carnatic music. It felt honest, as if my two worlds were finally merging."
Shankar encouraged Prakash to pursue music professionally, leading him to UCLA, where the Aditya Prakash Ensemble was born. Bridging seemingly disparate styles of music, Prakash and his bandmates synthesize the deep-rooted tradition of Indian classical ragas and rhythms with the sounds of brass, jazz harmony, and hip-hop–infused beats. Their latest album, Diaspora Kid (Ropeadope Records, 2020) is a reference to the artist's cross-cultural upbringing in Los Angeles, reflecting Prakash's experience of spiritual connection with his culture.
—By Beto Gonzales, ethnomusicologist, musician, and producer
What is Carnatic music
There are two classical music traditions in India—North Indian, known as Hindustani music, and South Indian, known as Carnatic music. Although both traditions have evolved and changed over several centuries, both are rooted in the foundation of abstract raga (melodic) and tala (rhythmic) structures. While Hindustani music has an instrumental repertoire that deviates from the vocal repertoire, Carnatic music is a vocal-centric artform in which the instrumental elements mimic the style of the voice.
The intent of raga is to create emotion through abstraction. Each raga has its own sound and identity that musicians spend years of rigorous training and internalizing to imbibe and then interpret in their own voice. Carnatic music may be an ancient art form, but it is ever-evolving. As an oral tradition passed down over generations of musical lineages, the guru-shishya relationship is of utmost importance. Each successive generation of Carnatic musicians adds to the repertoire, the sound, and the interpretation of the music.
Our Skirball Stages performance does not present Carnatic music in its native format, but rather takes important elements and inspirations from Carnatic music and reimagines it in a modern, global context.
—By Aditya Prakash
Why Indian music with jazz?
Indian classical music and jazz may seem poles apart but, upon closer look, they share many similarities in philosophy and approach. Both are centered around improvisation and spontaneous "creative flow" to inspire the direction of the music, and dialogue between musicians on stage is important in both traditions. When you bring together musicians of different cultural backgrounds to dialogue, as we do in the Aditya Prakash Ensemble, the result is profound: a melding of seemingly disparate cultures come together to create one unique language. For a moment, the listener forgets that we are from different cultures, that we may speak different languages or come from different belief systems; when we dialogue in music, we are speaking a language that is beyond borders and superficial differences. 
The benefit and knowledge that we gain as musicians in a cross-cultural collaboration is immense. By playing jazz, Indian musicians are opened up to a world unknown in the Indian tradition: harmony. Creating soundscapes and conveying moods through the layering of harmonies, juxtaposed with the highly ornamented raga melody, gives way to a striking new form of musical expression. At the same time, jazz musicians are made aware of the technical brilliance that the Indian rhythmic system offers: formulas for numeric calculations, cross-rhythms, and challenging compositions. The importance given to emotive musical phrasing in the Indian tradition provides jazz musicians with a treasure trove of complex melodies that can only strengthen and diversify the jazz repertoire.
—By Aditya Prakash
---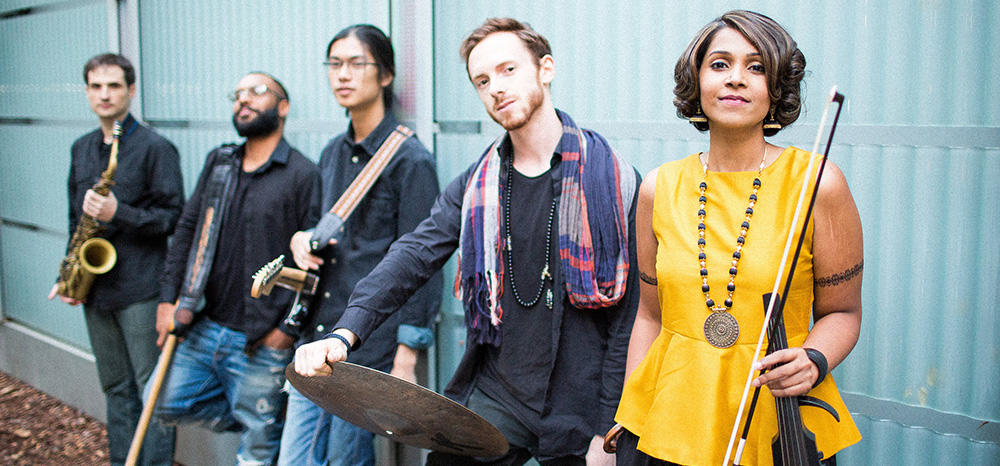 Rini, photo by Anne Whitman

Meet Rini
Leading an international cadre of musicians, Harini "Rini" Raghavan blends Indian electronica and art rock, drawing from her training in South Indian Carnatic music and electronic music production, which she gained from her education and work at the Berklee College of Music.
Rini credits her grandmother for her musical upbringing. Rini's grandmother was immensely talented herself, but women of her generation were not given the opportunity to perform outside the home. The matriarch encouraged her grandchildren to study music practice daily. Rini began taking singing and violin lessons with her grandmother when she was just four years old.
Growing up in India, it is typical for one to choose a professional career in science, medicine, engineering, or law. Rini chose computer science, then worked for four years in India as a developer before quitting her job to study at the Berklee School of Music in 2012.
Berklee opened a world of possibilities for fusion music. Majoring in electronic production, Rini discovered the tools to create textures and grooves around her traditional Indian singing and violin. In 2015, she formed a band—which also goes by the name Rini—with fellow Berklee alumni from around the world, merging Indian classical and folk musical elements with electronic and rock vibes. The musicians of Rini hail from diverse backgrounds and bring a multitude of influences into their music. Band members include guitarist Aleif Hamdan (Malaysia/Indonesia), bassist Achal Murthy (Luxembourg), drummer Maxime Cholley (France), and saxophonist Íñigo Galdeano Lasheras (Spain). Together they have built a following in the melting pot of the NYC music scene, eventually going on tour in India to play in Harini's birthplace of Chennai, followed by dates in Bengaluru, Delhi, Mumbai, and Hyderabad.
—By Beto Gonzales, ethnomusicologist, musician, and producer
---
Gavin Turek, photo by Larry Sandez

Meet Gavin Turek
Those who've experienced her ebullient live show know that Gavin Turek is a star. Her acrobatic vocals, energetic dance moves, and sharp lyrics set to her retro yet futuristic pop sound have earned her legions of fans, as well as praise from KCRW, NPR, and Billboard. No matter the setting, Turek commands a crowd with her talent and charisma.
Gavin Turek grew up in Los Angeles in a musical household; her father is a classically trained pianist, and her mother is a gospel singer. It was their expansive collection of rock, soul, and disco records that exposed the young Turek to the sounds that would later influence her own music, from the buoyant yet plaintive melodies of the Supremes and Roberta Flack to the sensuality and excess of Diana Ross and Prince.
Earlier in her career, Turek's sound and styling led some to refer to her affectionately as a "disco-pop princess." Disco flourishes abound in her music, from the lush orchestrations, groove-based synths, and four-on-the-floor rhythms recalling the halcyon days of Studio 54. But beyond any sonic resemblances to disco, Turek shares a deeper psychic kinship with the form, making use of its ability to create a liminal space for private revelation and collective liberation.
Take "Elevator," a track released last year ahead of her forthcoming debut album. In about three minutes, Turek conjures up the energy of a crowded dance floor, while distilling the private frisson of encountering a new love. There's a melancholy to exploring those twinned affects of desire and longing, yet rapture in the possibility that anything could happen.
For Skirball Stages, Turek trades in her usual high-energy set for a more stripped-down affair, her honeyed vocals losing none of their luster over sparse musical arrangements. Here, her vocal and songwriting talents take center stage while taking on new emotional resonances. It's impossible to gather together on the very dance floors that Gavin Turek would otherwise light up. Still, Turek offers up a space for reflection and contemplation, doubling down on the power of music to bring us closer together.
—By Daniel Soto, LA-based writer and cultural producer
---
Ak Dan Gwang Chil, photo by Jongsam Lee

Meet Ak Dan Gwang Chil
Korean shamanism is an accumulation of 5,000 years of Korean life, thought, and culture. It is still deep-rooted in Korean culture even in this modern era. A Korean shaman (mudang) would perform the ceremony known as gut (ritual) with musicians. A village gut may, for example, aim to ensure a good harvest for the fishermen or to cure an epidemic illness, combined with more entertaining dance and music numbers. The gut is the cradle and treasure chest of Korean traditional music and the music of tonight's concert artists Ak Dan Gwang Chil.
Ak Dan Gwang Chil (abbreviated as ADG7) started in 2015 to celebrate the seventieth anniversary of the liberation of Korea from Japanese colonial rule. ADG7's declared aim is to express the true meaning of liberation and South Korea's desire for unity. To accomplish this, the musicians have created a vividly contemporary performance, drawing on the shamanistic and sacred gut and the minyo (folk song) traditions from the Hwanghae province of North Korea. Using traditional instruments like the gayageum and ajaeng (zithers), piri (reed flute), saenghwang (mouth organ), daegeum (bamboo flute), janggu (drums), and other percussion, they joyously extract and enhance the groove potential of the ritual rhythms, driving along the call-and-response chants, fronted by the charismatic figure of singer Hong Ok.
ADG7's nine members, who were professionally trained in Korean traditional music called gugak, have investigated their Korean folk roots, but not in the way expected. Described as a Korean shamanic folk-pop group, ADG7 has widely earned global plaudits for combining K-pop features and Korean traditional music. As the New York Times observed, they play "not as earnest traditionalists, but as a giddy show band with all the trappings of K-pop."
—By Shawn Choi, Founding Director, SORI