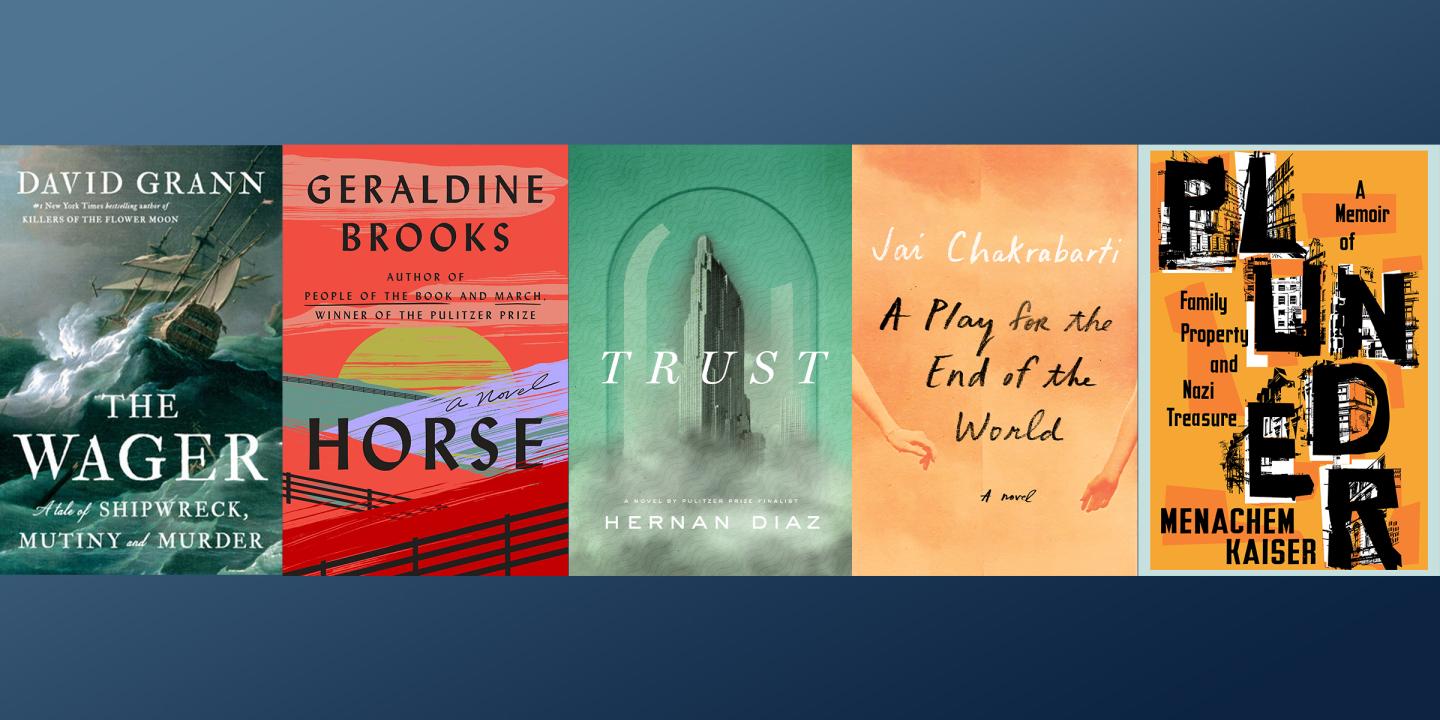 These lively discussion groups are quick to sell out for a reason! Read and share your thoughts on five books specially selected to complement Skirball exhibitions and programming under the direction of an expert facilitator. 
This is a past program
This program took place on
September 2023–January 2024
About the Program
Each looking into the unknown, the fall 2023 book group selections bring us exciting narratives that reflect our connections to the past and to one another.
 
SEPTEMBER: The Wager: A Tale of Shipwreck, Mutiny, and Murder by David Grann—A grand tale of human behavior when pushed to extremes, Grann's recreation of the hidden world on a British warship comes with incredible narrative twists that will hold readers spellbound.  
OCTOBER: Horse by Geraldine Brooks—Based on the remarkable true story of the record-breaking thoroughbred Lexington, Horse is a novel of art and science, love and obsession, and our unfinished reckoning with racism.  
NOVEMBER: Trust by Hernan Diaz—Winner of the Pulitzer Prize for fiction! Following a Wall Street tycoon and an aristocrat in the 1920s, Trust confronts deceptions in personal relationships, the reality-warping force of capital, and the ease with which power can manipulate facts.  
DECEMBER: A Play for the End of the World by Jai Chakrabarti—A remarkable debut from an exciting new voice in fiction, this unforgettable love story explores the role of art in times of political upheaval and reminds us of the power of the past to shape the present.  
JANUARY: Plundered: A Memoir of Family Property and Nazi Treasure by Menachem Kaiser—A deeply immersive adventure story from a gifted young writer about his quest to reclaim his family's apartment building in Poland, and the astonishing entanglement with Nazi treasure hunters that follows.
---
Facilitator: Janet Bain Fattal holds an MA in comparative literature from UCLA. She has taught world literature and composition at many levels. A screenwriter, novelist, and book group facilitator, Fattal loves to share her passion for stories and ideas with others, particularly in an informal environment.
"[Fattal] was so much more than I expected. Our discussions were well-led, lively, and informative."
---
Dates and Times
GROUP 1: Tuesdays, 10:00 am–12:00 pm
September 12, October 10, November 7, December 12, January 9
GROUP 2: Tuesdays, 1:00–3:00 pm
September 12, October 10, November 7, December 12, January 9
GROUP 3: Wednesdays, 1:00–3:00 pm
September 13, October 11, November 8, December 13, January 10
GROUP 4 (ONLINE): Thursdays, 1:00–3:00 pm (PT)
September 14, October 12, November 9, December 14, January 11