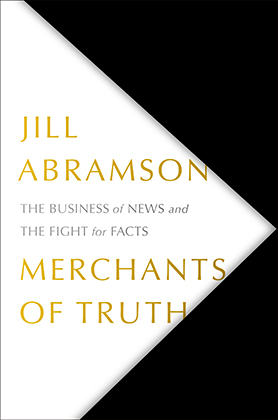 An Evening with Jill Abramson
Merchants of Truth: The Business of News and the Fight for Facts
Friday, March 1, 7:30 pm
About the Program
With the deep reporting of an industry insider, former Executive Editor of the New York Times Jill Abramson tackles the current murky state of US journalism.
Merchants of Truth follows four major news organizations—New York Times, Washington Post, BuzzFeed, and VICE Media—over a decade of disruption and radical adjustment. Examining how the new digital reality nearly killed two media behemoths and gave rise to speed-driven competitors, Abramson dives into the drastic changes that have transformed the way Americans get access to the truth. Discussing this timely new book as these very media outlets are dominating the headlines of our news today, Abramson explores the future of the free press in this conversation with political anchor Alex Cohen (Inside the Issues on Spectrum News 1 SoCal).
Copresented with ALOUD a program of the Library Foundation of Los Angeles.
A book signing follows the program. Books will not be available for purchase at the program—be sure to take advantage of the ticket-plus-book bundle ahead of time!