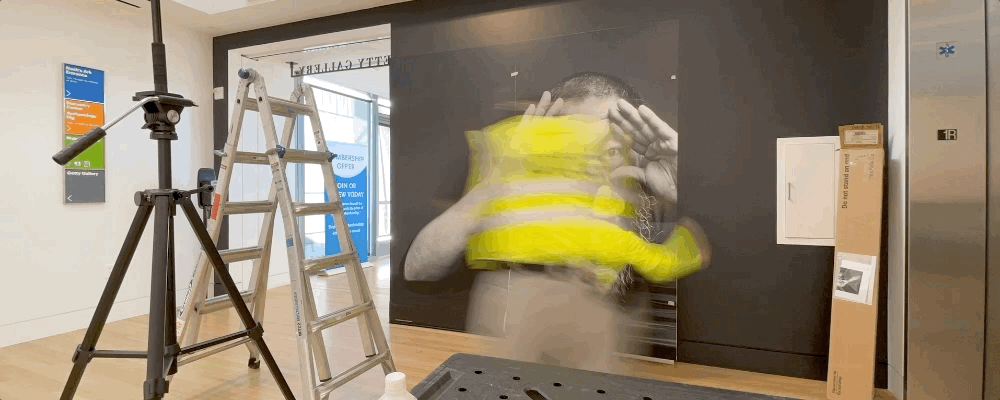 Tuesday, April 27, 2021
By Jess Lui
Hello, Skirball friends! I'm Jess Lui, Assistant Registrar for the Skirball Cultural Center. As a registrar, I'm responsible for implementing policies and procedures relating to the maintenance of our collections and ensuring the safe handling and care of objects in the Museum. In February, I installed Ai Weiwei: Trace alongside our preparators, Scott and Michael. The exhibition features portraits created from LEGO® bricks to honor individuals from around the world who have been detained, exiled, or have sought political asylum because of their actions, beliefs, or affiliations.
As we prepare to welcome visitors to the exhibition, I'm here to give you a behind-the-scenes look at how Trace came together. Normally, exhibition installations involve a team of folks from various departments including preparators, registrars, curators, and designers, but due to the pandemic, we felt it was safest to install with a mini-team of three. Follow our adventures below!
---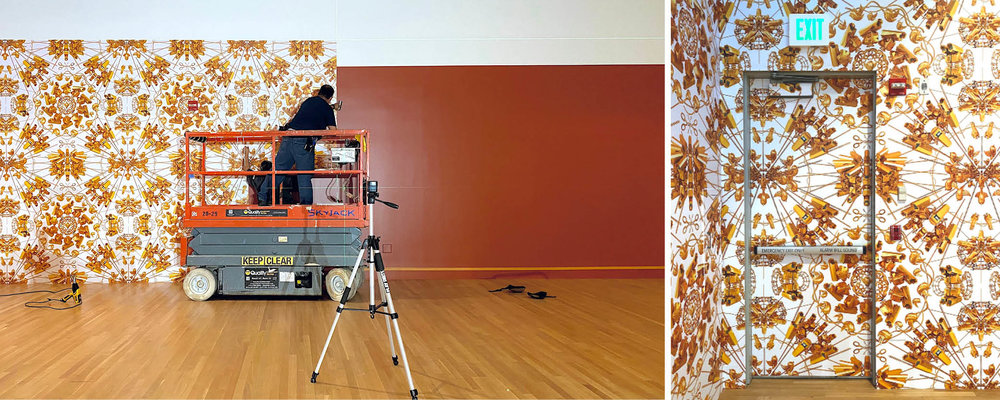 Eder Cetina and his team from Wilson Cetina Group install the wallpaper entitled The Animal That Looks Like a Llama but Is Really an Alpaca. Photos courtesy of Eder Cetina.

Exhibition installations are similar to cooking in the sense that mise en place is key! You want to have all your tools, equipment, and workspaces set up in addition to having as much prep work completed before delving into object installation. Before our trio got to work, our talented vinyl installer, Eder Cetina, put up the Ai Weiwei–designed wallpaper that surrounds the Getty Gallery. It's incredibly seamless, and if you look closely, you'll find Ai Weiwei's hidden imagery throughout.

Read more about Eder's experience working on Trace >
With the wallpaper finished and the gallery ready to go, there was one last task before we could jump into object install: condition reporting. Condition reports are done at the beginning and end of exhibitions to assess the objects' state at a given time, allowing registrars to monitor any changes over the course of a show. Registrars take note of any damage such as breaks, scratches, or warping so when it comes time for de-installation we know that the objects and artworks have maintained their quality while in the Skirball's care.
---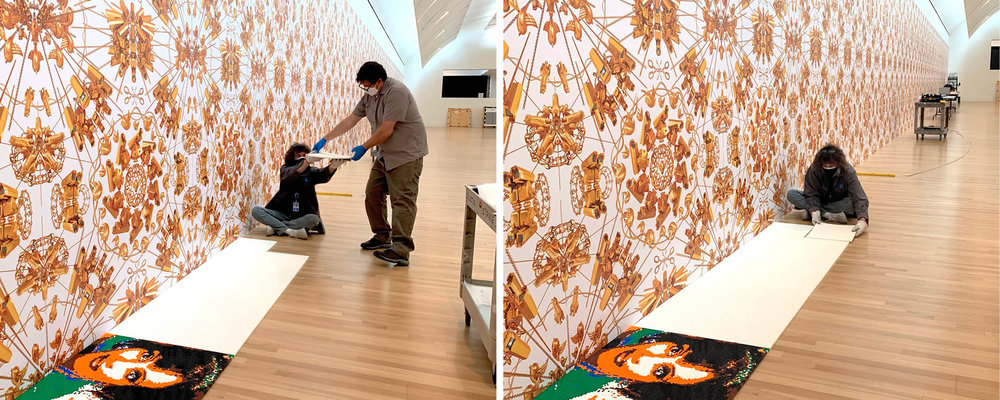 Michael receives a LEGO® tile from Scott and fits it into place.

The Skirball's presentation of Trace features three monumental floor panels, each comprised of about four hundred 15 x 15–inch tiles that are affixed with individual LEGO® bricks.
Unique to this exhibition is that Michael and I spent two and a half days organizing all the LEGO® tiles so that installation could be done in an assembly-line fashion. Considering how long it took to organize and assemble more than twelve hundred tiles, it's a good thing we didn't need to piece together individual LEGO® bricks into portraits or we'd still be installing to this day!

---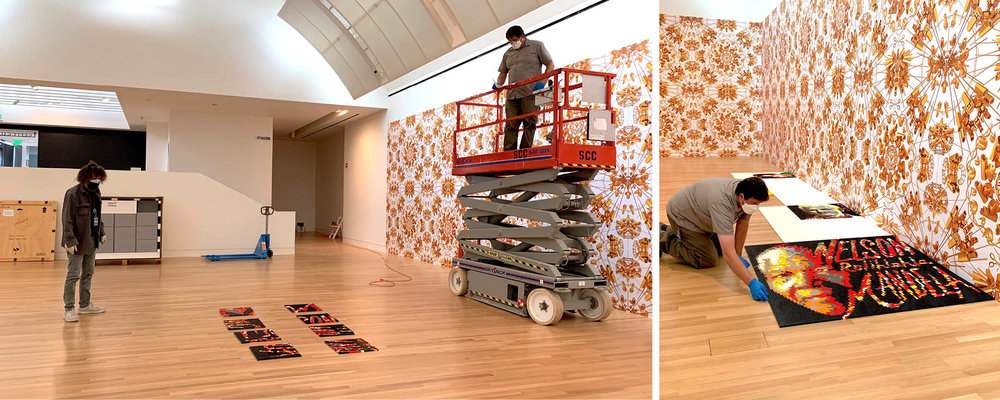 Michael and Scott figuring out how the Nelson Mandela portrait fits together.

Despite having maps and keys for each floor panel, the orientation of the tiles was not indicated, and sometimes it was challenging to figure out how to connect them. So, we needed to get creative. For the Nelson Mandela portrait, Scott used the scissor lift to gain extra height so that he could puzzle together the tiles. The experiment was a success!
---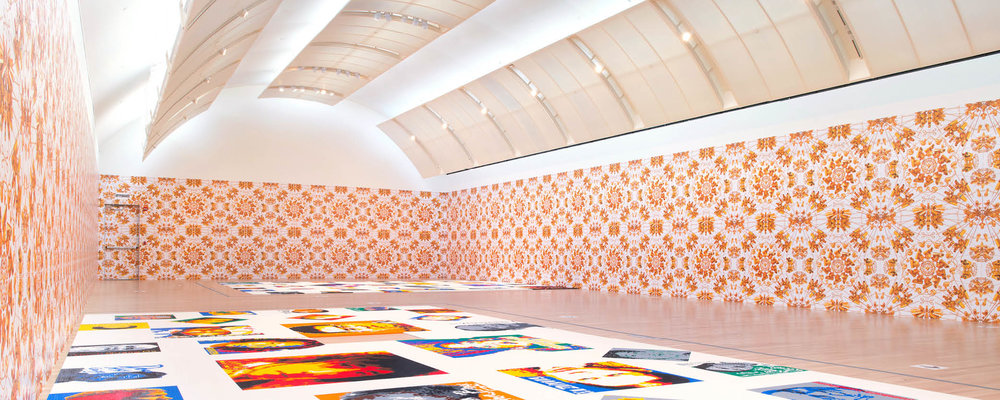 Natural light from the open skylight louvers pours into the Getty Gallery. Photo by Robert Wedemeyer.

Lighting typically happens after all the objects are installed because it's hard to light something that isn't there! However, due to the size of the artwork, we lit the show as we went so that we'd have room to work around the floor panels. We were also able to open up the skylight louvers to allow beautiful natural light into the gallery, which is something we can't usually do due to light restrictions on the objects.
---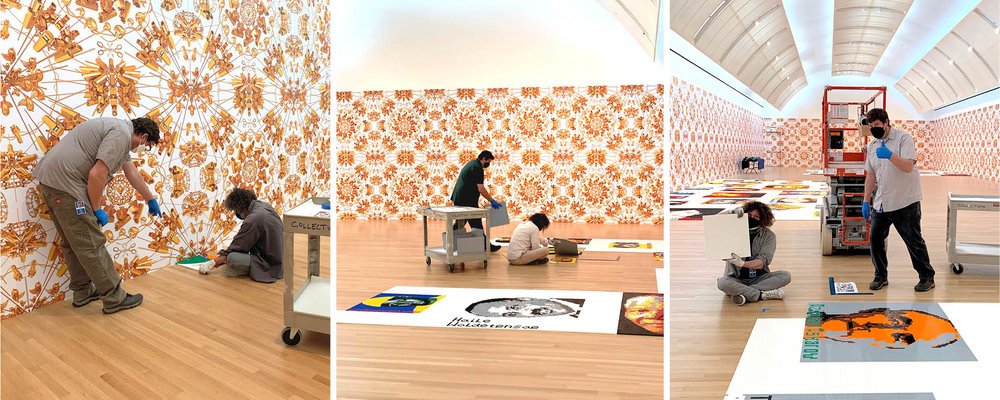 Installation from the first to last tile!

Once our assembly line figured out its rhythm, the floor panels came together quickly and before we knew it, we were adding the finishing touches. To protect the artwork, we added directional signage and anti-slip barrier tape around each panel.
We are so excited to welcome you to the exhibition, and we hope that you enjoy your visit as much as we loved putting the show together!
---
Jess Lui is the Assistant Registrar at the Skirball. She has worked with a variety of collections from cultural history at the Chinese American Museum to fine arts at the Metropolitan Museum of Art as well as natural history at the Smithsonian National Museum of Natural History. She earned an MA in Museum Studies from New York University, specializing in Collections Management.