September 11, 2021–March 20, 2022 | Ahmanson Breezeway

Sustain: From Loss to Renewal
Stephanie Mercado interviewed the individuals depicted in this series, listening to them share their experiences as essential workers during the COVID-19 crisis. The resultant portraits reveal a deeply personal and intimate interaction between artist and subject. To honor the subjects and ennoble their individual contributions, the portraits are surrounded by vibrant hand-printed relief prints of plants and florals. They also include miniature hand-carved prints of occupational tools, household items, and identity signifiers.
---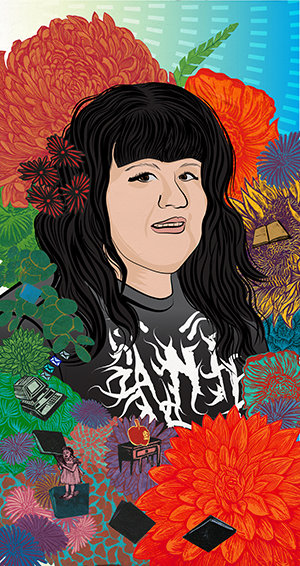 Ana Rodriguez, South East Los Angeles Artist and High School Teacher
, 2021
Relief print collage, digital composite, 57 x 29-¾"
"Ana Rodriguez is an artist and high school teacher in South East Los Angeles, predominantly low-income Latinx community that has experienced disinvestment and limited resources for generations. Ana is an abstract painter and lover of metal music, and she is passionate about teaching. After the pandemic forced her school into a virtual format, she witnessed first-hand how the quarantine and lack of social interaction was affecting her students. She made it her mission to be available around the clock for her students and their parents, encouraging them to make their physical and mental health a priority above everything else. Ana believes the emotional support provided to youth and parents is more important in times of crisis than homework assignments and grades." —Stephanie Mercado, artist
---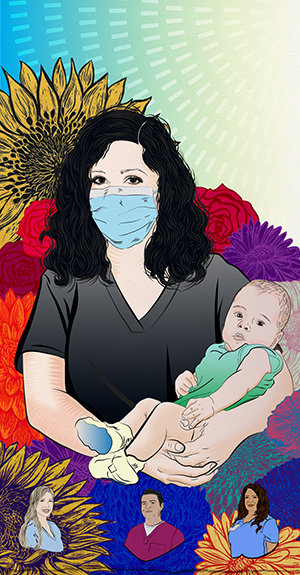 Family Medicine Physician with Child and East Los Angeles Medical Team, 2021Relief print collage, digital composite, 57 x 29-¾"
"The family medicine physician pictured here (who chose not to include her name) made a commitment while in medical school to help her community of East Los Angeles, a predominantly low-income Latinx community. She is the mother of a toddler and was carrying her child while seeing patients in a medical clinic, working long hours and finding ways to help people heal while protecting her family and staff from exposure to the COVID-19 virus. Through providing medical care and emotional support, she and the nurses pictured have selflessly served the communities of East Los Angeles, where—as it has in low-income communities globally—the pandemic has heightened prior inequities." —Stephanie Mercado, artist
---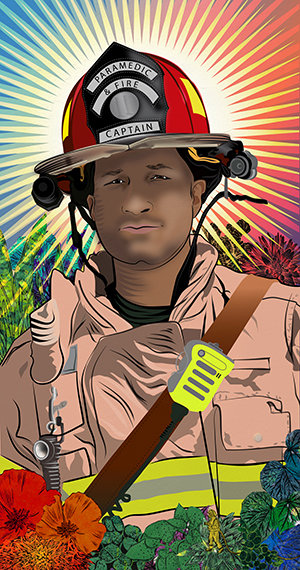 Riaz Ali, Fire Captain and Paramedic, 2021
Relief print collage, digital composite, 57 x 29-¾"
"Riaz Ali, fire captain and paramedic, swore an oath together with his fellow firefighters 'to protect those who are in danger, those in times of need, and those who they would serve.' They promise courage, wisdom to lead, and compassion to comfort, and they love to serve when they are called. Riaz and the paramedic and fire team not only have been first responders, helping people who need urgent medical care and transport to hospitals, but also have been fighting wildfires during the pandemic. Additionally, they have been advancing fire research and designing new safety protocols to help keep firefighters safe through crises, battling blazes, and long-term exposure to carcinogens. Riaz works approximately one hundred hours a week, serving his community and giving selflessly while also balancing family life. He has helped many people receive urgent medical care, is a brave and caring leader, and has battled local and large-scale fires, such as the 2018 Camp Fire." —Stephanie Mercado, artist
---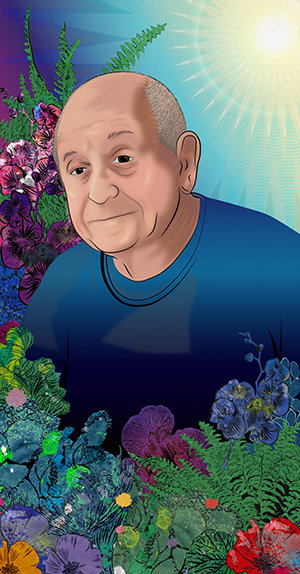 Bruce Barack MD (1941–2020), Radiologist and Professor of Medicine, UCLA & USC, 2021
Relief print collage, digital composite, 57 x 29-¾"
"Bruce Barack spent most of his career as a radiologist and professor, teaching at UCLA, USC Keck Medical Center, and the Veterans Administration. He was passionate about helping people, learning about art, and raising orchids, and he expressed kindness, generosity, and compassion to everyone he met. In pursuing his life's work as a radiologist, he researched ways to improve patient care. On the weekends, he frequented the galleries at Bergamot Station Arts Center, where he would meet with me to talk about art, learn about artists, and take images of work he liked on his cell phone. We developed a friendship based on mutual admiration, respect, and a love of art. Bruce supported artists and musicians in Los Angeles and around the world. He passed away from COVID-19 complications on December 31, 2020." —Stephanie Mercado, artist
---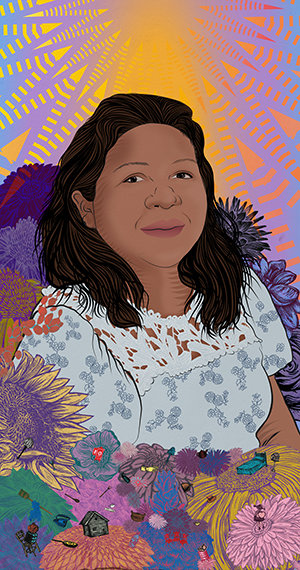 Jannette, Domestic Worker & Child Care Provider, 2021Relief print collage, digital composite, 57 x 29-¾"
"Jannette is a loving, hard-working, and devoted caretaker and domestic worker. Each day she travels from one home to another, caring for children, helping families with their daily tasks, and assisting them with all of their needs. She takes public transportation to each residence, is committed to her work, and is proud of the quality of tasks and relationships she builds with people and their children. During the pandemic, Jannette has continued to support families in need of help and to use public transport despite changes in bus routes and schedules, and risk of exposure. She is dedicated to her line of work and to supporting her family with acts of care, love, and resilience."—Stephanie Mercado, artist
---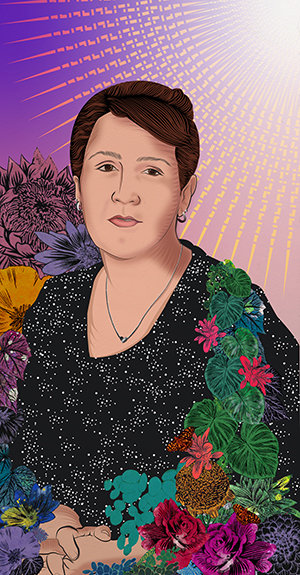 Jerusha M., Human Resources, Grocery Store, 2021
Relief print collage, digital composite, 57 x 29-¾"
"Jerusha is a human resources manager for a grocery store. She has been supporting frontline workers and managing employees' needs while balancing shortages, fears, and the 'new normal' created by COVID-19. Jerusha selflessly makes herself available to managers and employees at all hours through her cell phone and in-person store visits. She keeps up to date with all the guidelines provided by the CDC and her company's leadership, sharing updates with the teams of the district she manages. If an employee becomes ill, she provides them and their families with emotional and financial support to ensure they overcome hardship and sustain their livelihoods. Jerusha is a warrior of wisdom, care, and perseverance. Her support of the staff makes it possible for grocers to continue serving the public and helps to build community in each district, from Long Beach to North Hollywood." —Stephanie Mercado, artist
---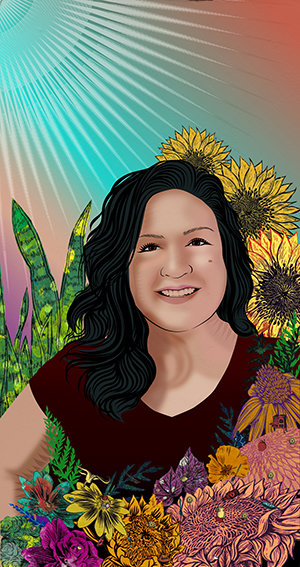 Monica Vielman, Kitchen Team Member, Skirball Cultural Center, 2021
Relief print collage, digital composite, 57 x 29-¾"
"Monica Vielman works in the kitchen at Zeidler's Cafe at the Skirball Cultural Center. She is a service worker who has suffered personal loss during the pandemic. As a food service worker, she understands the need to create a nurturing and friendly space for people and manages the fear of getting sick with the need to make people feel cared for, respected, and valued. Monica and the kitchen team are grateful to the Skirball for providing them with stability and a safe space to work. She appreciates the opportunity to work in a cultural space that is inclusive and that gives her the support she needs to provide for her family." —Stephanie Mercado, artist
---
---
Persistir: Pérdida y renovación
Stephanie Mercado entrevistó a las personas representadas en esta serie, a quienes escuchó relatar sus experiencias como trabajadores esenciales durante la crisis de COVID-19. El resultado son estos retratos que revelan una interacción profundamente personal e íntima entre artista y sujeto. Para honrar a estas personas y ennoblecer sus contribuciones individuales, los retratos han sido rodeados de vibrantes grabados en relieve impresos a mano de plantas y elementos florales. También incluyen grabados en miniatura tallados a mano de las herramientas de trabajo, los artículos domésticos y los símbolos de identidad.
---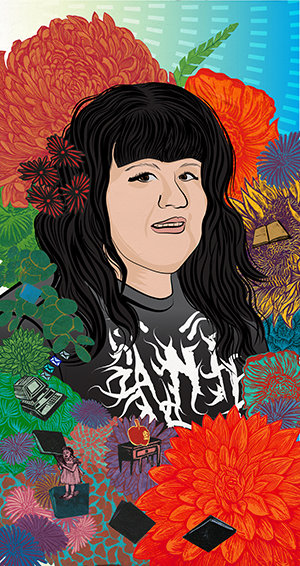 Ana Rodríguez, artista y maestra de la Escuela Secundaria de South East Los Angeles, 2021
"Ana Rodríguez es artista y maestra de secundaria en South East Los Angeles, una comunidad predominantemente latinx y de bajos ingresos que ha experimentado desinversión y recursos limitados durante generaciones. Ana es una pintora de arte abstracto. Le encanta la música metálica y le apasiona enseñar. Después de que la pandemia obligara a su escuela a adoptar un formato virtual, ella se convirtió en testigo de cómo la cuarentena y la falta de interacción social comenzaron a afectar a sus alumnos. Entonces se propuso como misión estar disponible las veinticuatro horas del día para sus alumnos y sus padres, animándolos a que su salud física y mental tuvieran prioridad por encima de todo. Ana cree que el apoyo emocional que se les ofrezca a los jóvenes y a sus padres en tiempos de crisis es más importante que las tareas y las calificaciones". —Stephanie Mercado, artista
---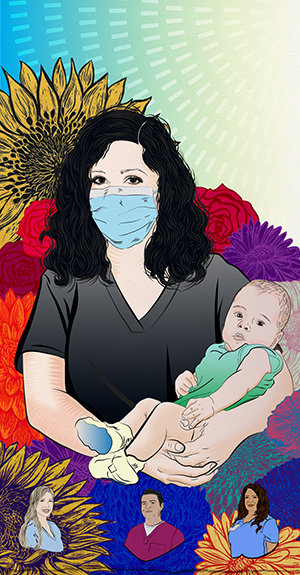 Médica de familia con su hijo y el equipo médico de East Los Angeles, 2021
"La médica de familia aquí representada (quien prefirió no revelar su nombre) se comprometió a ayudar a su comunidad de East Los Angeles, una comunidad predominantemente latinx y de bajos ingresos, cuando estudiaba medicina. Ella es la madre de un niño pequeño y estaba embarazada mientras atendía pacientes en la clínica, trabajando horas extra y buscando la manera de ayudar a sanar a la gente mientras protegía a su familia y empleados de exponerse al virus COVID-19. Ofreciendo cuidados médicos y apoyo emocional, ella y las enfermeras aquí representadas han servido abnegadamente a las comunidades de East Los Angeles, donde –al igual que en las comunidades de bajos ingresos alrededor del mundo– la pandemia ha incrementado las desigualdades existentes". —Stephanie Mercado, artista
---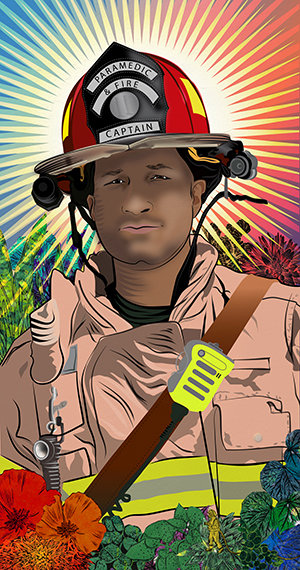 Riaz Ali, Capitán de bomberos y paramedico, 2021
"Riaz Ali, capitán de bomberos y paramédico, hizo un juramento junto con sus compañeros bomberos 'de proteger a quienes se encuentren en peligro, a la gente necesitada, y a quienes ellos tuvieran que servir.' Ellos prometen actuar con valentía, liderar con sabiduría, demostrar compasión para consolar, y se sienten felices de ayudar cuando se les llama. Riaz y el equipo de bomberos y paramédicos no sólo han sido los primeros en responder, ayudando a la gente que necesita atención médica urgente y transporte al hospital, sino que han estado combatiendo incendios forestales durante la pandemia. Además, han hecho avanzar la investigación relacionada con los incendios y han diseñado nuevos protocolos de seguridad para ayudar a mantener la seguridad de los bomberos durante las crisis, mientras luchan contra las llamas y el estar expuestos a largo plazo a agentes carcinógenos. Riaz trabaja aproximadamente cien horas a la semana, sirviendo generosamente a su comunidad y manteniendo el equilibrio de su vida familiar. Él ha ayudado a mucha gente a recibir atención médica urgente, es un líder valiente y bondadoso, y ha batallado contra incendios locales a gran escala, como el Camp Fire de 2018." —Stephanie Mercado, artista
---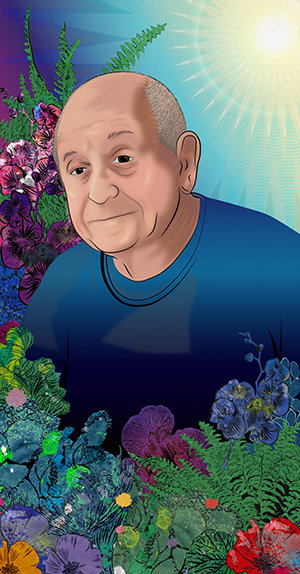 Bruce Barack, MD (1941–2020), Radiólogo y profesor de Medicina, UCLA y USC, 2021
"Bruce Barack pasó la mayor parte de su carrera como radiólogo y profesor enseñando en UCLA, en el USC Keck Medical Center y en la Administración de Veteranos (Veterans Administration). Lo apasionaba ayudar a la gente, aprender de arte y cultivar orquídeas, y manifestaba su bondad, su generosidad y su compasión con cualquiera que se cruzara en su camino. Al dedicarse al trabajo de su vida como radiólogo, investigó la manera de mejorar el cuidado de los pacientes. Durante los fines de semana, frecuentaba las galerías del Bergamot Station Arts Center, donde nos encontrábamos para hablar de arte, aprender sobre artistas, y tomar fotos de las obras que le gustaban con su teléfono celular. Desarrollamos una amistad basada en la admiración mutua, el respeto y el amor al arte. Bruce apoyaba artistas y músicos en Los Ángeles y alrededor del mundo. Murió de complicaciones de COVID-19 el 31 de diciembre de 2020". —Stephanie Mercado, artista
---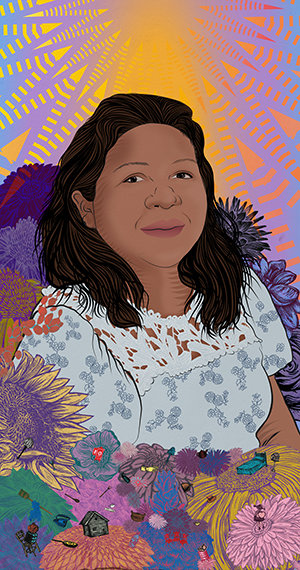 Jannette, empleada doméstica y cuidadora de niños, 2021
"Jannette es una cuidadora de niños y empleada doméstica cariñosa, trabajadora y dedicada. Todos los días ella se desplaza de una casa a la otra cuidando niños, ayudando a las familias en sus tareas cotidianas y lo que necesiten. Ella se desplaza hacia cada residencia en transporte público, está comprometida con su trabajo, y se siente orgullosa de la calidad de los oficios que realiza y de sus relaciones con la gente y sus hijos. Durante la pandemia, Jannette ha seguido apoyando a las familias que necesitan ayuda y usa el transporte público a pesar de los cambios en las rutas y horarios de los autobuses y el riesgo de exponerse al virus. Ella se dedica a su línea de trabajo y a sostener a su familia con actos de bondad, amor y resiliencia". —Stephanie Mercado, artista
---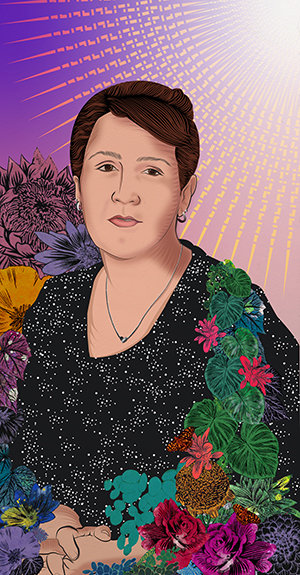 Jerusha M., Recursos Humanos, Supermercado, 2021
"Jerusha es directora de recursos humanos en un supermercado. Ella ha estado apoyando a los trabajadores de primera línea y manejando las necesidades de los empleados mientras equilibra la escasez, los temores y la "nueva normalidad" creada por el COVID-19. Jerusha se pone generosamente a disposición de los gerentes y empleados a toda hora a través de su teléfono móvil y de las visitas que hace en persona a la tienda. Se mantiene al día sobre todas las directrices proporcionadas por el CDC y la dirección de su empresa, compartiendo las actualizaciones con los equipos del distrito que dirige. Si un empleado se enferma, les proporciona a ellos y a sus familias apoyo emocional y financiero para asegurarse que superen las dificultades y mantengan su sustento. Jerusha es una guerrera de la sabiduría, el cuidado y la perseverancia. Su apoyo al personal hace posible que los tenderos continúen atendiendo al público y a la vez ayuda a crear comunidad en cada distrito, desde Long Beach hasta North Hollywood ". —Stephanie Mercado, artista
---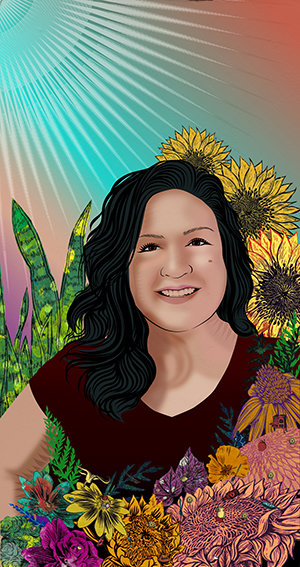 Mónica Vielman, Miembro del Equipo de Cocina, Skirball Cultural Center, 2021
"Mónica Vielman trabaja en la cocina del Zeidler's Cafe en el Centro Cultural Skirball. Ella es una empleada de servicio que sufrió una pérdida personal durante la pandemia. Como empleada del servicio de comidas, ella percibe la necesidad de crear un espacio acogedor para la gente, y enfrenta el miedo de enfermarse con la necesidad que percibe de hacer sentir a las personas atendidas, respetadas y valoradas. Mónica y el equipo de la cocina sienten gratitud hacia el Skirball por haberles dado estabilidad y un espacio seguro donde trabajar. Ella agradece la oportunidad de trabajar en un espacio cultural que es inclusivo y le presta el apoyo que necesita para mantener a su familia". —Stephanie Mercado, artista