When the video is finished scroll down to see more.
At the end of the exhibition click through to the Action Guide.
The Kids on the Number 6 School Bus
The United States pioneered ways to expand opportunity, including near-universal basic education, the GI Bill, Social Security, unemployment insurance, and job initiatives like the Civilian Conservation Corps. These programs helped to create the modern middle class in America.
However, since the 1970s, journalists Nicholas D. Kristof and Sheryl WuDunn believe that America has gone off track, resulting in a half-century drift in the wrong direction. The stories in Tightrope explore this drift by focusing on the human cost behind the fracturing of American society.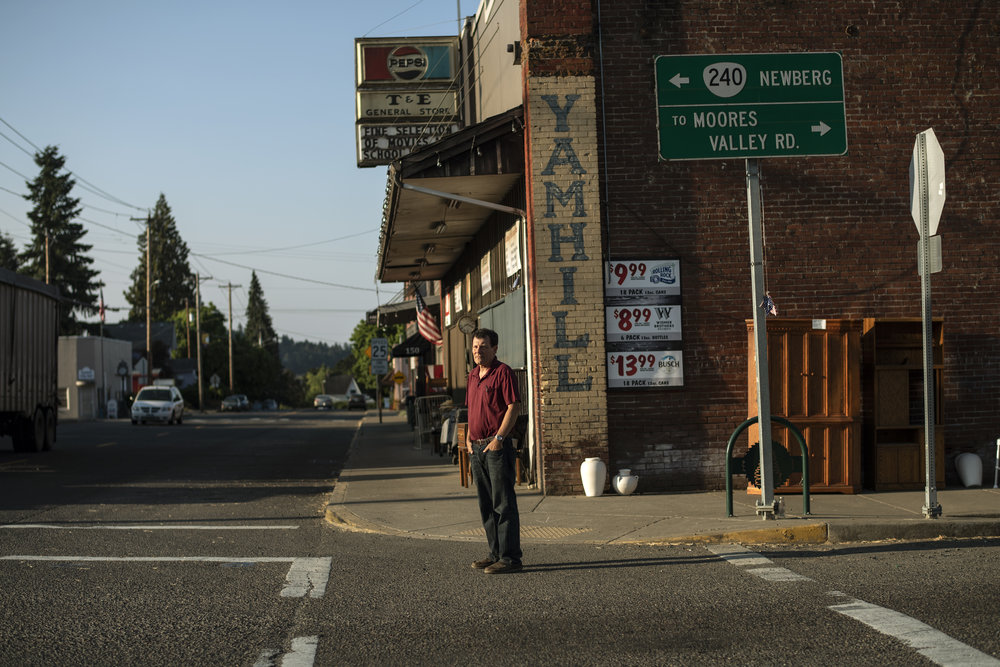 Nicholas D. Kristof is pictured in his hometown of Yamhill, Oregon. The town prospered for much of the twentieth century, but the community has stumbled in the last few decades as manufacturing jobs evaporated.
Photo by Lynsey Addario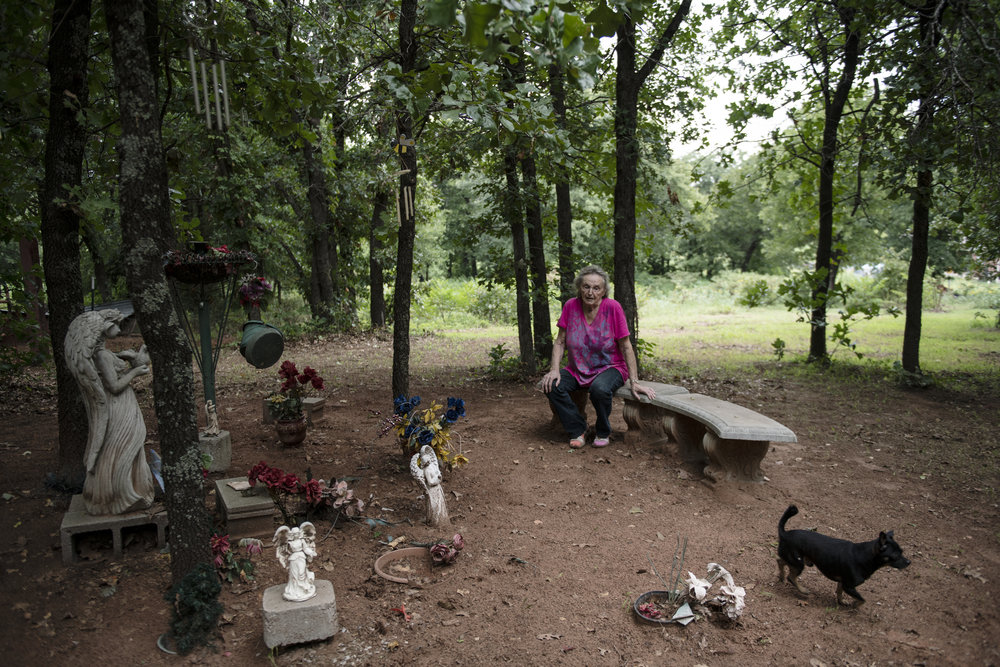 Dee Knapp visits the gravesite of four of her five children who died prematurely from drugs, alcohol, and related diseases. The Knapps lived next door to the Kristof family farm, and their children grew up riding the Number 6 school bus with Nicholas D. Kristof.
Photo by Lynsey Addario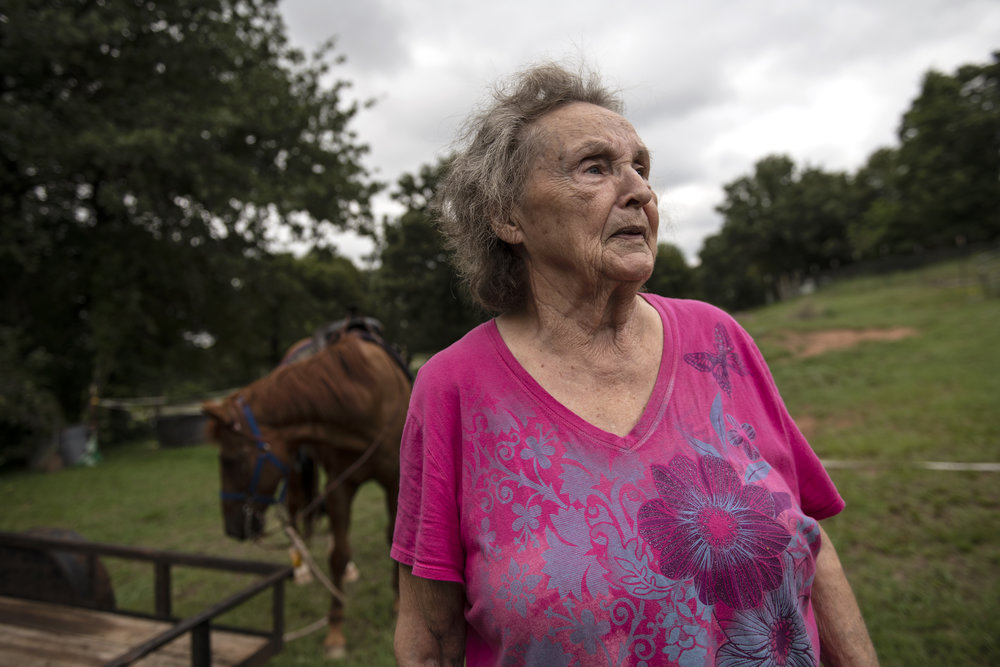 Dee is photographed in her yard in Oklahoma. She and her husband started as farmworkers who moved from farm to farm to make a living. After Dee secured a union job, the Knapps were able to settle in one place and save up enough money to buy a home in Cove Orchard, Oregon. Her kids were on track to finish high school. Tragically, the Knapps, like so many other working-class families, tumbled into unimaginable calamity.
Photo by Lynsey Addario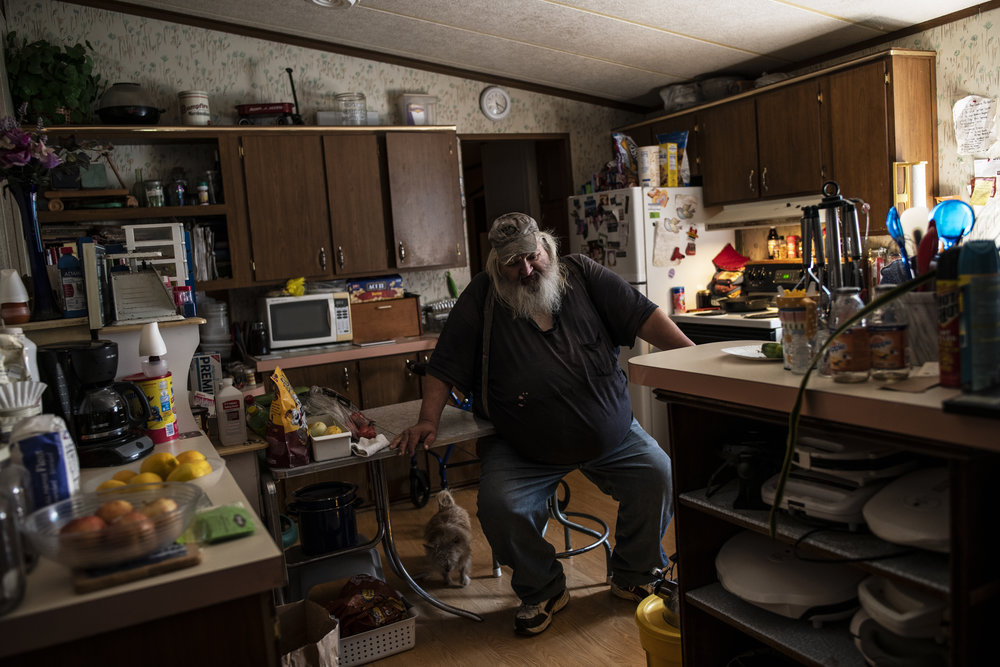 Clayton Green, a loyal friend to Kristof and WuDunn, is pictured in his kitchen shortly before his death from heart failure. His struggles, and the struggles of others in Yamhill, are part of the reason the authors set out to explore the unraveling of America's working-class communities.
Photo by Lynsey Addario
Addiction
The story of America's current addiction crisis begins in the 1990s. At the time, prescription opioids such as OxyContin, Vicodin, and Fentanyl were known to be addictive and useful only for extreme pain and for those with terminal cancer. Pharmaceutical executives, however, saw the drug as a potential source of revenue that could be aggressively expanded into a highly lucrative market.
It is estimated that eighty percent of Americans become addicted to opioids through prescription painkillers. Currently, only one in five Americans with a substance abuse disorder receive any treatment.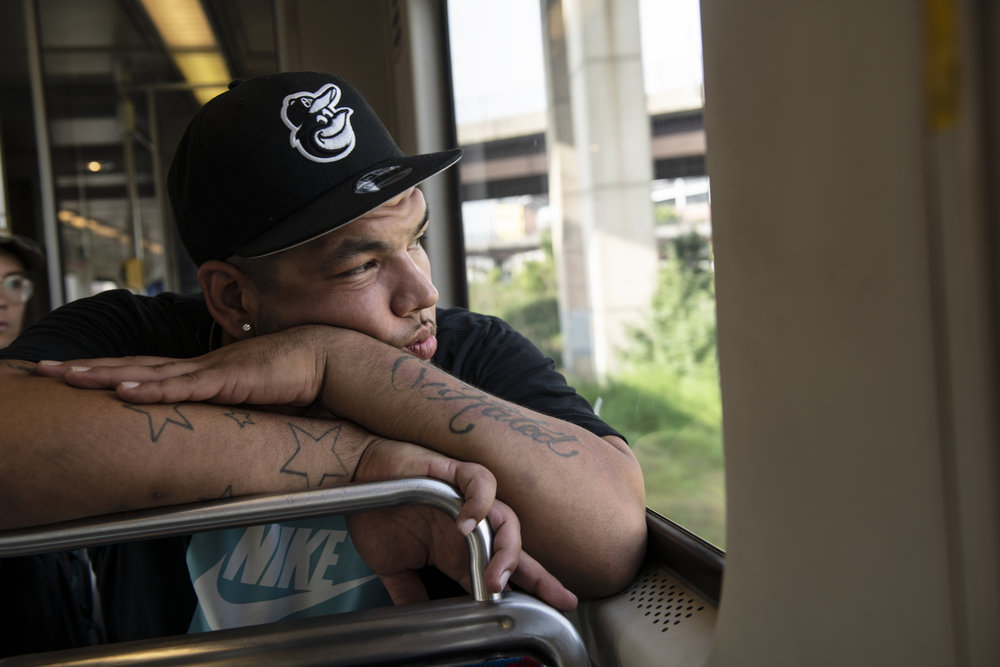 In Baltimore, Maryland, Kristof and WuDunn met Daniel McDowell, a war veteran who had been over-prescribed painkillers for a combat-related injury. His prescription snowballed into a heroin addiction. Once addicted, people scramble to buy pills illegally on the black market. When that habit becomes unaffordable, they switch to street heroin.
Photo by Lynsey Addario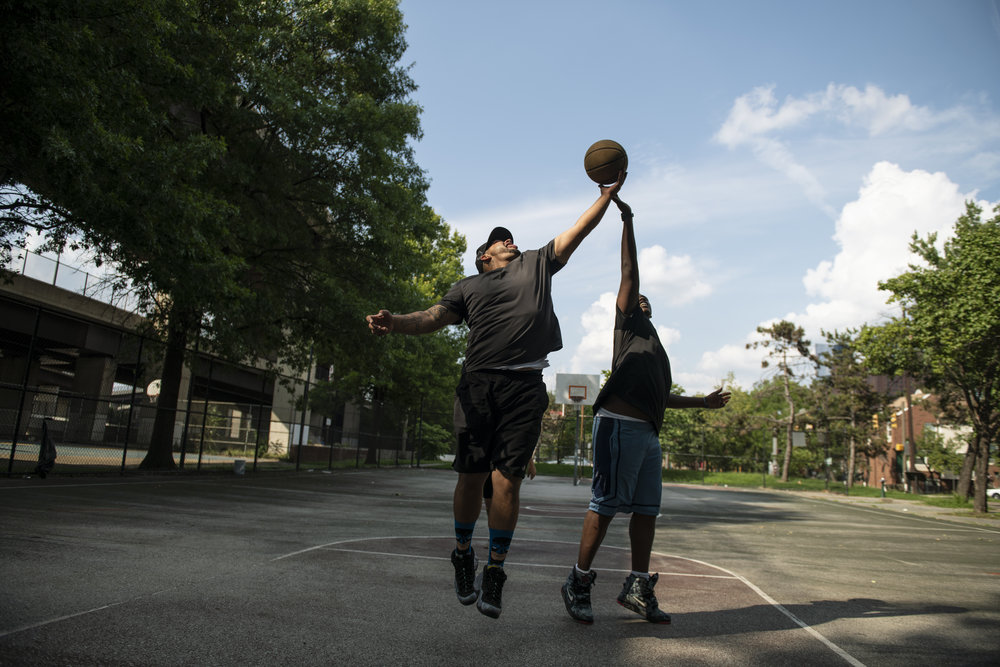 Daniel plays basketball at a park with a friend. Today, he is working hard on his recovery and rebuilding a relationship with his young son, but he worries about the impact his felony drug conviction will have on his employment prospects. As a proud Army veteran, talking about his experience is hard, but he shares his story because he wants people to understand the plight of the addicted.
Photo by Lynsey Addario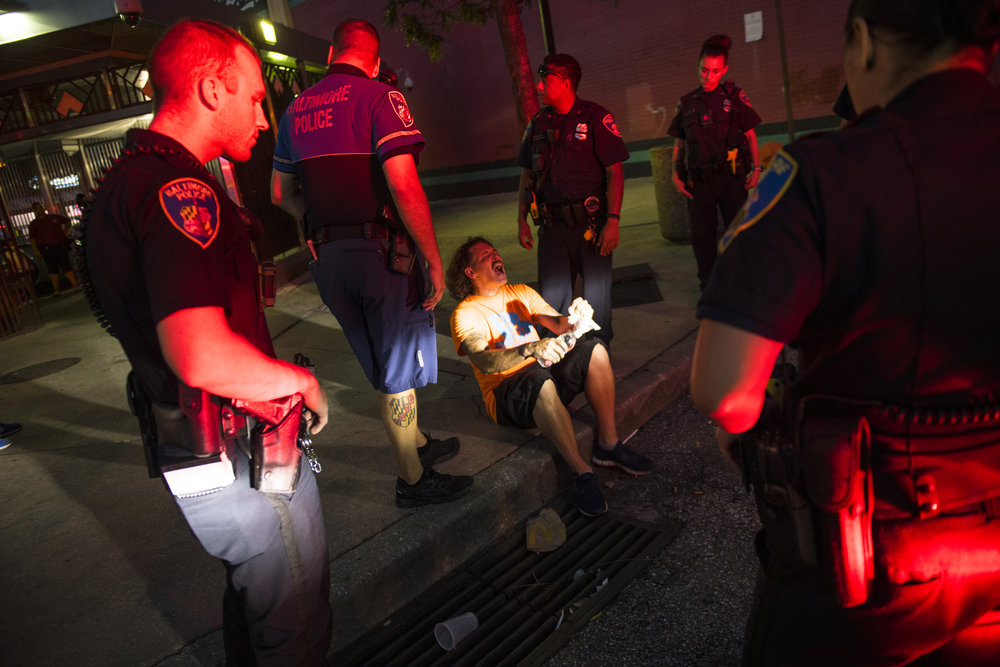 Police officers from a harm reduction program in Baltimore tend to a man who they believe is suffering from a drug overdose. The goal of this police program is to divert people away from prison and steer them into treatment.
Treating drug addiction as a public-health issue has bipartisan support across the country and reflects the outsized toll of the opioid epidemic on white working-class and middle-class families.
Photo by Lynsey Addario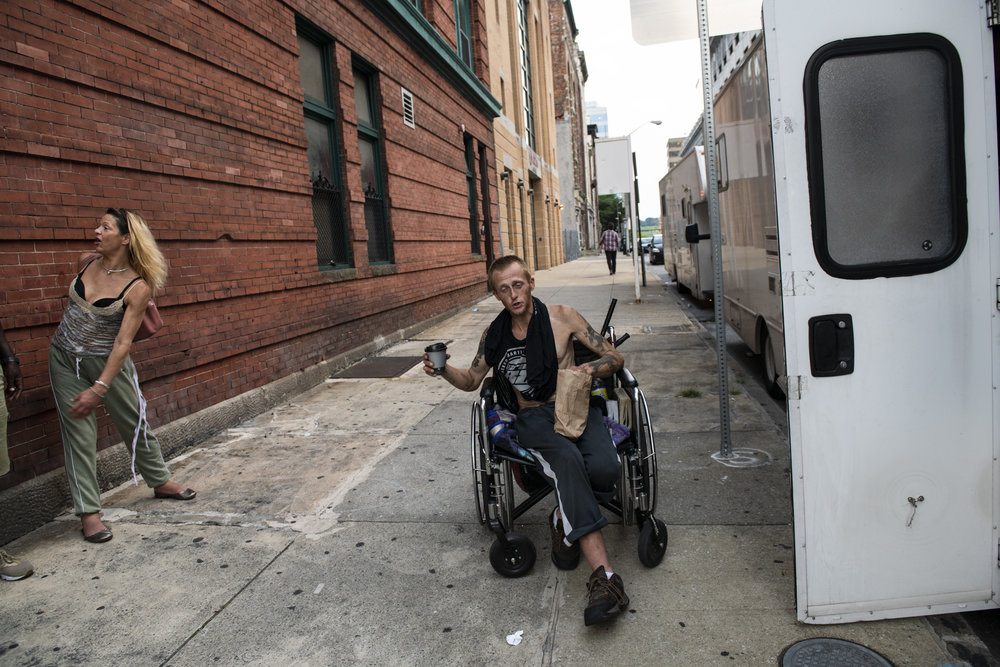 A man and woman are photographed outside a needle exchange site in Baltimore. The goal of needle exchange programs is to make drug use less lethal for those who resist treatment, and to reduce transmission of HIV and hepatitis.
Photo by Lynsey Addario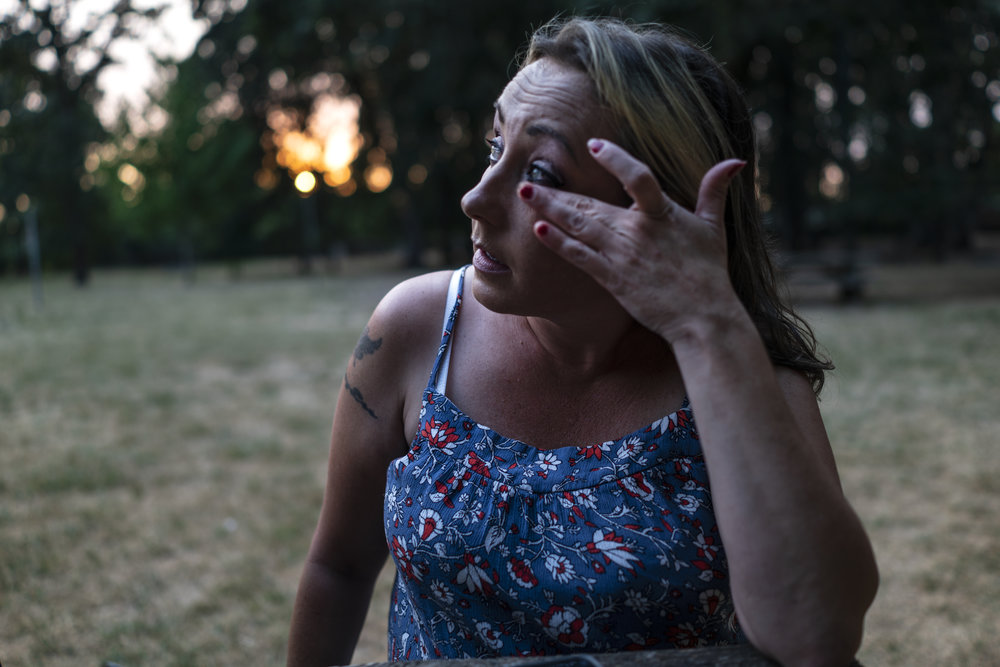 Amber Knapp is Dee Knapp's granddaughter. Her father's early death from drugs and alcohol plunged Amber into a deep depression which led her to abuse drugs, lose her white-collar job, and eventually put her behind bars. "When you're raised in chaos and you're around chaos a lot," Amber reflects, "your body adapts to the chaos. I was actually creating the chaos to feel normal."
Photo by Lynsey Addario
Incarceration
Until the 1970s, America's incarceration rate was on par with other industrialized nations. But since the "War on Drugs" began in the 1980s, the United States is now home to one-quarter of the entire world's prison population.
Today, more than seventy million Americans have a criminal record stemming from drug use. That's more than the number of Americans with a college degree.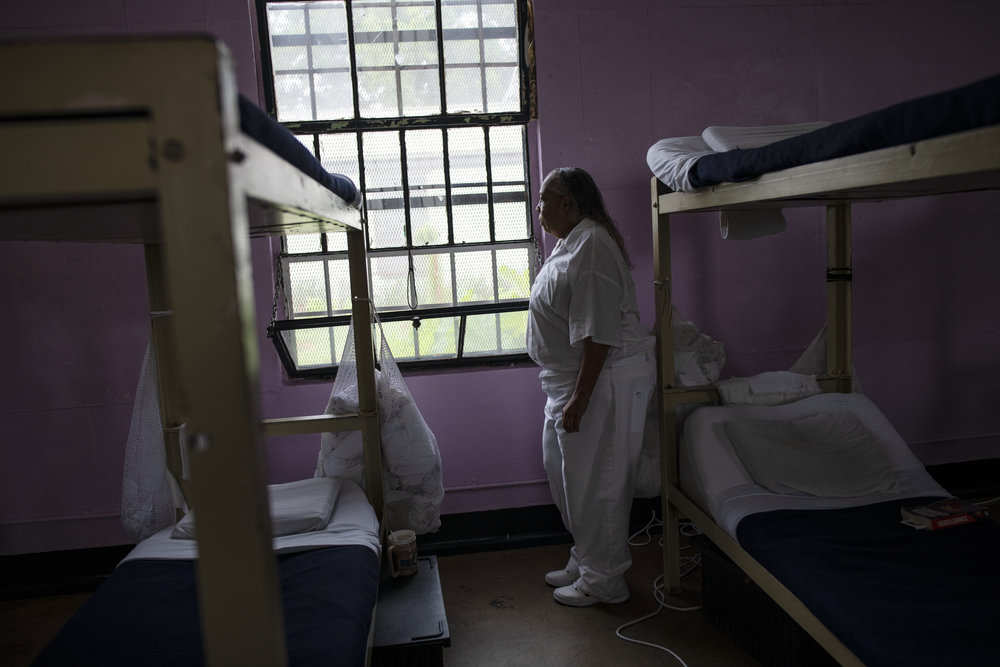 Geneva Cooley is photographed in a women's prison in Alabama, where she was sentenced to life without the possibility of parole for a minor drug trafficking offense. While she talked on the phone regularly with family members, she never let any of them visit her in prison—because she couldn't bear them leaving.
Photo by Lynsey Addario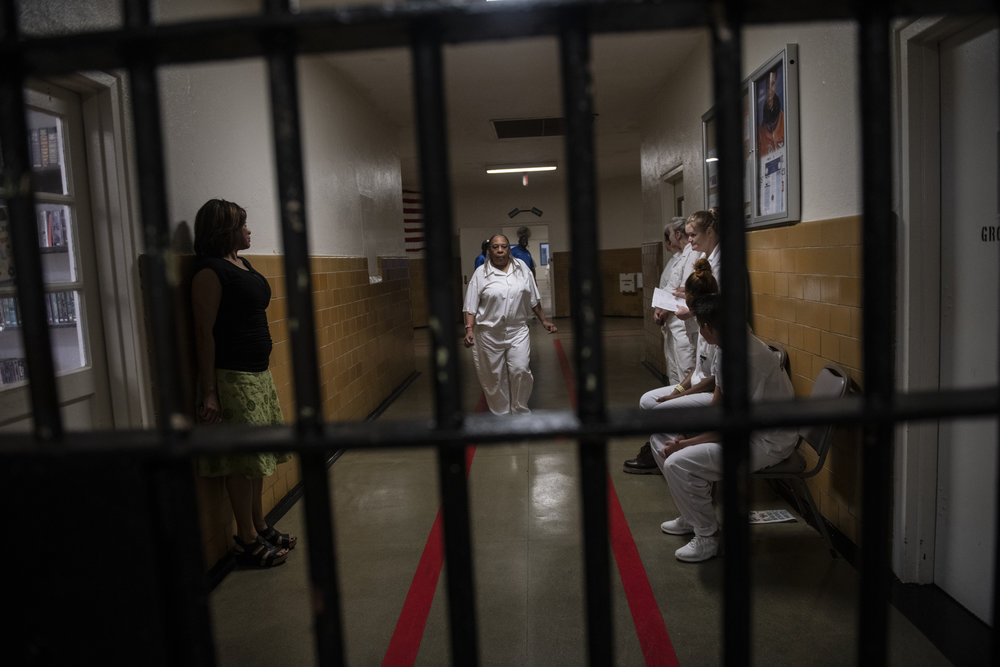 Geneva is photographed walking behind bars. Incarcerating drug offenders has cost the United States over one trillion dollars and has had no effect on curbing drug addiction. Mass incarceration has been particularly devastating for Black Americans who receive sentences that are on average nineteen percent longer than those for white people for the same offense—even accounting for criminal history and other variables.
Photo by Lynsey Addario
Geneva visits the Alabama State Fair a few days after getting released from a life sentence without parole. She spent seventeen and a half years behind bars before a team of lawyers from the clinical program at the Culverhouse School of Law at the University of Alabama fought to get her released. Their case was based on what Geneva's sentence would be if she were convicted today.
Photo by Lynsey Addario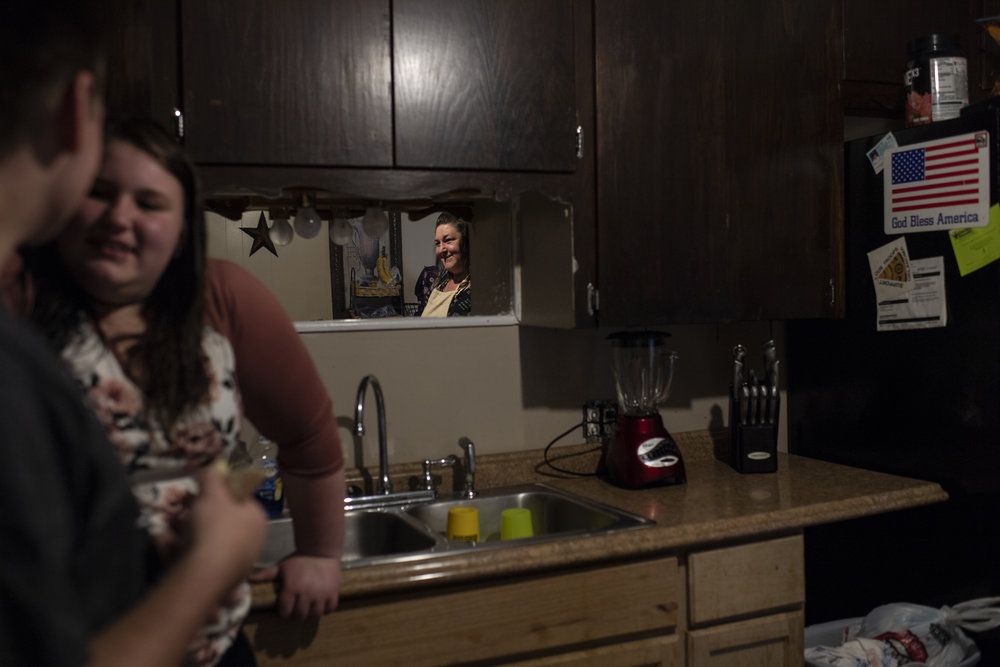 Rebecca Hale, photographed with her children in Tulsa, Oklahoma, is a participant in a program called Women in Recovery (WIR). WIR is an intensive outpatient alternative for eligible women facing long prison sentences for nonviolent drug-related offenses. One of the difficulties in scaling up programs like WIR is the expense. However, diversion and drug treatment programs like WIR yield huge savings when compared to the costs of crime, recidivism, and foster care.
Photo by Lynsey Addario
The Unhoused
The unhoused come from a variety of backgrounds and life circumstances that defy stereotypes. In many large American cities, a hardworking person simply cannot afford to pay their rent on a minimum wage salary.
Prior to the pandemic, Los Angeles had one of the largest populations of unhoused people in the nation, and that number is growing. Economic hardship is cited as the primary driver of homelessness, accounting for almost sixty percent of the newly unhoused population.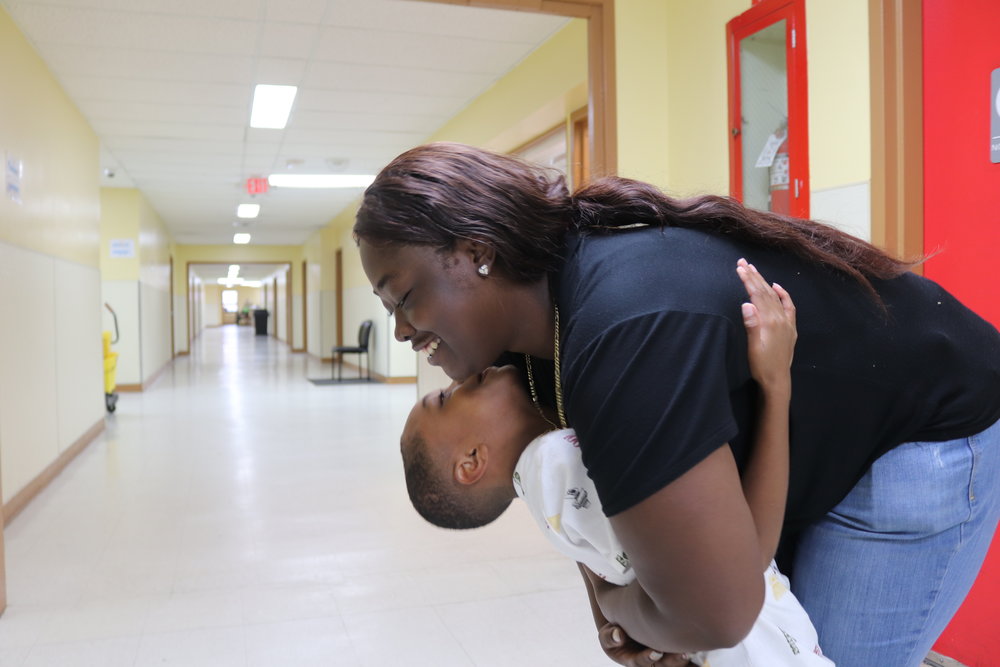 Marquita Abbott, pictured with her son Mason at a shelter in Washington, DC, embodies the effects of America's growing affordable housing crisis. Marquita has no mental health or addiction problems, she graduated from high school, and had a full-time job—but that didn't prevent her from experiencing homelessness.
Photo by Nicholas D. Kristof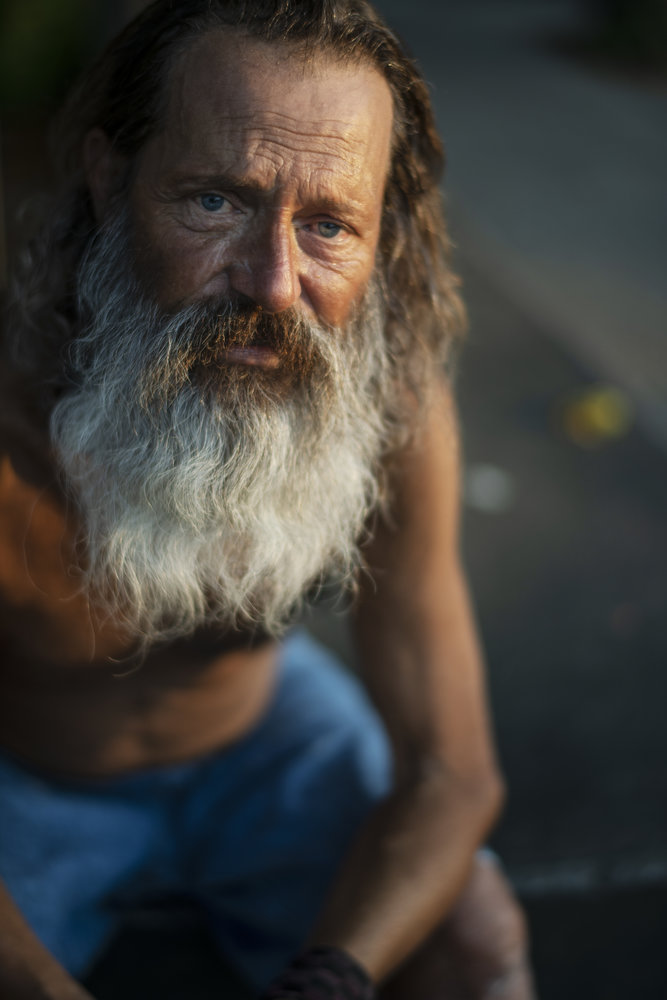 Mike Stepp, Nicholas D. Kristof's closest neighbor growing up, is now unhoused and living on the streets of McMinnville, Oregon. There is a shelter in town that could take Mike in, but residents have to give up drugs and alcohol, which Mike says he can't.
Photo by Lynsey Addario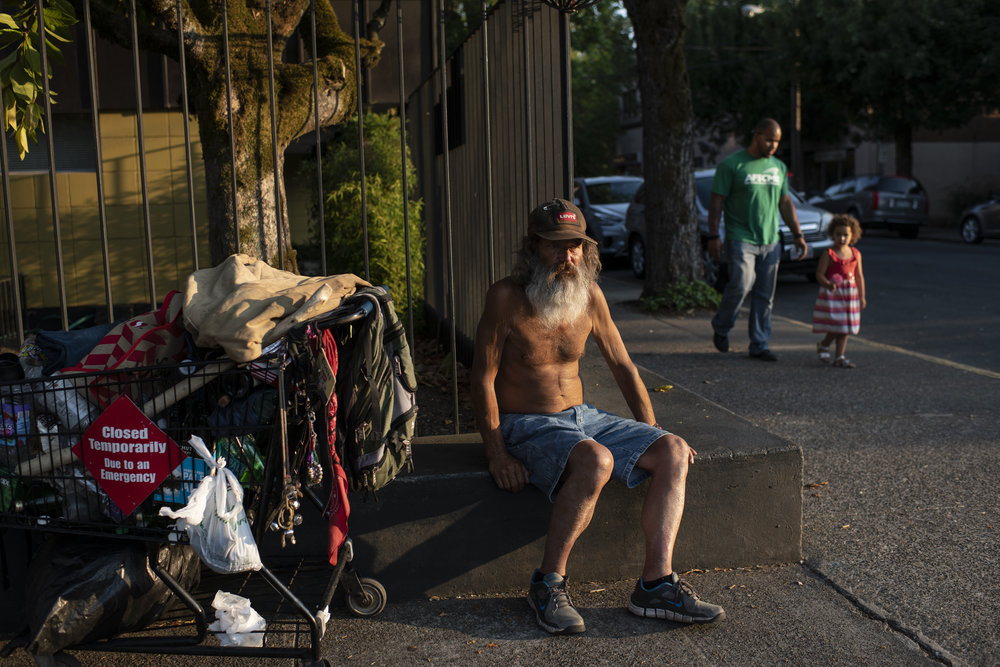 Mike sits near his belongings in McMinnville, Oregon. His story is painful, but unfortunately, it is not unique. Homelessness has increased in the last forty years, even as America has become wealthier. The increase is due to a confluence of factors: land-use and zoning rules that discourage affordable housing, federal budget cuts to housing subsidies, inadequate funding for the needs of people living with mental illness and drug addiction, and stagnant wages for workers.
Photo by Lynsey Addario
Healthcare
The United States is the only industrialized country in the world without basic universal healthcare for its citizens. Lack of insurance coverage kills tens of thousands of people annually, impairing our nation's competitiveness, reducing overall life expectancy, and leading to personal heartbreak.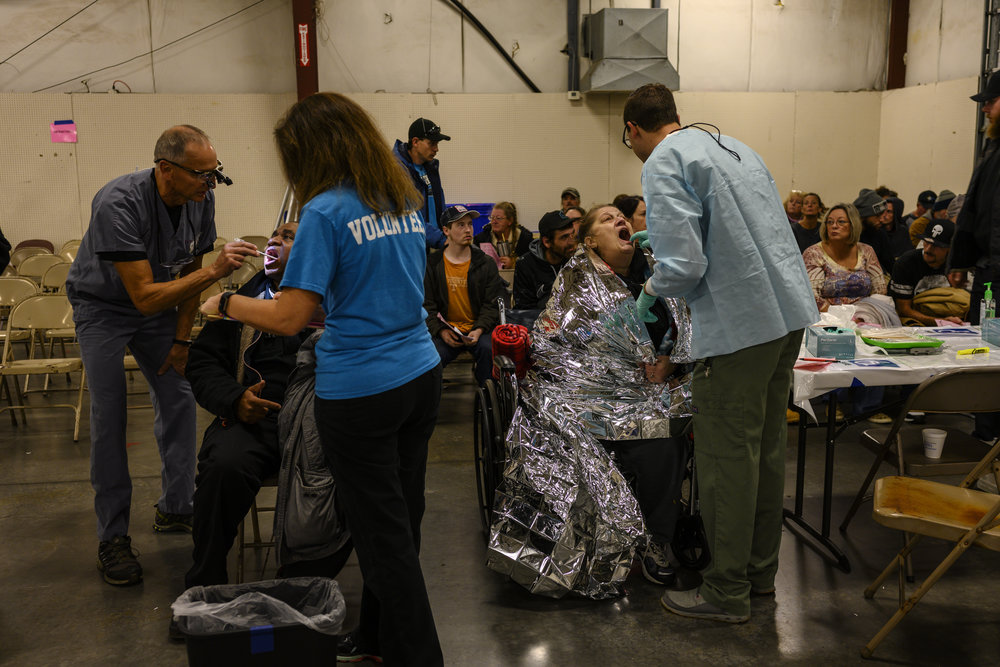 A roomful of people wait for medical care inside a Remote Area Medical health fair in Gray, Tennessee. The program began by serving people outside of the United States but now holds more than seventy health fairs annually in poorer areas of states including Tennessee, Alabama, Missouri, Kentucky, South Dakota, and Nebraska.
One of the biggest weekend clinics is in California.
Photo by Lynsey Addario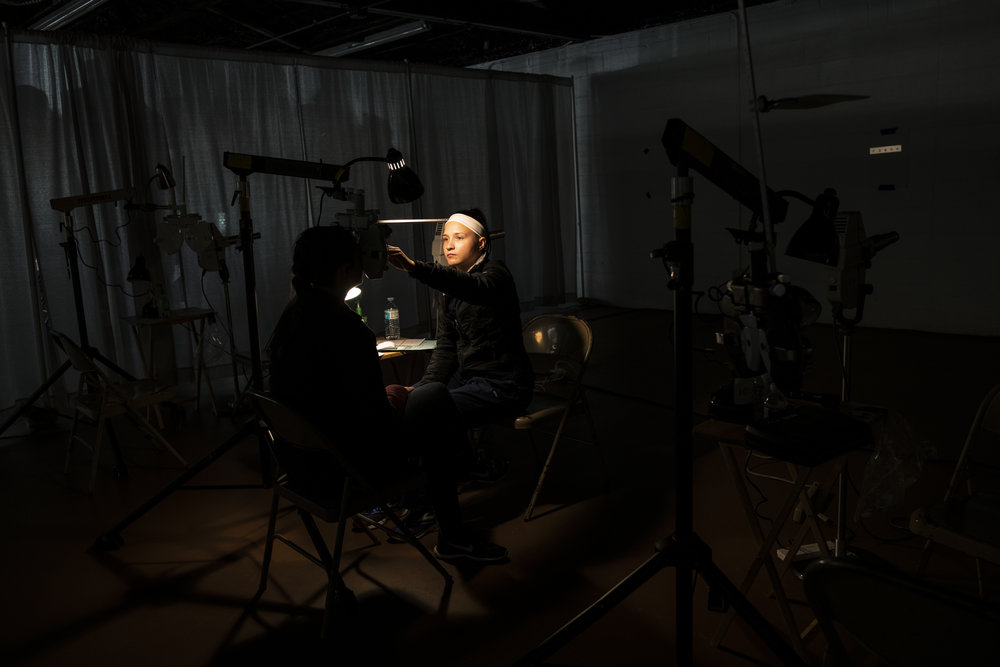 A woman receives glasses at a Remote Area Medical health fair. Seven decades after President Harry Truman tried to achieve universal health coverage, many Americans still lack access to affordable healthcare. Most Americans get health insurance through their employer, yet even the insured struggle to pay for medical care.
Photo by Lynsey Addario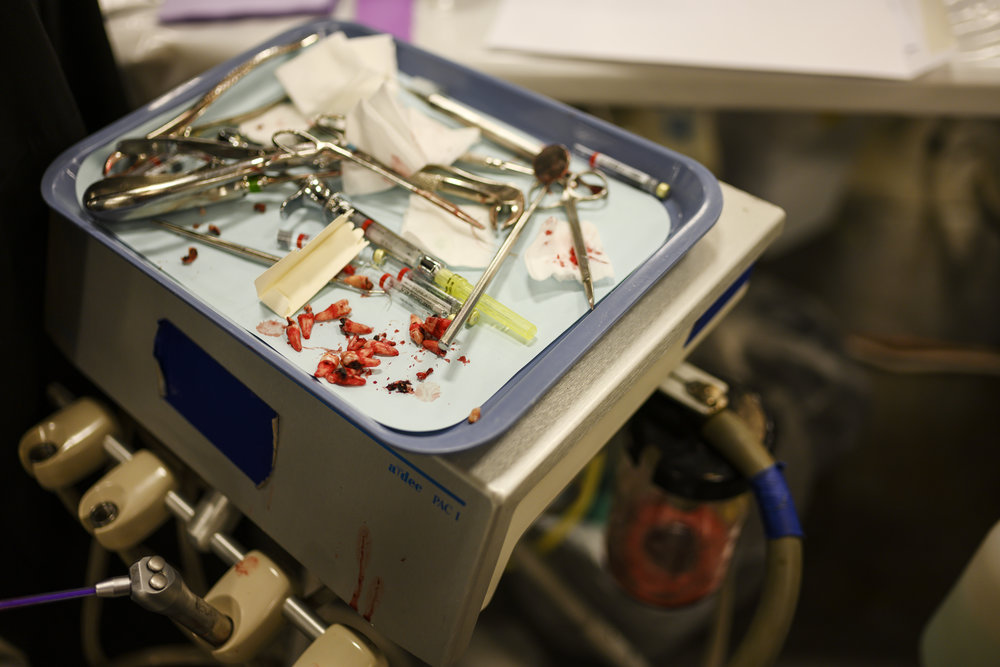 A tray of dental tools and recently removed human teeth is photographed at a Remote Area Medical health fair. Some seventy-four million people in the United States have no dental insurance. "Bad teeth lead to diabetes, to heart disease, to death. People die from bad teeth in this country," notes Stan Brock, founder of Remote Area Medical health fair.
Photo by Lynsey Addario
Children and Families
The United States has about thirteen million children living in poverty, a number that is growing due to the COVID-19 pandemic. It is estimated that child poverty could be cut by more than half with a series of steps costing about one-tenth as much as we are currently spending to address this issue. These interventions include early childhood programs, universal high school graduation, a monthly child allowance, and baby bonds to help build savings.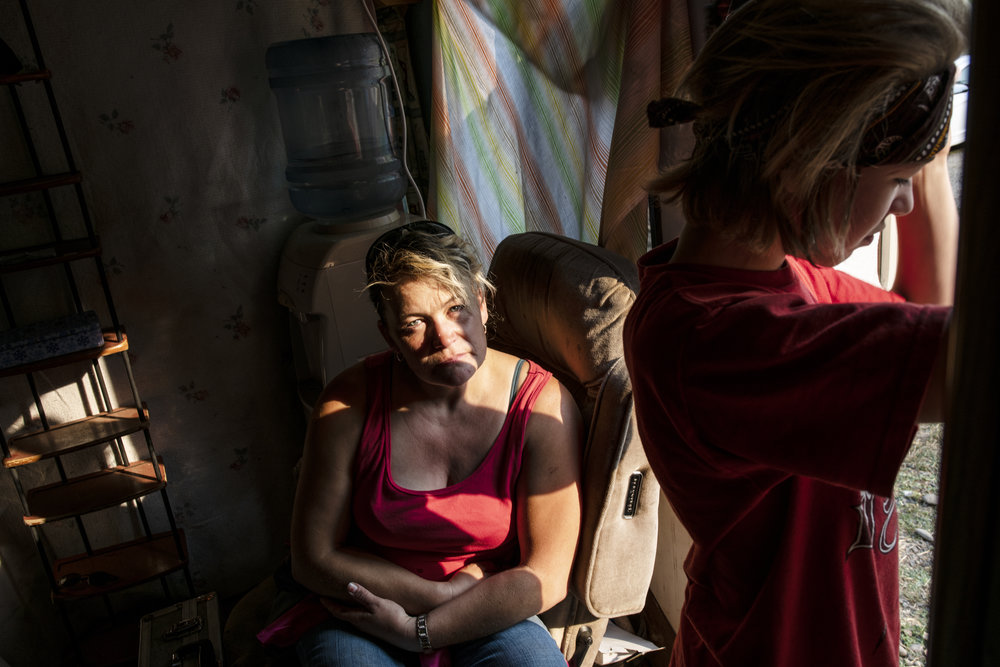 Molly, who asked that her last name not be used, is photographed in her mobile home with her son. They live along the Number 6 school bus route near Yamhill, Oregon. Trauma and sexual violence have harmed four generations of her family by limiting access to childhood education and hindering her family's future. The hardships Molly's family has experienced speak to the struggles of children caught in a generational cycle of poverty.
Photo by Lynsey Addario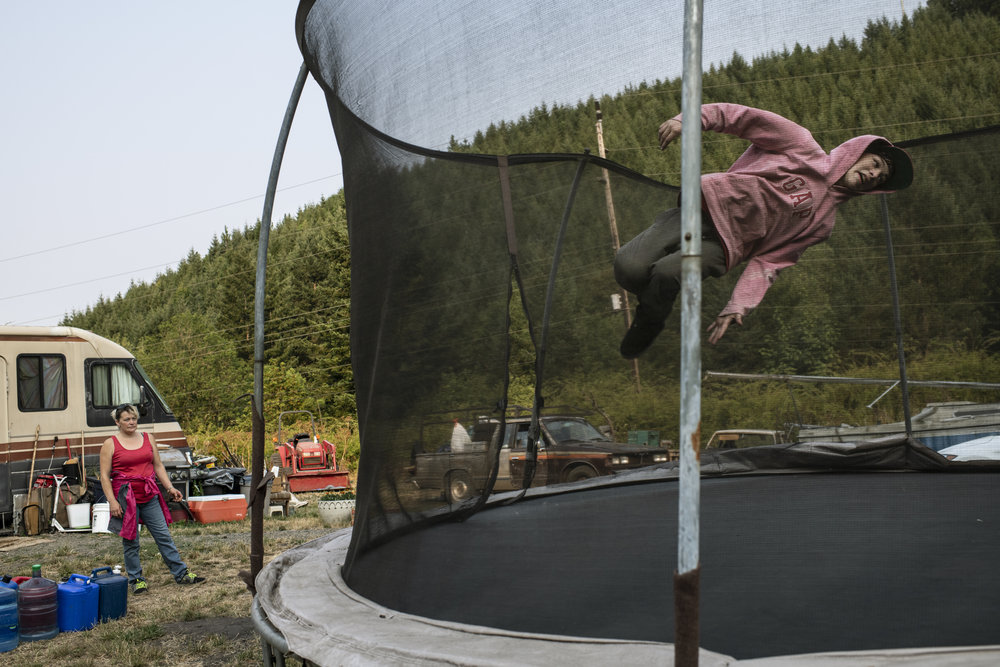 Molly watches her son play outside their home.
Photo by Lynsey Addario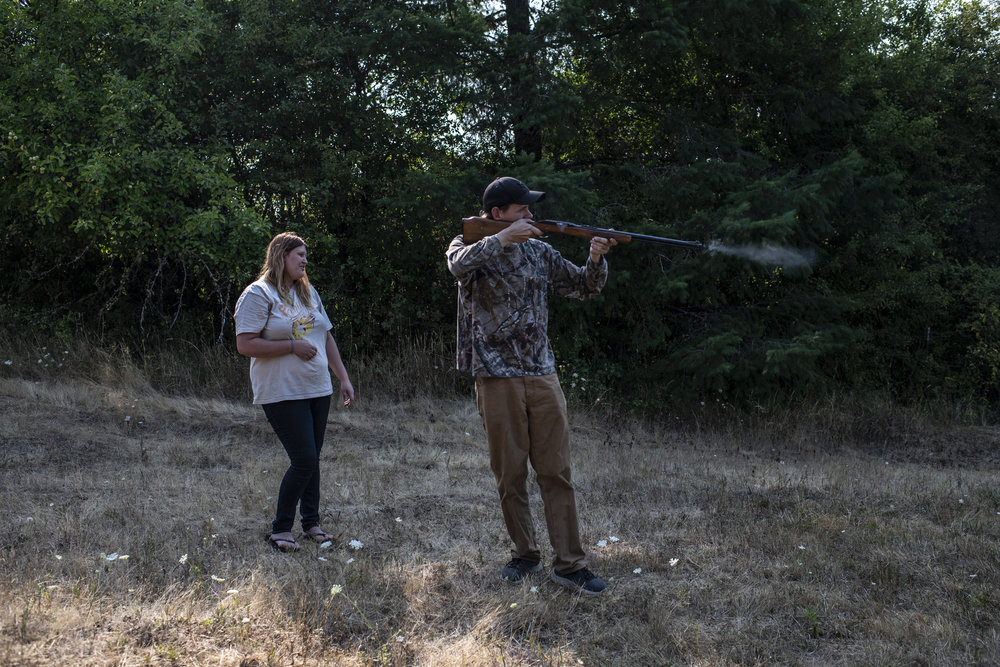 Eathan Green is Clayton Green's son. He practices target shooting on the Green farm in Yamhill, as his girlfriend, Ginnetta, observes. Eathan's early life lacked stability. His parents broke up when he was very young, and he had a difficult relationship with his father. As an adult, he's struggled with opioid addiction, work-related injuries, and maintaining steady employment. His children from both his first marriage and with Ginnetta have been removed by authorities because of concerns about drugs and allegations of abuse, which Eathan and Ginnetta both deny.
Photo by Lynsey Addario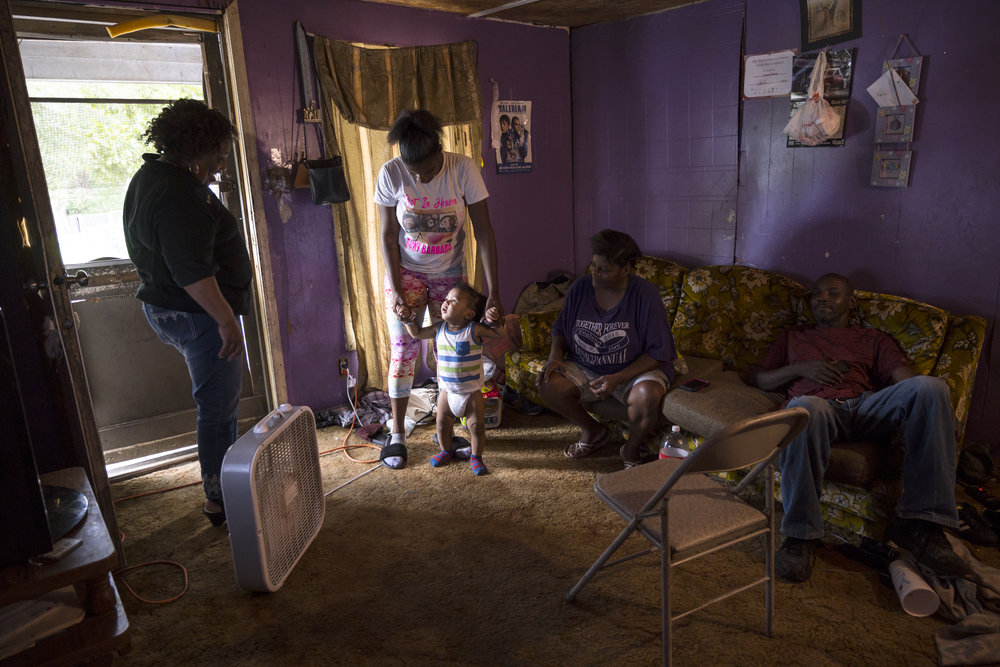 Annette Dove is pictured in jeans and a black polo shirt while visiting a family serviced by the program she founded, Targeting Our People's Priorities with Service (TOPPS). In the beginning, TOPPS set out to be an after-school program for teenagers, but its mission has expanded far beyond that. Every day during the school year, Annette provides dinner for some three hundred kids. In the summer, she serves breakfast and lunch to as many as seven hundred people in Pine Bluff, Arkansas.
Photo by Lynsey Addario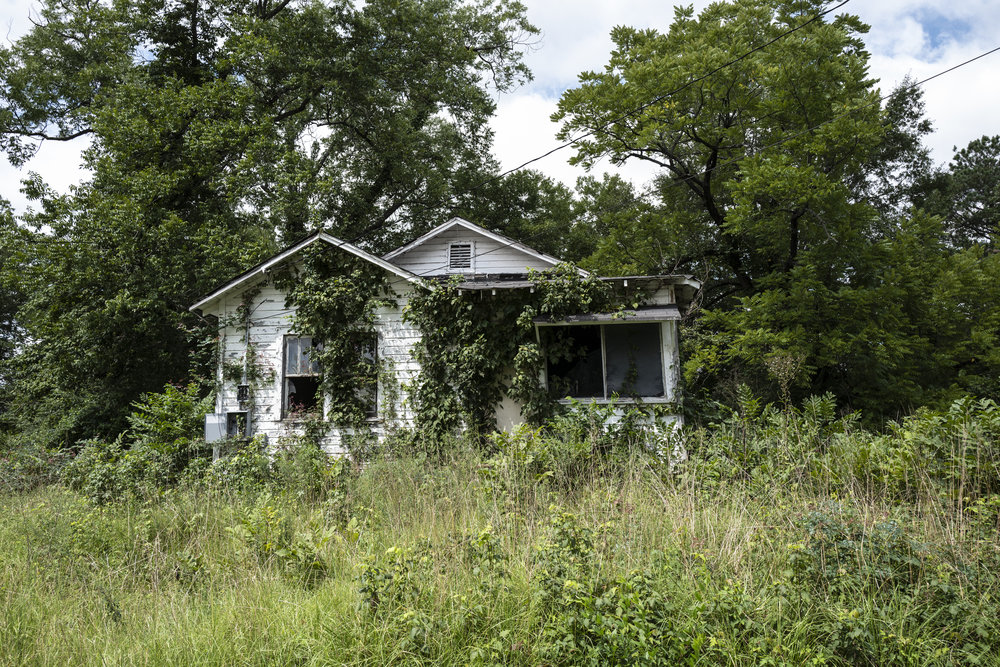 Pine Bluff was once called "the most dangerous little town in America." Most TOPPS students live in high-crime neighborhoods with abandoned and burned homes.
Photo by Lynsey Addario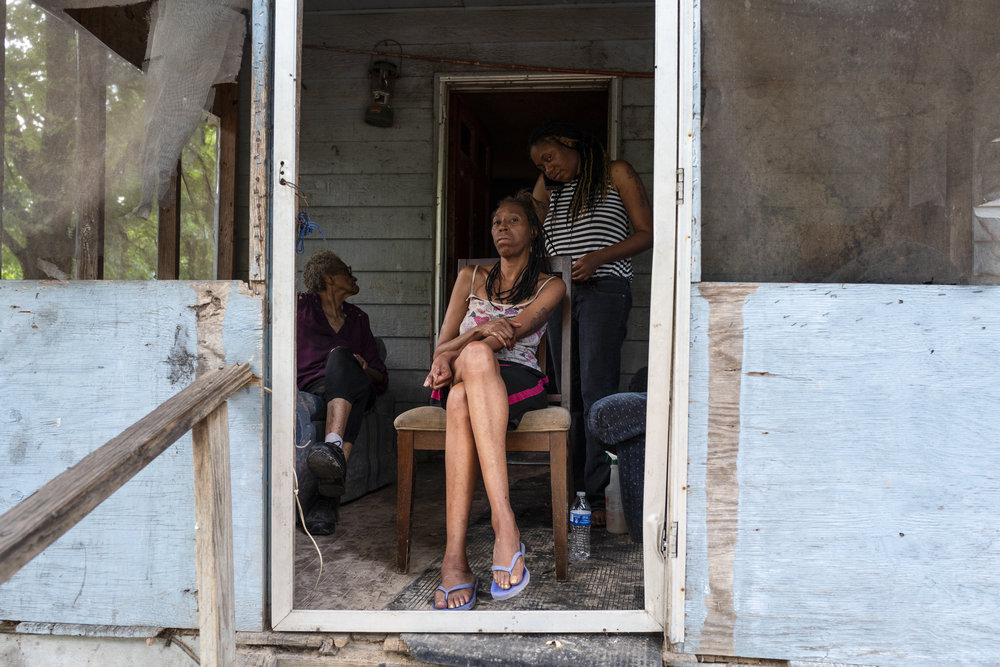 A family Annette works with braids their hair while sitting on the porch in Pine Bluff. Annette works seven days a week to support at-risk kids. She has even drawn on her retirement savings to invest in TOPPS and once had to file personal bankruptcy to keep the program going. She receives some money from foundations and the local government, but TOPPS has always operated hand to mouth.
Photo by Lynsey Addario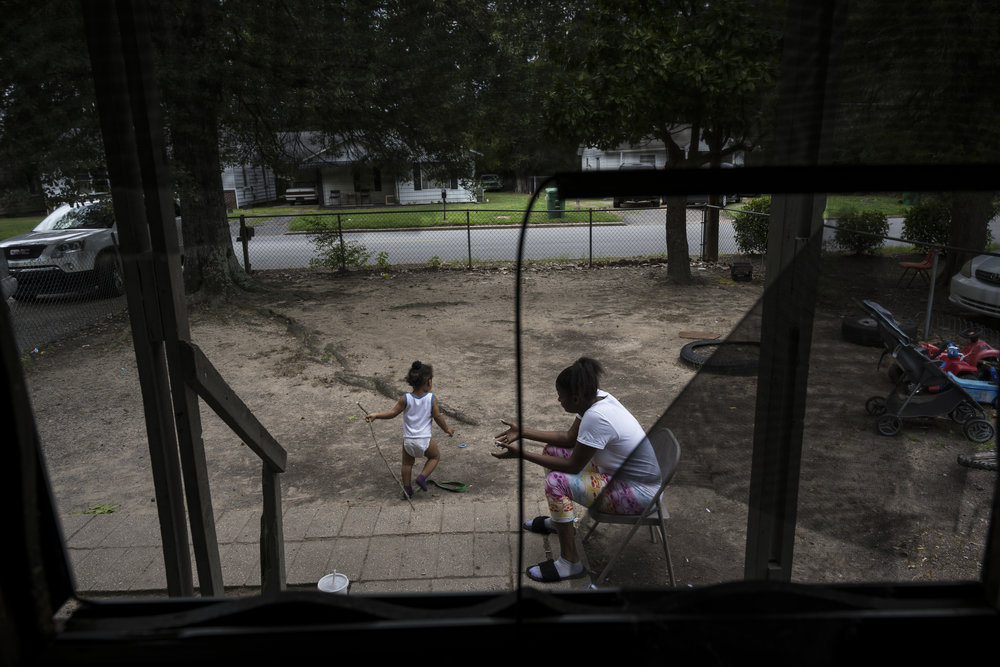 A family is visited in their yard by Annette (not pictured).
Kristof and WuDunn believe that both state support and private charities are needed to end the cycle of child poverty in the United States. Grassroots safety nets like TOPPS have local knowledge and buy-in, while states have the resources and ability to expand programs like Medicaid to ensure children's health needs are met.
Photo by Lynsey Addario