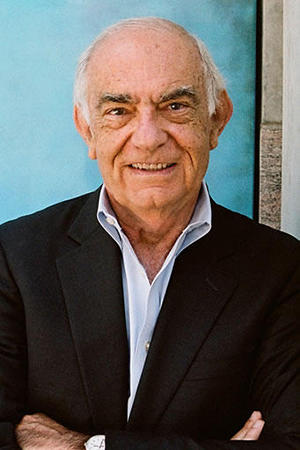 About the Founder
Uri D. Herscher is the visionary and founder of the Skirball Cultural Center. He led the Skirball from its inception in the early 1980s and was named Founding President and CEO when the institution opened to the public in April 1996. He served in that role until June 2020. Dr. Herscher is a scholar, administrator, and rabbi whose abiding commitment to Jewish values—which he embraces as universally ethical in essence and practice—has infused the Skirball throughout its history.
Dr. Herscher guided the Skirball through decades of growth and transformation, overseeing multiple expansions of its campus and programs, broadening its impact and establishing it as the largest Jewish cultural institution in the nation. Under his leadership, the Skirball grew its annual visitorship to more than 600,000, encompassing a public of diverse ethnic, cultural, and religious backgrounds. His pioneering vision—to create a multifaceted Jewish institution whose mission is to welcome and engage diverse communities—has defined the Skirball since its founding.
Encouraged by philanthropist Jack H. Skirball and other major donors, Dr. Herscher spearheaded the conceptualization and creation of the Skirball. He also identified the fifteen-acre building site, chosen for its centrality and accessibility within the vast urban fabric of greater Los Angeles. To transform the property into the cultural village he envisioned, Dr. Herscher engaged the world-renowned architect Moshe Safdie to design the campus.
During his tenure, Dr. Herscher built a strong fiscal infrastructure to support the Skirball's continued growth and to secure the institution's long-term financial health. Along with the sustained support of a broad donor base, Dr. Herscher established a business model that generates diversified sources of earned income to undergird the Skirball's ongoing operations, exhibitions, and programs. Throughout its history, the Skirball has operated debt-free.
Prior to founding the Skirball Cultural Center, Dr. Herscher was Executive Vice President and Dean of Faculty of the four-campus Hebrew Union College–Jewish Institute of Religion (HUC–JIR), a position he held for twenty years (1975–1995). During that time, he also held the position of Professor of American Jewish History. From 1970 to 1974, he was National Dean of Admissions. Over the course of his academic career, Dr. Herscher authored several influential books on the history and sociology of American Jewry, among them On Jews, America, and Immigration (American Jewish Archives), Jewish Agricultural Utopias in America (Wayne State University Press), A Century of Memories, 1882–1982: The Eastern European Experience in America (American Jewish Archives), and Queen City Refuge (Behrman House). Among his civic contributions to the city, Dr. Herscher served a five-year term (2001–2006) as one of five commissioners on the Los Angeles Ethics Commission.
Throughout his years of institutional and communal leadership, Dr. Herscher sought to build public support and appreciation for the constructive role of immigration in American life. The Skirball's exhibitions and programs frequently focus on the contributions of immigrants from many lands and cultures to the character and fabric of our nation. In April 2016, Dr. Herscher was recognized by US Citizenship and Immigration Services as an Outstanding American by Choice. This  honor is bestowed upon a select few naturalized citizens who have made significant contributions to this nation through civic participation, professional achievement, and responsible citizenship.
Dr. Herscher was born in Tel Aviv in 1941 to German Jewish refugee parents who had fled Hitler's rise to power and made their way to British Mandate Palestine in the mid-1930s. His grandparents and many relatives were murdered in Nazi death camps. In the mid-1950s, Dr. Herscher immigrated with his family to the United States, settling in San Jose, California. As an undergraduate at the University of California at Berkeley, Dr. Herscher co-founded Cal Camp, a summer camp for underprivileged children in the Bay Area, which continues to operate today. He graduated with honors in 1964 with degrees in history and sociology.  He was ordained a rabbi at HUC–JIR in 1970, and received a doctorate in American Jewish history in 1973. Dr. Herscher holds honorary degrees from the University of Southern California, the University of Judaism, and Hebrew Union College.
Dr. Herscher and his wife, Dr. Myna Herscher, have four sons and seven grandchildren.
---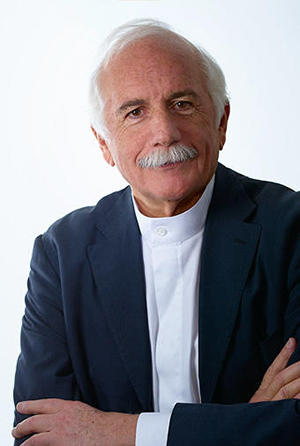 About the Architect
Moshe Safdie is an architect, urban planner, educator, theorist, and author. In a rare instance of a single architect overseeing multiple expansions of his master plan, Safdie designed all four construction phases of the Skirball's fifteen-acre campus. The Skirball Cultural Center was Safdie's first cultural project in the United States.
"From the very beginning, Moshe Safdie was a vital member of the Skirball Cultural Center's planning team, contributing as much to the shaping of our institutional mission as to the buildings that give it form," said Uri D. Herscher, Founder of the Skirball Cultural Center. "To the Skirball's aspirations, Moshe has given voice and character. Such a gift transcends the realm of architecture; it speaks to, and lifts high, the human spirit."
Embracing a comprehensive and humane design philosophy, Safdie is committed to architecture that supports and enhances a project's program; that is informed by the geographic, social, and cultural elements that define a place; and that responds to human needs and aspirations. Over the course of his fifty-year career, Safdie has completed a wide range of projects around the world, including cultural, educational, and civic institutions; neighborhoods and public parks; mixed-use urban centers and airports; and master plans for existing communities and entirely new cities. In addition to the Skirball, many of his firm's buildings have become beloved regional and national landmarks, including Salt Lake City Public Library, Utah; National Gallery of Canada, Ottawa, Canada; Yad Vashem Holocaust Museum, Jerusalem, Israel; Khalsa Heritage Memorial Complex, India; United States Institute of Peace Headquarters, Washington, DC; Kauffman Center for the Performing Arts, Kansas City, Missouri; Marina Bay Sands, Singapore; and Crystal Bridges Museum of American Art, Bentonville, Arkansas. Based in Boston, Safdie Architects also has branch offices in Toronto, Jerusalem, Singapore, and Shanghai.
Safdie has been the recipient of numerous awards, honorary degrees, and civil honors. In 2015, he was awarded the Gold Medal by the American Institute of Architects.
The Architecture of the Skirball
The design of the Skirball Cultural Center is rooted in a profound respect for the land and a desire to seamlessly weave together the buildings and the surrounding landscape. In response to the site's steep and complex topography at the base of the Santa Monica Mountains, Safdie designed the campus as a series of building clusters and a network of outdoor courtyards, arcades, and landscaped ravines positioned longitudinally within the hills.
Through four separate construction phases, Safdie designed the indoor spaces—including the museum galleries, conference centers and classrooms, and multipurpose auditoriums—and the outdoor spaces to integrate the buildings with the natural beauty of the site. The buildings' subdued palette of pink Tadoussac granite, recessed glazing, majestic vaulted ceilings, and discreet planted areas all draw the garden setting to the foreground and collectively create a contemplative visitor experience.
Further integrating the campus with the natural surroundings, the buildings are topped by stainless steel vaulted roofs that reflect the dynamic southern California sky. A rich and diverse Mediterranean landscape, including an olive grove, surrounds the more public areas of the campus and provides visitors with a unique space to experience the close relationship of nature and culture in harmony.
---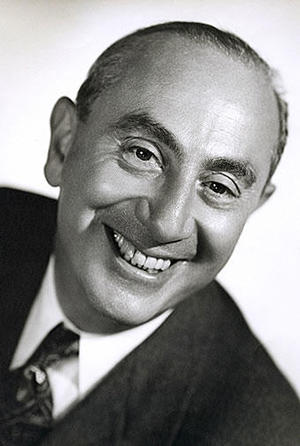 About Our Namesake
Born in 1896 in Homestead, Pennsylvania, Jack H. Skirball attended the University of Cincinnati and Western Reserve College in Cleveland and then went on to study for the rabbinate at Hebrew Union College. After his ordination in 1921, he did graduate work in philosophy and sociology at the University of Chicago, then served as an assistant rabbi in Cleveland for two years and rabbi of the Washington Avenue Temple in Evansville, Indiana, for seven years.
In 1933, he took a leave of absence from the Evansville congregation to become the manager of Educational Films Corporation, a pioneer in the field of audiovisual education. While with Educational Films, he produced Birth of a Baby, the first motion picture to show the actual birth of a child. Skirball then went on to feature film production as President of Skirball Productions, which was responsible for classics such as Alfred Hitchcock's Saboteur (1942) and Shadow of a Doubt (1943).
Beginning in the 1950s Skirball began a third successful career, this time as a real estate developer. He established a number of bowling alleys and created Vacation Village in San Diego, which became a model for resort hotels across America.
Although he never returned to the rabbinate, Skirball remained active in the Reform movement, assisting the establishment of new congregations, serving as regional president for the Union of American Hebrew Congregations and giving financial support to Hebrew Union College-Jewish Institute of Religion (HUC–JIR). He spearheaded the development of HUC–JIR's Los Angeles campus and established the Skirball Museum at HUC–JIR Los Angeles, the Skirball Gallery at the Cincinnati campus, and the Skirball Museum and Archaeological Building on the Jerusalem campus. He also founded the Skirball Institute on American Jewish Committee for Interreligious and Interethnic Research into Core American Values.
In 1983, Jack and Audrey Skirball (later Audrey Skirball-Kenis) provided the initial funding to Uri D. Herscher for the development of a new cultural center in Los Angeles. Jack Skirball was also instrumental in locating a site for the project. The Skirball Cultural Center has been named in his honor, not only for his invaluable contributions at its inception, but for his lifelong service to Jewish education and culture.
Jack Skirball (1896–1985) cared for and contributed generously to Jewish life and to American society as a whole. His memory is a blessing.