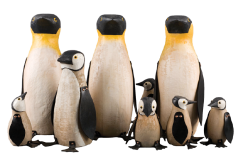 Winner of the California Association of Museums' Superintendent's Award for Excellence in Museum Education! Inspired by timeless flood stories, the Art of Imagination curriculum focuses on the ways that each of us, including the youngest members of our community, can make a difference.
Watch Noah's Ark Videos
Check out a series of videos produced for the Art of Imagination and featured in the lesson plans above! Join Noah's Ark educators, listen to their interpretations of cultural flood stories, and create mindful moments to practice compassion and curiosity.
Curriculum Extension
Self-Portrait Collage

Build upon the Re-Discovered Animals lesson plan with this coloring and collage-making activity developed by Los Angeles artist Stephanie Mercado. Combine Mercado's illustrations with meaningful photos and a personal statement to create a self-portrait that explores your relationship to nature and the world.