This is a past exhibition
This exhibition was on view at the Skirball
March 24–August 16, 2015
About the Exhibition
Featuring more than twenty photographs of hand-painted billboards that dominated the Los Angeles landscape for almost two decades, this exhibition—displayed in the Skirball's community space known as the Ruby Gallery—brought to life a unique period in the history of rock & roll and the fabled Sunset Strip, whose nightclubs were the birthplace of rock & roll royalty. Photographer Robert Landau (b. 1953) traced the billboard phenomenon from the breakthrough promotion for the debut album by the Doors in 1967 to the advent of MTV in the 1980s, which signaled the end of an era.
In 1967 the head of Elektra Records took the bold step of renting out a billboard on West Hollywood's historic Sunset Strip to promote a little-known Los Angeles rock band called the Doors. For the next fifteen years, the Strip exploded with the vibrant art of a generation bent on changing the world—and selling some records at the same time. Once the Doors had paved the way, everyone from the Beatles and Bob Dylan to Frank Zappa and Led Zeppelin wanted to be represented on the one-of-a-kind wooden panels that lined the boulevard. In those years, the Sunset Strip was the heart and soul of a vibrant music scene—home to legendary nightclubs, record companies, and record stores. From the 1960s to the 1980s, rock & roll billboards dominated the Strip, looming over the boulevard for just a month or two at a time before being dismantled, whitewashed, and given a new incarnation. Robert Landau, a teenager at the time, was there to document these ephemeral pop art masterpieces.
Presented as a companion to the exhibition Bill Graham and the Rock & Roll Revolution, Rock & Roll Billboards of the Sunset Strip added a local dimension to the story of rock promotion over the course of three exciting decades. Visitors got a glimpse into Los Angeles's recent past through Landau's extraordinary photographs—taken from his book Rock 'N' Roll Billboards of the Sunset Strip—powerful documents of this colorful and fleeting period in American popular culture.
Also, specifically for the Skirball's presentation of this exhibition, professional billboard painter Enrique Vidal created a large-scale mural of a detail of Jerry Garcia's guitar "Wolf," which was on display in the exhibition Bill Graham and the Rock & Roll Revolution.
ROCK & ROLL BILLBOARDS OF THE SUNSET STRIP WAS ORGANIZED BY PHOTOGRAPHIC TRAVELING EXHIBITIONS, LOS ANGELES, CA.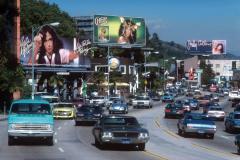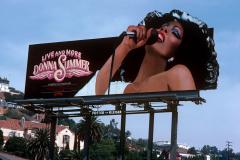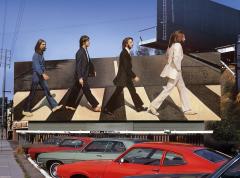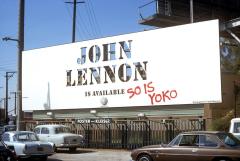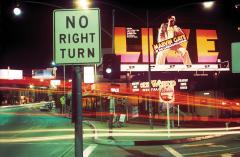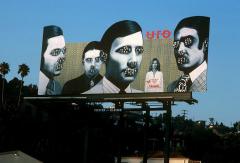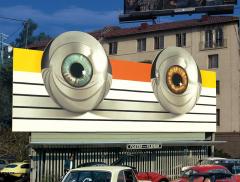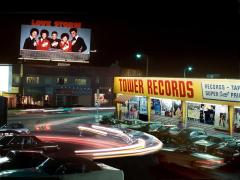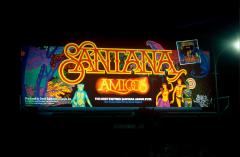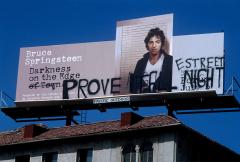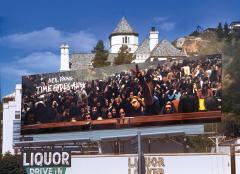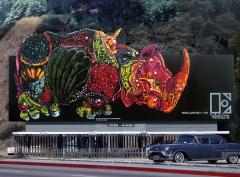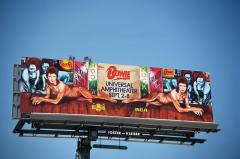 More to Explore
In the News
What Big Art Is All About: Conversations with Robert Landau and Enrique Vidal
SkirBlog | May 27, 2015
The history of rock and roll billboards on the Sunset Strip
KPCC's Take Two | April 21, 2015
'Rock & Roll Billboards of the Sunset Strip' Offers Pre-MTV Look at Promotion
Hollywood Reporter | April 8, 2015
Rock 'n' roll billboards of the Sunset Strip
KCRW's Which Way, LA? | March 26, 2015
Billboard USA: when rock took over advertising's roadside monoliths
Guardian | March 25, 2015
Skirball exhibits bygone rock billboards of the Sunset Strip
Los Angeles Daily News | March 23, 2015
'Rock & Roll Billboards of the Sunset Strip' Exhibit Documents L.A.'s Street Cred
Frontiers Media | March 23, 2015
'Rock & Roll Billboards of the Sunset Strip' shows grand-scale visions
Los Angeles Times | March 22, 2015
Photo Exhibit Captures the Sunset Strip's Golden Age of Billboards
LA Weekly | March 19, 2015
Rock 'n' Roll Billboards of the Sunset Strip Comes to Life at the Skirball Cultural Center
Los Angeles magazine | March 18, 2015
Sunset Strip's rock billboards (and more proof that Paul McCartney is dead)
Boing Boing | March 11, 2015