Engage with four thousand years of Jewish history and discover how ancestral visions shape modern values.
Admission
How to experience this exhibition:
Pair with a specially ticketed exhibition (Noah's Ark); advance reservations recommended
Or walk up to see this exhibition as part of general admission
About the Exhibition
Featuring changing displays of works from the Skirball's permanent collection of Judaica—one of the largest in the world—this historically illuminating exhibition chronicles the struggles and achievements of the Jewish people over a span of four thousand years.
Travel through the many lands and civilizations where Jews have lived and discover how ancestral visions continue to shape modern values. The Visions and Values galleries—Beginnings, Journeys, Holidays, Lifecycle, Synagogue, Passage to America, Nation of Immigrants, Struggle and Opportunity, the Holocaust, the State of Israel, and At Home in America—take the visitor on an unforgettable voyage of learning and discovery.
"I am always awed by the Visions and Values exhibition."
Rothschild Hanukkah Lamp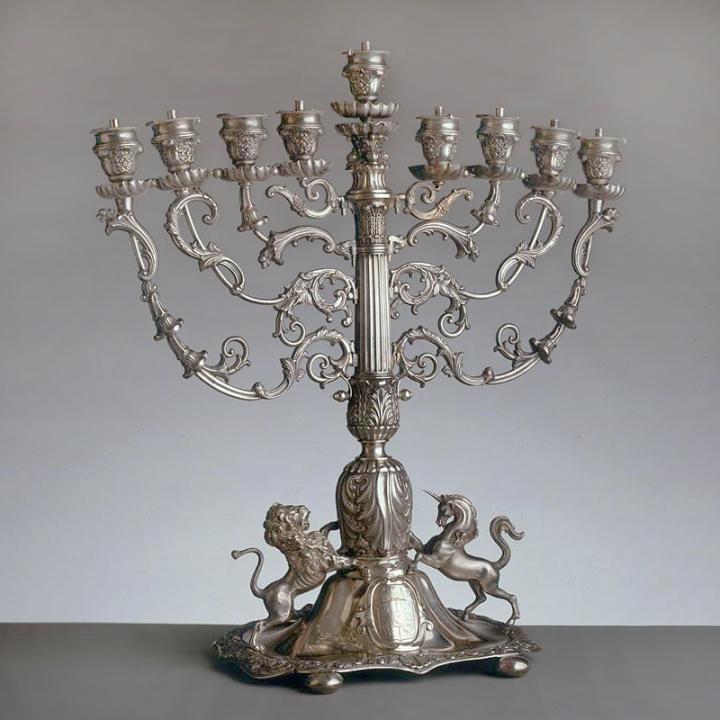 With the Skirball's presentation of RECLAIMED: A Family Painting, explore additional Nazi-looted and restituted objects in the Skirball Museum collection, on view in Visions and Values.
This Hanukkah lamp belonged to the Rothschild family in nineteenth-century Europe. Originally commissioned as a wedding present, the lamp (also called a menorah) was donated by the Rothschilds to the Museum of Jewish Antiquities in Frankfurt. During a 1938 antisemitic attack, the Nazis looted the museum and stole the menorah. At the end of World War II, it was discovered in the Frankfurt History Museum. Jewish Cultural Reconstruction, an organization tasked with finding and distributing heirless Jewish property after the war, gifted the menorah to the Hebrew Union College Museum, the forerunner of the Skirball Museum.
Exhibition Highlights