About Noah's Ark
"Extraordinary … A celebration of play, inspiring fascination, reviving wonder."—New York Times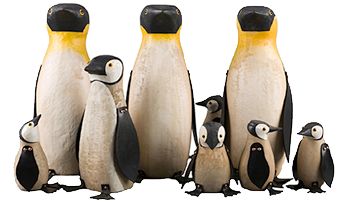 Visit us aboard Noah's Ark at the Skirball! This award-winning children's and family destination invites visitors of all generations to play, climb, build, explore, make-believe, and make friends—all while exploring an eight-thousand-square-foot wooden ark, filled to the rafters with whimsical animals and new storm clouds that will spark your senses. Share in a timeless story—and together envision a better world.

Imagine yourself immersed in a favorite childhood tale, which has parallels in cultures all over the world. Conduct a storm, help construct the Ark, and bask in the glow of a beautiful rainbow. Mingle with hundreds of fancifully handcrafted animals—from cuddly companions to life-sized puppets—all crafted from recycled materials and everyday objects, including baseball mitts, mop heads, and rearview mirrors.
---
Explore Outdoors
After your hour aboard the Ark, spend time enjoying the Skirball's outdoor spaces. During your visit, you can:
---
Let's Stay Safe
The Skirball Cultural Center uses CDC and the American Academy of Pediatrics recommendations to guide our policies and consulted with a specialist at UCLA's Fielding School of Public Health on how to operate Noah's Ark in the safest way possible. When you return, you'll notice fewer visitors in the gallery, bins to place toys after use, sanitizing wipes throughout the galleries, upgraded air filtration, and closures between daily sessions for cleaning.
---
Bring the magic of Noah's Ark home with you!
Watch award-winning videos and download lesson plans that engage young learners in storytelling and mindfulness activities inspired by the messages of Noah's Ark at the Skirball.
Shop Audrey's Museum Store and its satellite Noah's Ark Store, which carries children's books, puppets, toys, and games that celebrate the natural world and its wondrous, wild, wooly, scaly, and leafy inhabitants!
---
Image Gallery