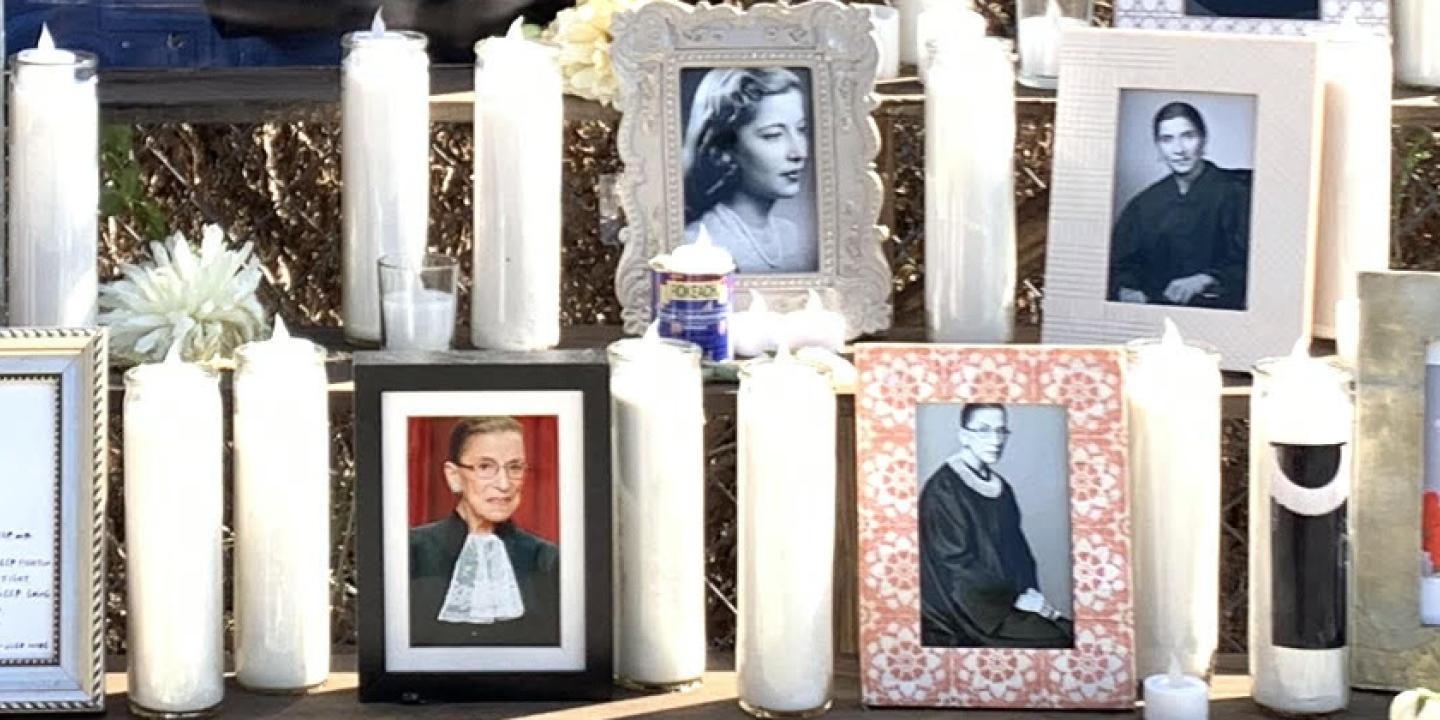 This is a past program
This program took place on
Friday, September 25, 2020
About the Program
Visit the Skirball to pay tribute to Justice Ruth Bader Ginsburg, of blessed memory. On the day when the justice will lie in state at the United States Capitol, visitors are invited to our front steps to bear witness and contribute to a one-day communal memorial display. We welcome your letters, photos, flowers, reflections, and other personal tributes.
In the days following the news of Justice Ginsburg's death, many of you have expressed how the Skirball—thanks in part to our development and presentation of the exhibition Notorious RBG: The Life and Times of Ruth Bader Ginsburg—has become a home for the memories and impressions of this most remarkable jurist and Jewish American.
As expressions of grief and memory grew online, community organization Classroom of Compassion lovingly created a physical memorial on Sepulveda Blvd. with this message: "We both remember walking through [the exhibition] and leaving emboldened in our desire to continue moving the dial forward …. Ruth Bader Ginsburg, I hope u know how much u mean to the world." As we absorb the enormity of this latest loss in a year of overwhelming loss, and while Justice Ginsburg lies in state, the Skirball will display Classroom of Compassion's memorial on our front steps and accept your contributions.
For everyone's health and safety, strict visitor guidelines will be in place. Please read the following carefully:
Respect one-way traffic flow—From Sepulveda Blvd., drive into the Skirball campus on the north side, at Herscher Way. Proceed down the driveway approximately 150 yards, and pull up by the front steps of our main entrance. After your visit, all cars must proceed south and exit at Skirball Ctr. Dr.; no U-turns allowed.
Parking on the Skirball site is strictly prohibited.
Stopping or parking along Sepulveda Blvd. or Skirball Ctr. Dr. is prohibited.
Follow safety protocols—Public health code requires face coverings, physical distancing, and limited interaction during your visit.
Please bring and wear a mask at all times.
Maintain at least six feet of distance between yourself and others when outside your vehicle.
You are welcome to view and add to the memorial display. However, to minimize the health risk for all visitors, kindly limit your visit to three minutes. The Skirball may require quicker visits to maintain safety.
The Skirball campus, including our restrooms, is otherwise closed to the public.
Bring permitted items only—Letters, flowers, photos, reflections, battery-operated candles, and other small objects may be added to the memorial display.
Food, balloons, wax candles, objects larger than 36 inches, and hazardous materials of any sort may not be placed at the memorial. 
Objects left will not be returned.
The Skirball reserves the right to relocate or remove any items.