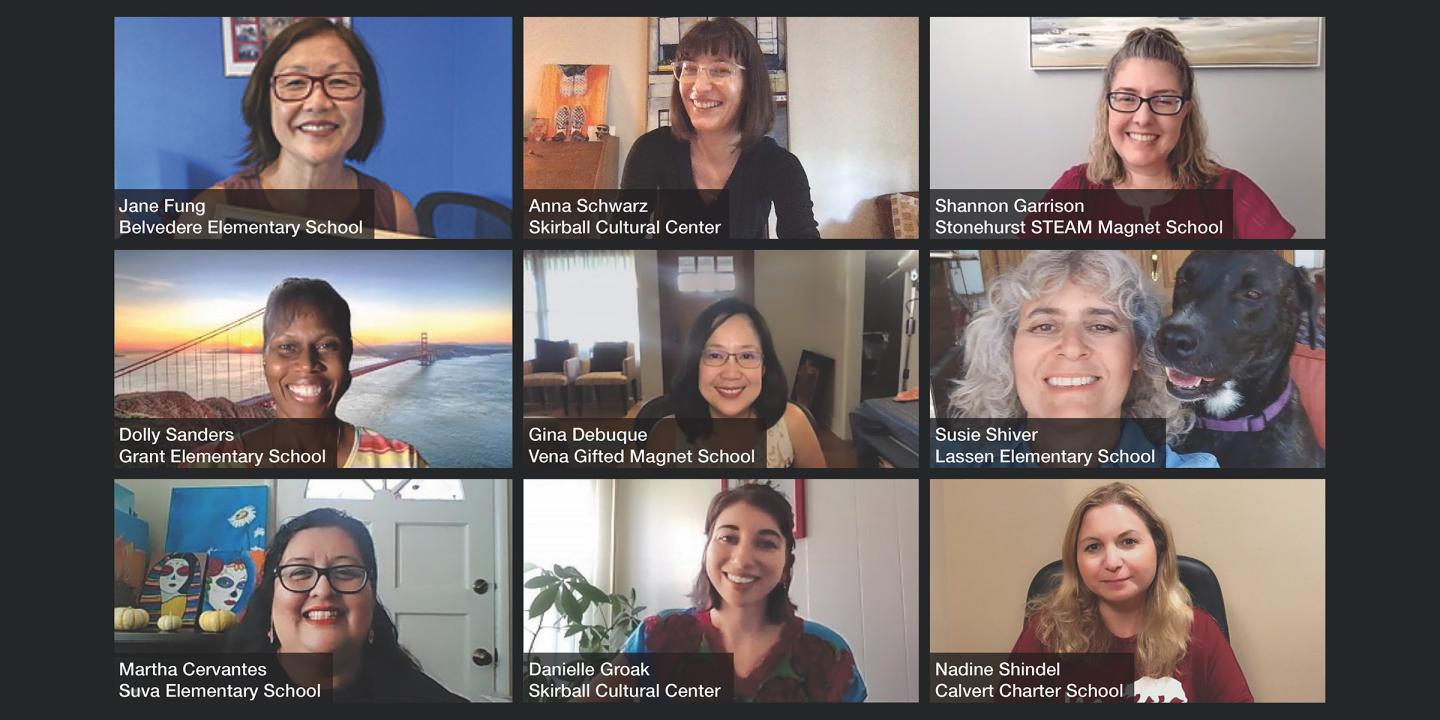 LA teachers and Skirball educators seek learning from one another and draw strength in community.
Shifting to distance education was no small feat. Yet this was the enormous challenge facing America's teachers when stay-at-home orders went into effect in early 2020. At the Skirball, in the wake of more than 100 field-trip cancellations, the school and teacher programs shifted its own practice as well. Cognizant that remote learning would result in new dilemmas for instruction and require different resources, the Skirball went into inquiry mode, asking teachers what they needed for their virtual classrooms. Within weeks of schools shutting down, a council began to form.
Susie Shiver was one of the first to respond when Skirball educators reached out to hundreds of teachers back in April 2020. For years, she had brought her Lassen Elementary School students to explore the galleries and experience live performing arts. "It's a great place to teach my kids," she praised. The Noah's Ark school tour was especially appealing to Shiver as a specialist in special education. "On the Ark, the kids get to learn and listen, touch things and not feel like they're in trouble," Shiver noted. "They are accepted and feel happy." Shiver had also come for her own professional development, regularly enrolling in Skirball teacher programs. She'd also lent her expertise: In 2017, she led a workshop for our Education department on how to meet the needs of children with disabilities—a training that paved the way for inclusive, sensory-friendly hours for Noah's Ark visitors with autism. 
Long acquainted with the Skirball's commitment to enriching the lives of young people, Shiver was ready to give advice on how institutions like ours could be of service. A survey of teachers revealed some basics: Is Schoology or Google Classroom a more effective platform? Would art projects be handy, or would mindfulness be of greater benefit as students cope with higher stress? And if the Skirball could pull it off, could livestream music making be integrated into their classrooms successfully? More in-depth discussions followed, all meant to identify what was working (and what wasn't) when it came to engaging students from a distance. By the start of the 2020–2021 school year, seven teachers had signed on as volunteer leaders of the Skirball Teacher Advisory Council (STAC).
From the frontlines of their profession, STAC spoke to the pressures of working in the age of COVID while brainstorming solutions to persistent problems, if only in part. Acutely aware that not every student home would have reliable internet or a device readily available, the teachers emphasized that video content could not just be livestreamed; it would have to be posted online for students to view if and when they could. The opportunity to show a clip repeatedly held another advantage: children in lower elementary grades would have multiple chances to deepen their understanding of the material, boosting confidence along the way. Other practical insights emerged: visual aids would enhance storytelling sessions, especially for emerging bilinguals; worksheets should be fillable PDFs, not require printing or scanning; videos should be short-format; and the chat function is a must for re-engaging students less likely to speak up or feeling disconnected from their peers.
For Skirball educators, it was humbling and heartening to learn that a Noah's Ark experience could fulfill even just one goal that the teachers set for their classrooms: a way to celebrate discovery and hope. Shannon Garrison, a fifth-grade teacher at Stonehurst STEAM Magnet School, noted that the flood tale's storyline—of weathering storms, fostering community, and building a better world—would be an effective tool for guiding students through these hard times. Virtual visits to the Ark were STAC's top recommendation. In collaboration with the council, the Skirball piloted videos starring Noah's Ark storytellers, created interactive lesson plans, and beamed into classrooms to try out Zoom field trips and learn from students' responses.
As LA schools approach a year of distance education, STAC remains grounded in an open exchange of ideas and input. The camaraderie is palpable, as council members report on classroom successes, talk through their struggles to achieve work-life balance, and shore each other up. For Shiver, it was gratifying to join forces with colleagues and find that "there's other crazy people out there like me. I like that!" In 2021, STAC will continue to serve as a collaborative, resource-sharing group, helping to ensure that the Skirball stays responsive to what teachers truly need and provide support to them as stewards of LA's youth.
"Teachers are reckoning with a learning crisis made worse by the pain of the pandemic, so I am even more grateful to the dedicated educators in our advisory council for sharing their hard-won wisdom with us."—Anna Schwarz, Head of School of Teacher Programs