This is a past exhibition
This exhibition was on view at the Skirball
October 23, 2014–March 1, 2015
About the Exhibition
The exhibition Light & Noir: Exiles and Émigrés in Hollywood, 1933–1950 explored how the experiences of German-speaking exiles and émigrés who fled Nazi Europe—many of them Jews—influenced the classic films of Hollywood's Golden Age. Visitors learned in depth how beloved movies such as Sunset Boulevard, Double Indemnity, Casablanca, and Ninotchka were shaped by the light and dark experiences of these pioneering film artists.
The exhibition spotlighted acclaimed actors, directors, writers, and composers, focusing on their impact on American cinema and culture. Film directors—including such luminaries as Fritz Lang, Billy Wilder, and Fred Zinnemann—made their way to California and shaped the look of classic movies. Oscar-winning composers such as Erich Wolfgang Korngold and Franz Waxman created the sound, and acclaimed writers—from Lion Feuchtwanger to Salka Viertel—the stories. Already established émigrés, such as producer Carl Laemmle, director Ernst Lubitsch, actress Marlene Dietrich, and talent agent Paul Kohner, helped the new arrivals find their path in Hollywood.
Through a never-before-assembled selection of film footage, drawings, props, costumes, posters, photographs, and memorabilia, Light & Noir told the story of Hollywood's formative era through the lens of the émigré experience, focusing on genres in which the exiles and émigrés were especially productive: the exile film, the anti-Nazi film, film noir, and comedy. On view were costumes worn by Marlene Dietrich, Humphrey Bogart, Ingrid Bergman, Paul Henreid, and Joan Crawford, as well as one of Billy Wilder's Academy Awards, Ernst Lubitsch's twenty-five year anniversary album, the Max Factor Scroll of Fame, and original props from the set of Rick's Café in Casablanca.
The exhibition demonstrated how the experiences of exodus and exile affected the lives and work of émigrés in many different ways. It is a story of immigration, acculturation, and innovation that intersects with the flourishing of Hollywood as an American cultural phenomenon.
Organized by the Skirball Cultural Center and co-presented with the Academy of Motion Picture Arts and Sciences.
Exhibition Catalogue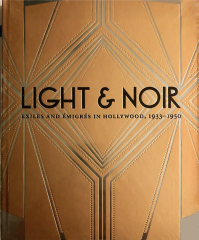 Now available for purchase, the exhibition catalogue features an essay by the curator, Doris Berger, highlights from the exhibition, and poignant recollections by descendants of several Golden Age of Hollywood emigre filmmakers. Learn more and buy online...
Donor Support
LIGHT & NOIR: EXILES AND ÉMIGRÉS IN HOLLYWOOD, 1933–1950 AND ITS RELATED EDUCATIONAL PROGRAMS AT THE SKIRBALL CULTURAL CENTER WAS MADE POSSIBLE THROUGH THE GENEROUS SUPPORT OF THE FOLLOWING DONORS:
The David Berg Foundation
Carsey Family Foundation 
Max Factor Family Foundation
The Kallick Family in Memory of Sidney S. Kallick
Sharon and Mitchell Litt
Richard Orgell Family Foundation in Memory of Jack Karp
Margaret Black and John Ptak 
Skirball Volunteer Service Council
Lannette and Scott Turicchi
Ellen and Ken Ziffren