This is a past exhibition
This exhibition was on view at the Skirball
May 1, 2021–March 20, 2022
While the installation is now closed, visitors can reflect on its themes on a dedicated bench along the North Arroyo dry riverbed.
About the Exhibition
Responding to the COVID-19 crisis, Sustain: From Loss to Renewal explored meaningful expressions of grief and resilience. This three-part installation looked to Jewish traditions of mourning and the Los Angeles art community to guide us through our collective grief and move forward.
Visitors to the Skirball can now take a moment to sit and honor memory on a bench along the North Arroyo dry riverbed, where the visitation stones dedicated during Sustain, Phase II (see below), have been placed.
---
Phase I: Yahrzeit Candle
May 1–August 1, 2021 | Skirball Lobby
A yahrzeit candle, also known as a memorial candle, burned in the Skirball's Main Lobby. In Jewish tradition, yahrzeit candles are lit to honor the memory of a deceased loved one. This custom is thought to originate from a verse in the book of Proverbs (20.27), "The human soul is the light of God." The light represents the soul, which in Jewish belief exists eternally.
Phase II: Visitation Stones
July 3, 2021–March 20, 2022 | Ahmanson Breezeway
Evoking the Jewish gesture of leaving a stone at a gravesite, visitors were invited to dedicate a visitation stone in memory of a loss. The stones from this installation are now part of the Skirball's North Arroyo dry riverbed as a lasting acknowledgment of what has been lost.
Phase III: Poster Series
September 11, 2021–March 20, 2022 | Ahmanson Breezeway
Artist Stephanie Mercado created a series of seven portraits that pay tribute to LA's diverse workforce. The collection highlights the ways in which community sustains us during crises and is essential to creating a more just and humane society.
Image Gallery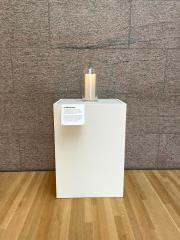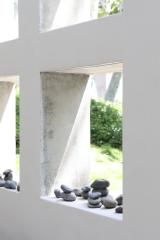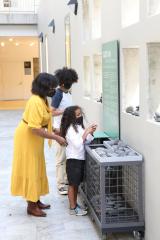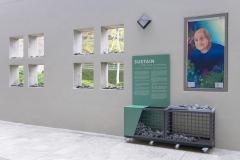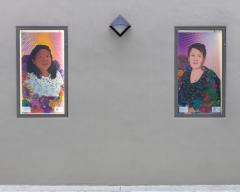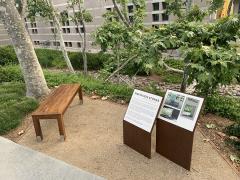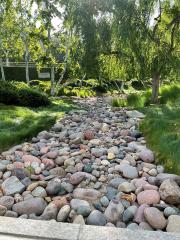 Donor Support
The installation and its related educational programs at the Skirball Cultural Center are made possible by generous support from the following donors:
Stephanie and Harold Bronson
Bob and Nita Hirsch Family Foundation
Susan and Alan Wohl