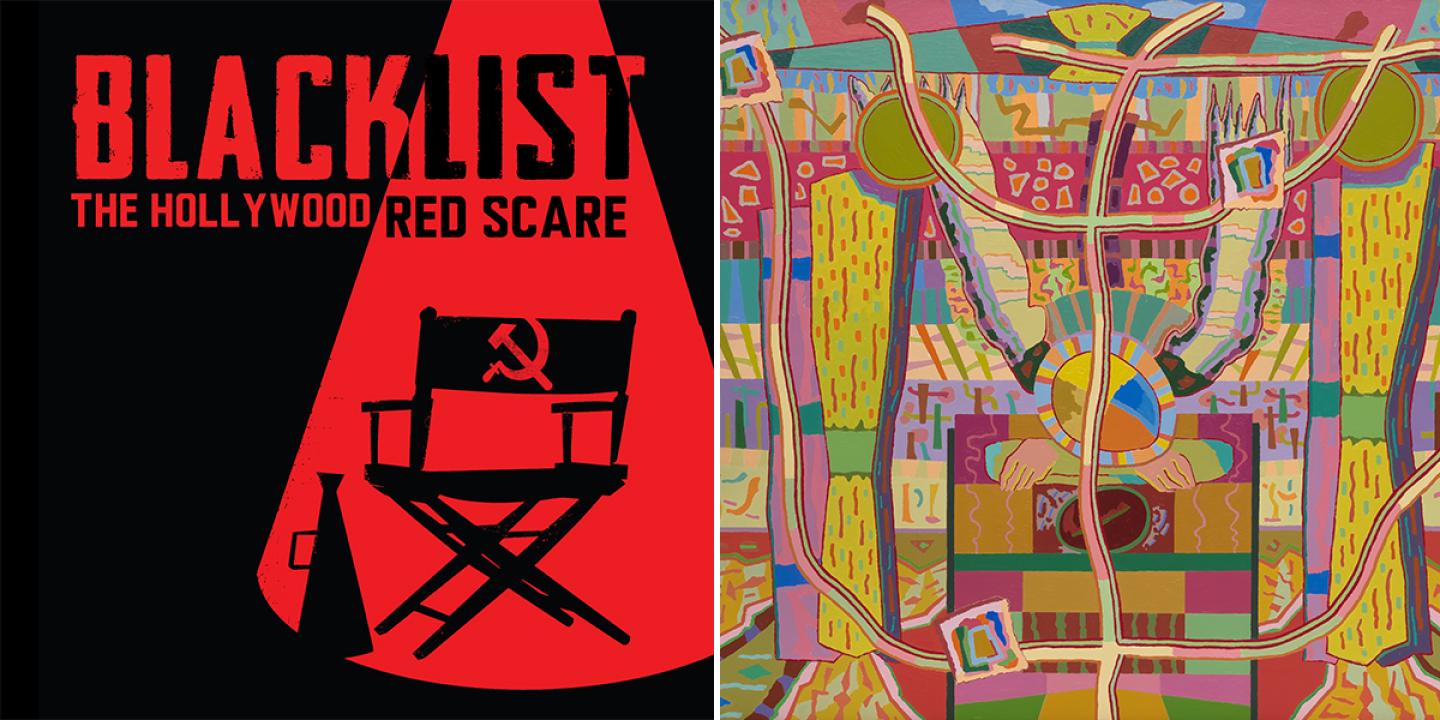 Be among the first to experience the spring exhibitions, catch a curator talk at 2:00 pm, and make a day of it with dining and shopping. 
This is a past program
This program took place on
Wednesday, May 3, 2023
About the Program
Celebrate the arrival of the Skirball's spring exhibitions a day before they open to the public!
Blacklist: The Hollywood Red Scare explores this defining moment in American history and its contemporary implications for civil liberties, propaganda, and shifting definitions of patriotism. See film costumes, posters, artwork, and Oscar® statuettes, and learn the stories of the people caught in the crosshairs of the blacklist.
 
Peter Krasnow: Breathing Joy and Light is made up of paintings from the Skirball's vast collection of work by the Ukrainian American artist. Spend time appreciating the bright colors and abstract symmetries of Krasnow's works, which are inspired by Jewish folklore and the distinct light and plant life of his Los Angeles home and studio.
Need to join or renew? Memberships purchased or renewed/upgraded online are in effect immediately. Visit skirball.org/join.
Curator Talk at 2:00 pm
Advance reservations sold out; waitlist opens in Haas at 1:00 pm on 5/3
Enjoy an impactful and lively conversation between Skirball Curator Cate Thurston and Ellie Gettinger, the originating curator of Blacklist: The Hollywood Red Scare. And hear from Skirball Curator Laura Mart as she provides insights about Peter Krasnow: Breathing Joy and Light, Krasnow's backstory, and his significance in the Southern California art scene.

Talk attendees may visit the galleries before or after. 
Donor Support
Blacklist: The Hollywood Red Scare and its related educational programs at the Skirball Cultural Center are made possible by generous support from the following donors:
The Stanley and Joyce Black Family Foundation
Stephanie and Harold Bronson
Lori and Scott Cooper/Pegasus Squire
Billie B. and Steven G. Fischer Foundation
The Keston Family
In Memory of George Litto by Andria Litto
TZ Projects & Friends
Peter and Julie Weil