This is a past exhibition
This exhibition was on view at the Skirball
April 14–September 18, 2022
About the Exhibition
More than a place to get a meal, the Jewish deli is a community forged in food. The exhibition "I'll Have What She's Having": The Jewish Deli explores how Jewish immigrants, mostly from Central and Eastern Europe, imported and adapted traditions to create a uniquely American restaurant.
Get a taste of deli history through neon signs, menus, advertisements, uniforms, photographs, and film and TV clips. Plus, spark and share your own deli memories with fun photo ops, interactives, and an all-ages gallery guide!
"Jewish delis have been a part of my life since I was a kid, so 'I'll Have What She's Having' was a great walk down memory lane!"—Daph H.
Tour Schedule
"I'll Have What She's Having": The Jewish Deli is hitting the road! Check out the exhibition in a city near you:
New-York Historical Society, New York, NY, November 11, 2022—April 2, 2023
Holocaust Museum, Houston, TX, May 4–August 13, 2023
Illinois Holocaust Museum & Education Center, Skokie, IL, October 22, 2023–April 14, 2024
Donor Support
The exhibition and its related educational programs are made possible by generous support from the following donors:
Maurice Amado Foundation
Barbara Timmer and Catherine Benkaim 
Terri and David Bloomgarden
Stephanie and Harold Bronson
David Geffen Foundation
The Keston Family in Memory of Michael Keston
Alicia Miñana and Rob Lovelace
The Nathanson Family in Memory of Evelyn and Nathan Nathanson
Gloria and Richard Pink
Rosenthal Family Foundation
Skirball Cultural Center Volunteer Service Council in Honor of Frances Fisher
More to Explore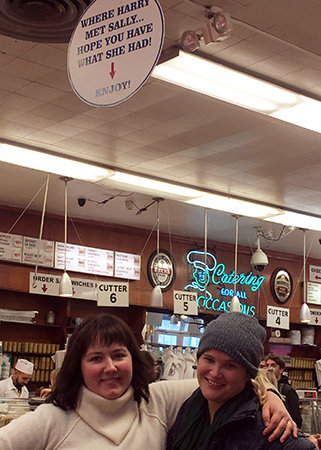 By Laura Mart and Cate Thurston
Hello from our home offices! We are Laura Mart and Cate Thurston, co-curators of the Skirball's  exhibition "I'll Have What She's Having": The Jewish Deli. Together with our fellow co-curator, food and immigration historian Lara Rabinovitch, we have spent the last two years devouring all things Jewish deli food, culture, and history.