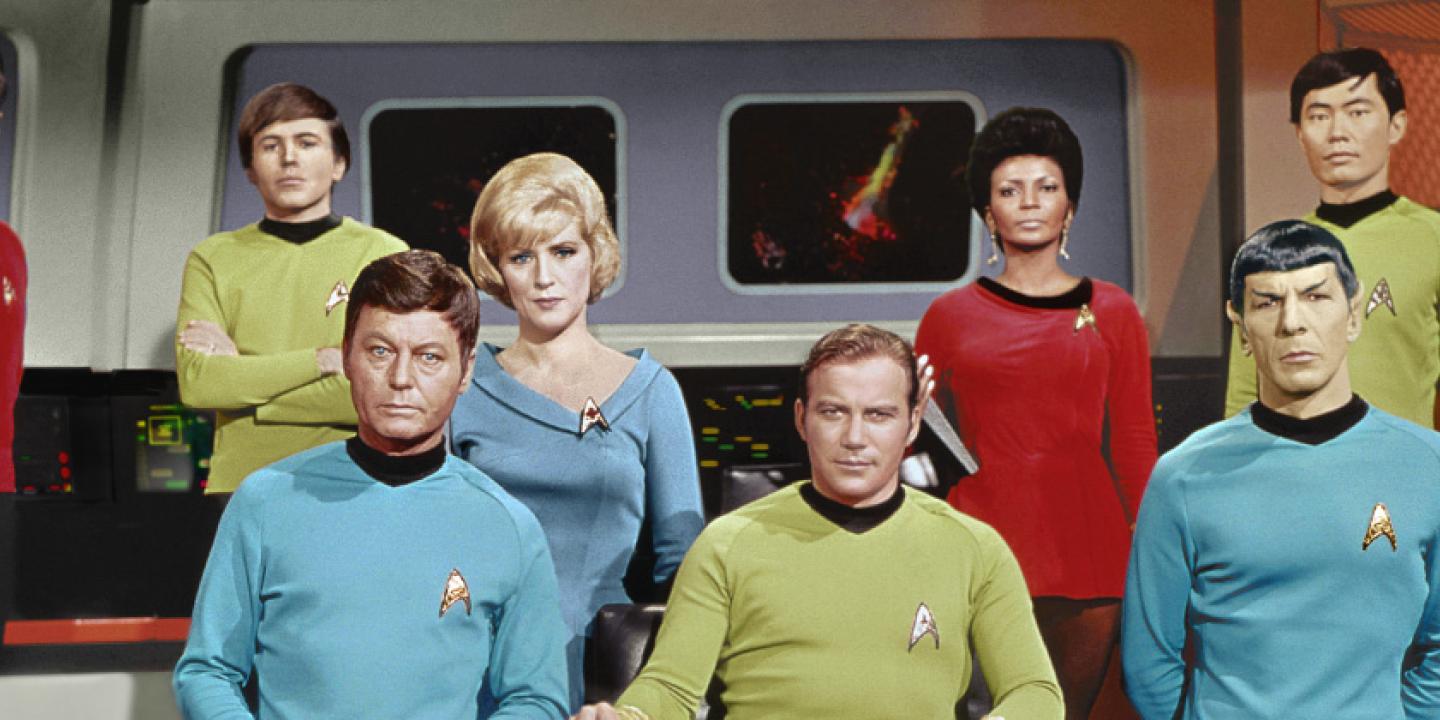 This is a past program
This program took place on
Saturday, November 6, 2021 and
Sunday, November 7, 2021
About the Program
Join us for a two-day marathon of ten impactful Star Trek episodes in the Skirball's Magnin Auditorium. Handpicked by Trek expert Scott Mantz, this selection highlights some of the franchise's most groundbreaking and celebrated episodes. After each screening, take a deep dive into the making of the episode and its central themes with Mantz and a few special guests.
Plus, check out the exhibition! One-hour, timed-entry tickets to visit Star Trek: Exploring New Worlds before or after the screenings will be available for attendees on a first-come, first-served basis. Arrive early to choose your preferred time slot!
---
Saturday, November 6
Balance of Terror
(Star Trek, 1966)
Commenting on the absurdities of war and prejudice, "Balance of Terror" finds Captain Kirk in a battle of wits with the commander of a Romulan warship after a series of unprovoked attacks near the Romulan Neutral Zone.
Arena
(Star Trek, 1967)
Captain Kirk is banished to a barren asteroid and forced to fight a lizard-like Gorn commander in this episode which displays the importance of ingenuity, compassion, and mutual understanding.
Special guests: Mark A. Altman and Daren Dochterman, co-hosts of Inglorious Treksperts
The City on the Edge of Forever
(Star Trek, 1967)
Set in New York City in the year 1930 and widely hailed as the greatest Star Trek episode of all time, "The City on the Edge of Forever" forces Captain Kirk to choose between the love of his life and the fate of the universe.
Special guests: Denise and Michael Okuda, scenic art supervisors for the franchise
The Measure of a Man
(Star Trek: The Next Generation, 1989)
Exploring sentience, individuality, and the very concept of what it means to be human, "The Measure of a Man" finds Captain Picard in a Starfleet hearing to defend android officer Lt. Commander Data's right to live.
Special guest: Brent Spiner, actor, "Data"
Yesterday's Enterprise
(Star Trek: The Next Generation, 1990)
Facing a moral dilemma, Captain Picard must choose whether to send a past version of the Enterprise back in time to fight a battle that its brave crew is doomed to lose.
Special guest: Denise Crosby, actor, "Tasha Yar"
Watch Day 1 Q&As
Sunday, November 7
The Doomsday Machine
(Star Trek, 1967)
After his own starship is destroyed by a powerful planet killer, Commodore Matt Decker commandeers the Enterprise in a misguided attempt to destroy the alien weapon in an episode that serves as an effective allegory for the dangers of nuclear weapons.
Special guest: Joseph D'Agosta, casting director for the original series
Let That Be Your Last Battlefield
(Star Trek, 1969)
As relevant today as when it first aired during the Civil Rights Movement, "Let That Be Your Last Battlefield" finds Captain Kirk in the middle of a bitter conflict between two alien beings who appear similar, but see each other very differently.
Far Beyond the Stars
(Star Trek: Deep Space Nine, 1998)
In this clever and beautifully rendered episode, Captain Sisko, the first Black captain of a Star Trek series, experiences a dreamlike vision where he reimagines himself as a science fiction writer in the 1950s struggling with inequality.
Counterpoint
(Star Trek: Voyager, 1998)
When the Voyager provides a safe haven to a group of telepathic refugees on the run from an aggressive alien race, the leader of the latter race defects to the starship, where he develops a romantic relationship with Captain Janeway.

Special guest: Dr. Erin Macdonald, science consultant for the Star Trek franchise
The Trouble with Tribbles
(Star Trek, 1967)
Perhaps the most famous and most accessible Star Trek episode of them all, "The Trouble with Tribbles" finds the Enterprise overrun with cute little furry creatures that multiply faster than Captain Kirk and the crew can keep up with.
Special guest: David Gerrold, screenwriter for the original series
Watch Day 2 Q&As
Donor Support
The exhibition Star Trek: Exploring New Worlds and its related educational programs at the Skirball Cultural Center are made possible by generous support from the following donors:
Stephanie and Harold Bronson
Lori and Scott Cooper / Pegasus Squire
Turicchi Family Foundation