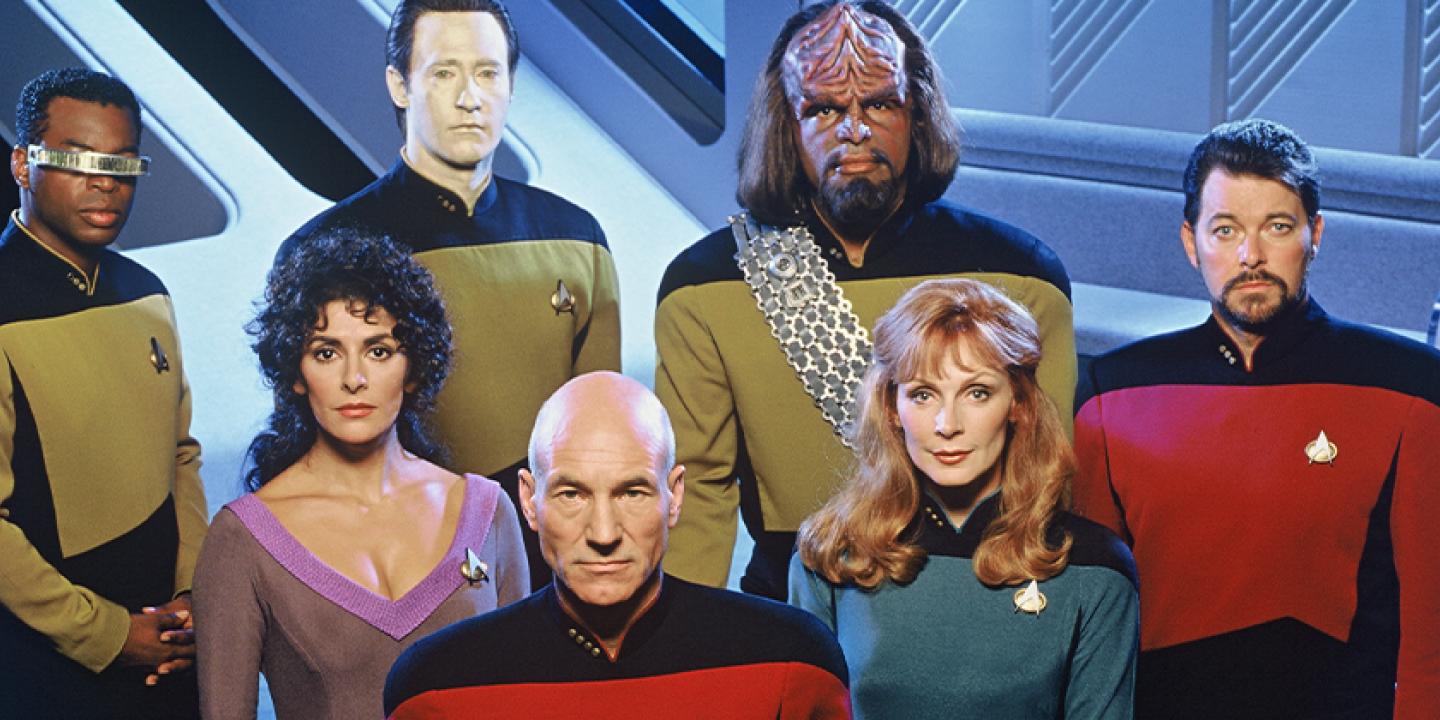 This is a past program
This program took place on
Saturday, February 19, 2022 and
Sunday, February 20, 2022
Discussions now streaming on YouTube
About the Program
So nice, we had to do it twice! Join us once more for a two-day marathon of nine impactful Star Trek episodes in the Skirball's Magnin Auditorium. Handpicked by Trek expert Scott Mantz, this selection highlights more of the franchise's most groundbreaking and celebrated episodes and looks to the future of the Star Trek franchise. After each screening, take a deep dive into the making of the episode and its central themes with Mantz and a few special guests.
Plus, check out the exhibition Star Trek: Exploring New Worlds on its closing day, February 20, 4:30–7:00 pm!
---
Saturday, February 19
Session 1
THE CAGE
(Star Trek Original Pilot, 1966)
The very first Star Trek episode ever filmed! Captain Christopher Pike (Jeffrey Hunter) is captured and narrowly escapes his intended role in plans to repopulate the barren planet of Talos IV. This pilot episode was deemed "too cerebral" and didn't sell Star Trek as a series, but it did interest NBC enough for them to ask for a second pilot that had more action.
WHERE NO MAN HAS GONE BEFORE
(Star Trek: The Original Series, 1966)
If NBC wanted more action, they got it with this second pilot about an Enterprise crew member who gains godlike powers but lacks the wisdom to use them. NBC also got William Shatner cast as Captain Kirk, a role that many would say Shatner was born to play!
Special guests: Mark A. Altman and Daren Dochterman, co-hosts of Inglorious Treksperts
Session 2
MIRROR MIRROR
(Star Trek: The Original Series, 1967)
One of the all-time classics in which a transporter malfunction swaps Captain Kirk, Scotty, Dr. McCoy, and Uhura with their evil counterparts in a parallel universe.
Special guest: BarBara Luna, actor, "Marlena Moreau"
The BEST OF BOTH WORLDS, PART 1
(Star Trek: The Next Generation, 1990)
The Enterprise encounters its greatest adversary, the Borg, who capture Captain Picard and assimilate him into their hive mind.
Special guest: Elizabeth Dennehy, actor, "Lieutenant Commander Shelby"
---
Watch Day 1 Q&As
Sunday, February 20
Session 1
THE BEST OF BOTH WORLDS, PART 2
(Star Trek: The Next Generation, 1990)
After Captain Picard's transformation into Borg leader Locutus, the Enterprise crew must plan a rescue mission while also destroying the Borg once and for all.
THE INNER LIGHT
(Star Trek: The Next Generation, 1992)
After being knocked unconscious by an alien probe, Captain Picard wakes up to find that his identity has been changed to Kamin of the planet Kataan, where he proceeds to live out the rest of his life.
Session 2
Rejoined
(Star Trek: Deep Space Nine, 1995)
When Jadzia Dax (the eighth host of the Dax symbiont) is reunited with the wife of one of her prior hosts, she must decide between honoring her Trill heritage or continuing their relationship.

Special guest: Terry Farrell, actor, "Jadzia Dax"
People of Earth
(Star Trek: Discovery, 2020)
After being reunited with Commanding Officer Michael Burnham in the 32nd century, the USS Discovery heads back to Earth to find out what led to the fall of the Federation over the last thousand years.

Special guest: Sonequa Martin-Green, actor, "Michael Burnham"
Et in Arcadia Ego, Part 2
(Star Trek: Picard, 2020)
In the Star Trek: Picard season one finale, Jean-Luc Picard and his team are pitted against the Romulans (a humanoid race from the planet Romulus) and a race of synthetics from the planet Coppelius in a final confrontation.
Special guest: Michelle Hurd, actor, "Raffi Musiker"
Watch Day 2 Q&As
Donor Support
The exhibition Star Trek: Exploring New Worlds and its related educational programs at the Skirball Cultural Center are made possible by generous support from the following donors:
Stephanie and Harold Bronson
Lori and Scott Cooper / Pegasus Squire
Turicchi Family Foundation