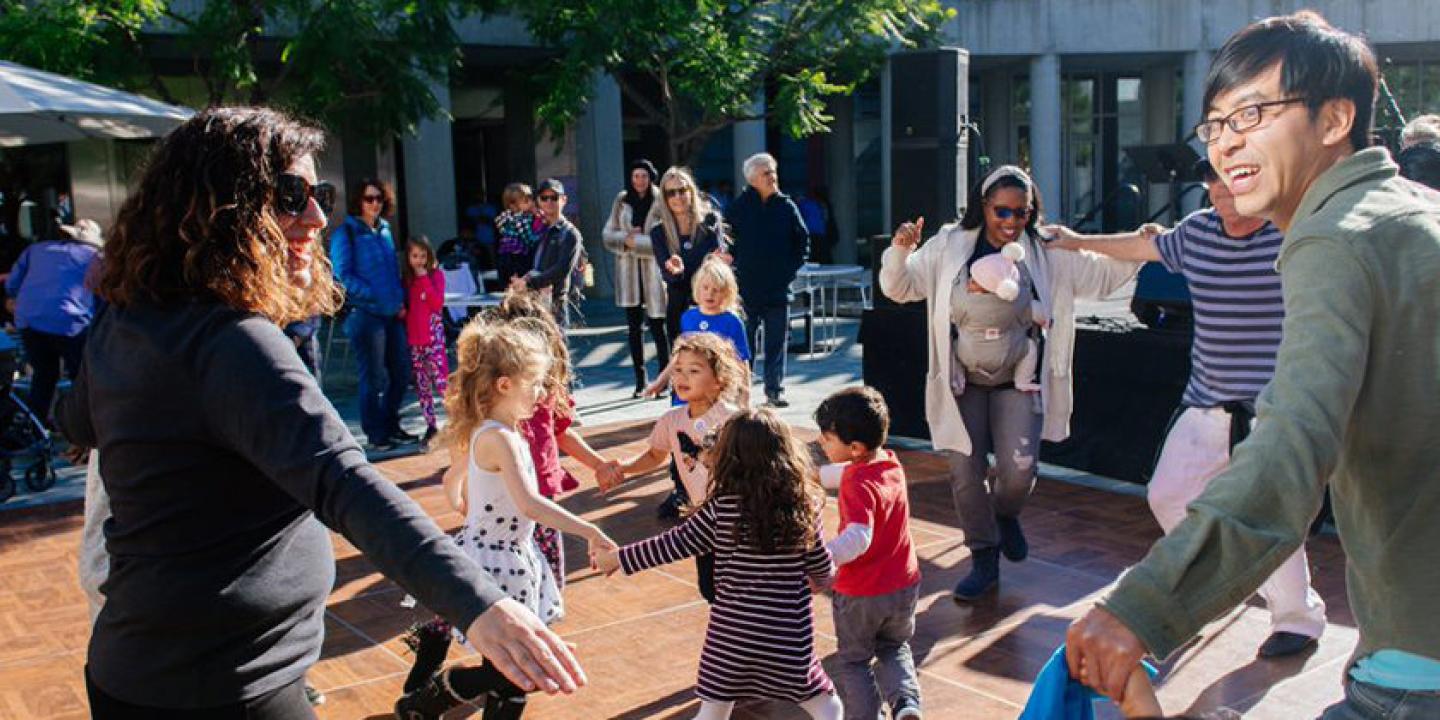 This is a past program
This program took place on
Sunday, December 18, 2022
About the Program
Make Hanukkah memories at the Skirball! Beloved klezmer rockers Mostly Kosher headline this year's festival with support from Dublab DJ Callie Ryan and dance leaders Bruce Bierman and Gilberto Melendez. Plus, the Skirball Storytellers bring the Hanukkah story to life with a theatrical performance featuring music and puppetry. 
Share a plate (or two) of latkes and jelly doughnuts, strike a pose in a holiday-themed photo booth, and light up the night with a handcrafted torch-making activity. At sundown, join your light with ours for a joyous community candle lighting. 
 
"We had fun dancing and singing as a family. The food was great and the storytelling puppet show was wonderful."
Festival Schedule
Taper Courtyard
2:00 and 3:45 pm—Music: DJ Callie Ryan
2:00–4:45 pm—Art Workshop: Helper Torches (in Haas Conference Center)
3:15 and 4:15 pm—Music and Dance: Mostly Kosher
5:00 pm—Sunset Candle Lighting 
Founders Courtyard
2:30 and 4:00 pm—Hanukkah Story
Murphy Foyer
2:00–5:00 pm—Hanukkah photo booth
Visiting the Museum​

Limited one-hour, timed-entry tickets to Fabric of a Nation will be distributed on a first-come, first-served basis. Ticketholders also receive complimentary admission to Wayfinding, Together for Good, and Visions and Values throughout the day.

Please note: Noah's Ark and the Archaeology Dig will be closed for Hanukkah Festival. 
About Hanukkah
The eight-day celebration commemorates the rededication during the second century BCE of the Second Temple in Jerusalem, where according to legend, Jews rose up against their Greek-Syrian oppressors in the Maccabean Revolt.
Today, Jews around the world celebrate Hanukkah with a nightly menorah (hanukkiah) lighting, special songs, and fried foods—gathering with family and friends to share traditions and make new memories.
Watch Videos
Spotlight

Holiday Shopping
Get ready for Hanukkah with unique gifts, home goods, books, and more from Audrey's Museum Store.