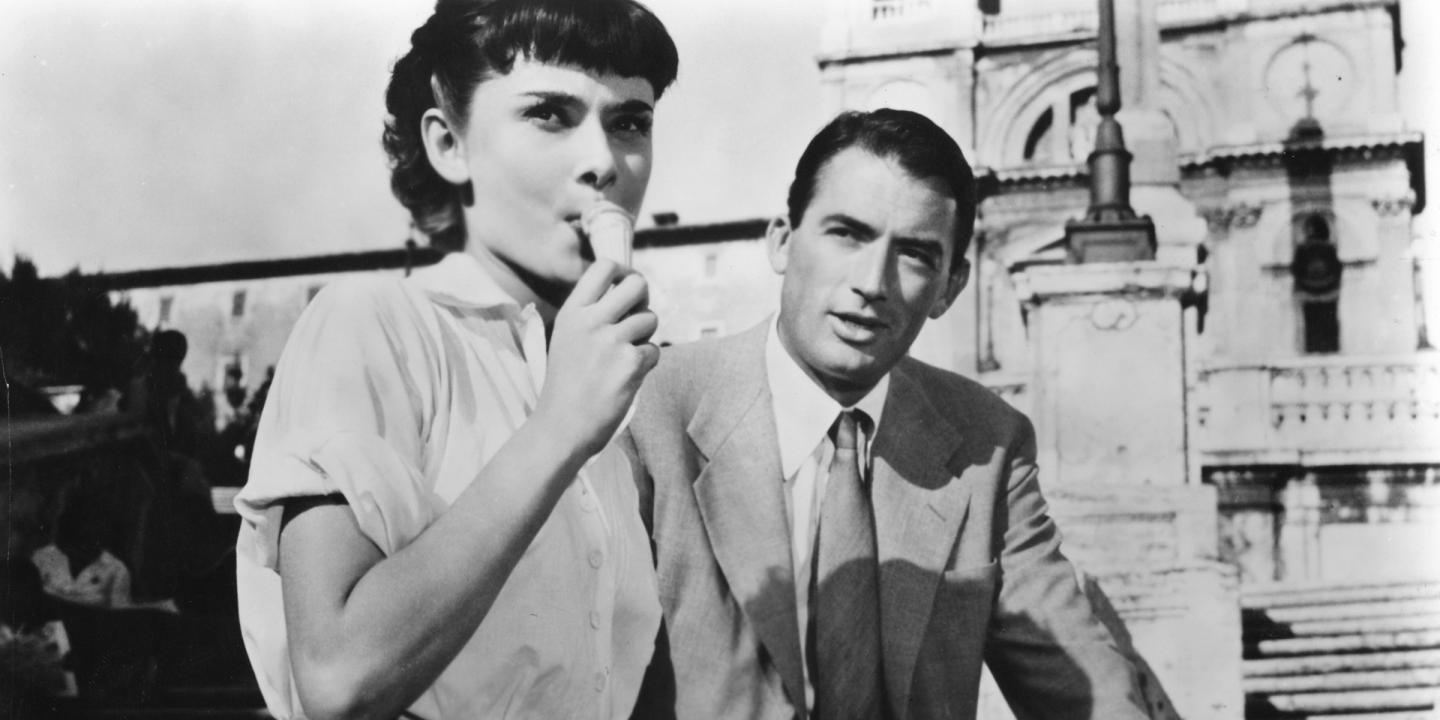 Our summer outdoor movie screenings kick off with the timeless classic Roman Holiday, ghostwritten by Hollywood Ten member Dalton Trumbo and starring Audrey Hepburn and Gregory Peck! Arrive early to catch the exhibition Blacklist: The Hollywood Red Scare. 
Date and Time
Friday, June 9, 8:30 pm (doors and Museum open at 7:00 pm)
Pricing and Details
$20 General

$15 Members and Full-Time Students

FREE to WGA members with code

99954*
Reservations recommended
*Please present your WGA card at check in.
Plan Your Visit
Drinks and snacks are available for purchase. You may also bring your own, but glass containers and outside alcohol are not permitted. 
Dress for the weather. This screening will take place outdoors; layers are encouraged. 
Note: Screening will be moved indoors in the event of rain.
About the Program
Step back in time and experience the magic of Hollywood's Golden Age with an outdoor screening of the timeless classic Roman Holiday! Audrey Hepburn makes her Oscar-winning debut as Princess Ann. Overwhelmed by her suffocating schedule, she takes off for a night and finds herself playing hooky on the streets of Rome with a charming reporter (Gregory Peck). 
Directed by William Wyler. (1953, 118 min. No MPAA Rating.)
 
Arrive early to view the exhibitions! This unforgettable film, penned by Blacklisted writer Dalton Trumbo, is the perfect complement to the exhibition Blacklist: The Hollywood Red Scare. And don't miss Peter Krasnow: Breathing Joy and Light and Visions and Values while you're here.   
"A rom-com colossus."—Times UK
Watch the Trailer
Donor Support
Blacklist: The Hollywood Red Scare and its related educational programs at the Skirball Cultural Center are made possible by generous support from the following donors:
The Stanley and Joyce Black Family Foundation
Stephanie and Harold Bronson
Lori and Scott Cooper/Pegasus Squire
Billie B. and Steven G. Fischer Foundation
The Keston Family
In Memory of George Litto by Andria Litto
TZ Projects & Friends
Peter and Julie Weil