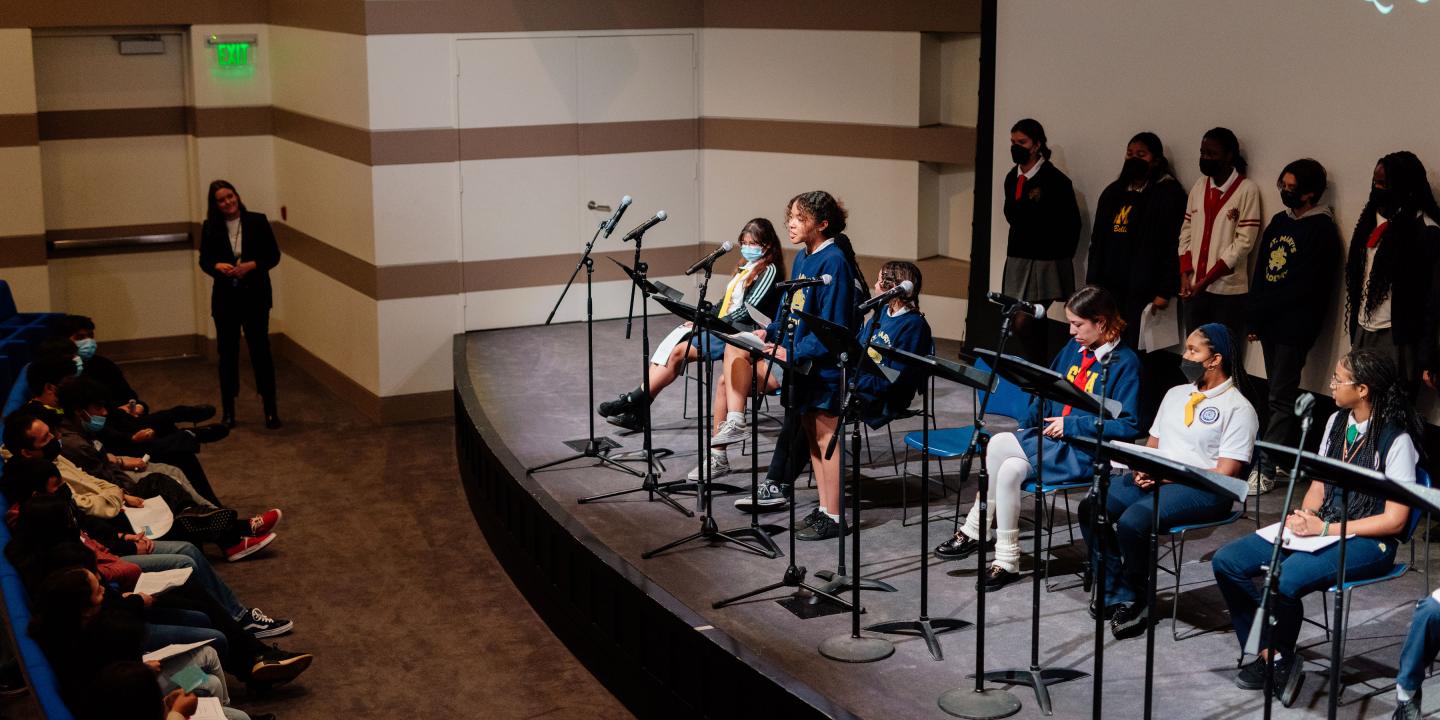 Join middle and high school students from across the city for a massive student takeover! Make art, go on a guided gallery tour, and check out a presentation created by a group of high school artists.
Admission
Registration opens November 15 at 12:00 pm
$100/tour (admission scholarships available)  
60 students and 10 adults maximum per visit
Groups with more than 60 students should contact education@skirball.org.
About the Program
Join middle and high school students from across the city for a morning of community, culture, and creativity at the Skirball!
Student Takeover Day is the culmination of a multi-week high-school residency, in which one class of students partners with a teaching artist and Skirball educators to create pieces inspired by the Skirball's permanent exhibition, Visions and Values: Jewish Life from Antiquity to America. 
Takeover participants will be able to: 
E

xperience a presentation of new work created by the Skirball's 2023–2024 high school residency program

Participate in a fun and reflective art-making activity

Go on a guided gallery tour of

Visions and Values
School tours book quickly! Be prepared for registration day by setting up your School Program account in advance.
Review registration tips, find details about admission and bus scholarships, and more!
On the Blog
The Art of Dialogue: A Scriptwriting Residency with St. Mary's Academy
The stories we tell—around a dinner table, in the grocery checkout line, or even what we say to ourselves—shape our lives and the world we live in. Whose stories get told? Who gets to hear those stories? These are some of the questions we asked ourselves as we built the curriculum for a six-week residency with high schoolers at St. Mary's Academy in Inglewood.

Check out the Building a Better World blog for more information about the Skirball's high school residency program and the 2023 Student Takeover Day.