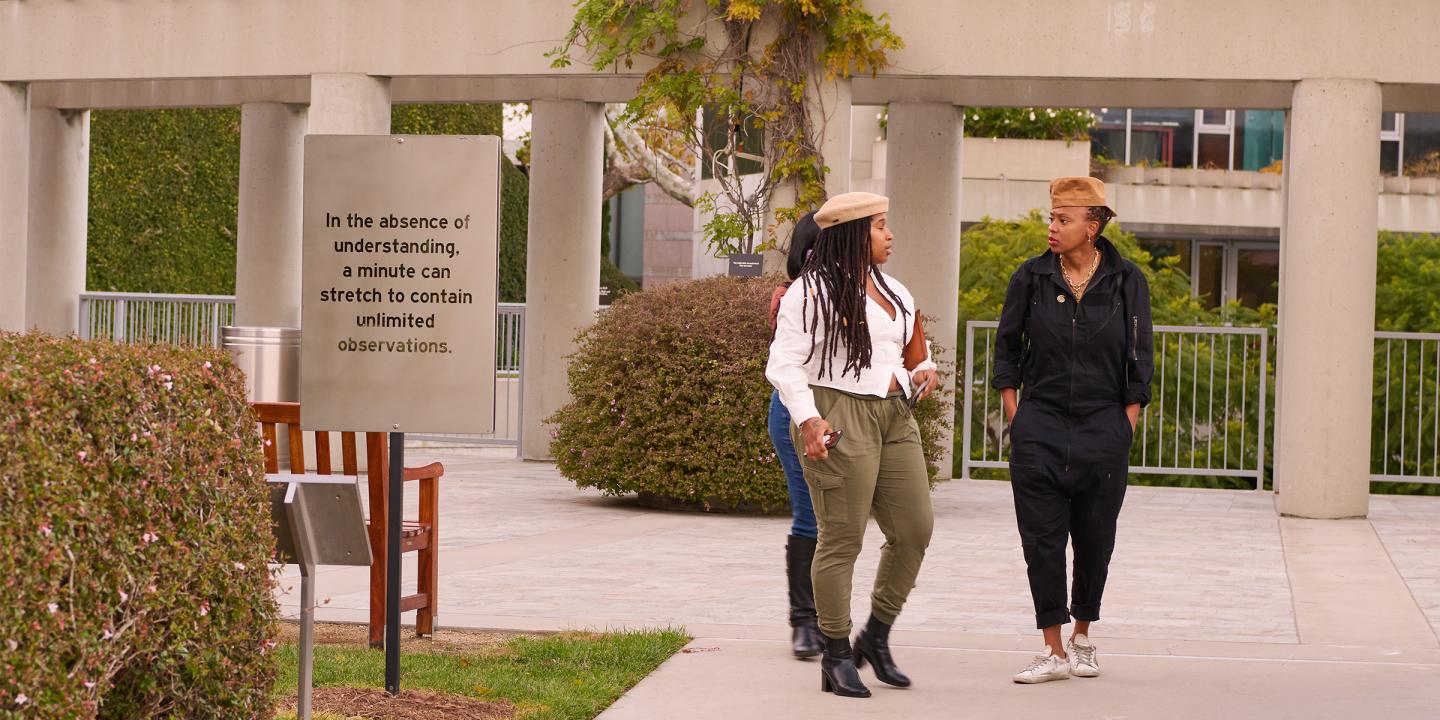 Stroll the Skirball's green spaces with curator Cate Thurston and contemplate the questions and statements presented in Chloë Bass: Wayfinding.
This is a past program
This program took place on
Sunday, March 5, 2023
About the Program
Explore the Skirball's first-ever outdoor art exhibition, Chloë Bass: Wayfinding, with curator Cate Thurston. This guided walking tour will encourage moments of quiet reflection and meaningful exchange about ourselves and how we exist with others. 
Participants are encouraged to dress for the weather, wear comfortable walking shoes, and be prepared to walk and stand. 

This program may be postponed due to rain or expected rain.
While you're here, don't miss:
Fabric of a Nation: American Quilt Stories—Experience a collection of more than forty quilts that brings to light stories that enrich, deepen, and complicate our understanding of the American experience. Advance reservations are recommended.
Together for Good: Caron Tabb and the Quilting Corner—Take in Caron Tabb's ever-evolving quilt Fabric of Humanity—Repairing My World, and contribute to a community artwork.
Welcome Blanket—View an installation of blankets created to welcome refugees to the United States.
Ruth Bader Ginsburg by Ramsess—Head to the Liberty Gallery inside Visions and Values to see a vibrant quilt depicting RBG. On view through March 12.
Email membership@skirball.org or call (310) 440-4599 with questions. 
Make a Day of It!
Shop exhibition-related items and more at Audrey's Museum Store.
Dine at Judy's Counter or Zeidler's Café.*
*Café reservations are recommended. Email zeidlerscafe@skirball.org or call (310) 440-4515.
Donor Support
Chloë Bass: Wayfinding and its related educational programs at the Skirball Cultural Center are made possible by generous support from the following donors:
Kafi and Bob Blumenfield
Stephanie and Harold Bronson